Newsletter: Essential Arts: The Hammer's firm leadership, a youth not so victorious, Tony Awards wrap-up
Happy Weekend, El Lay! It's been a busy week culture-wise, with Tony Awards, new gallery shows and a blazing music festival. I'm Carolina A. Miranda, staff writer at the Los Angeles Times, with your weekly dose of what's good:
A RISK-TAKING DIRECTOR
Over 19 years, Hammer Museum director Ann Philbin has transformed a quiet university museum into a world-class institution. "Annie has amazing courage to do projects that other institutions might not do," says artist Andrea Bowers. "The reason L.A. has evolved into one of the major art cities in the world has a lot to do with her tenure." The Times' Jeffrey Fleishman profiles. Los Angeles Times
GETTY NOT VICTORIOUS ON 'YOUTH'
An Italian court has ruled that the "Statue of a Victorious Youth," one of the Getty Museum's most prized ancient works, should be repatriated to Italy. But the museum says it isn't giving up the ancient Greek bronze without a fight. "The statue was found in international waters in 1964," Getty spokesman Ron Hartwig told The Times' Deborah Vankin. Los Angeles Times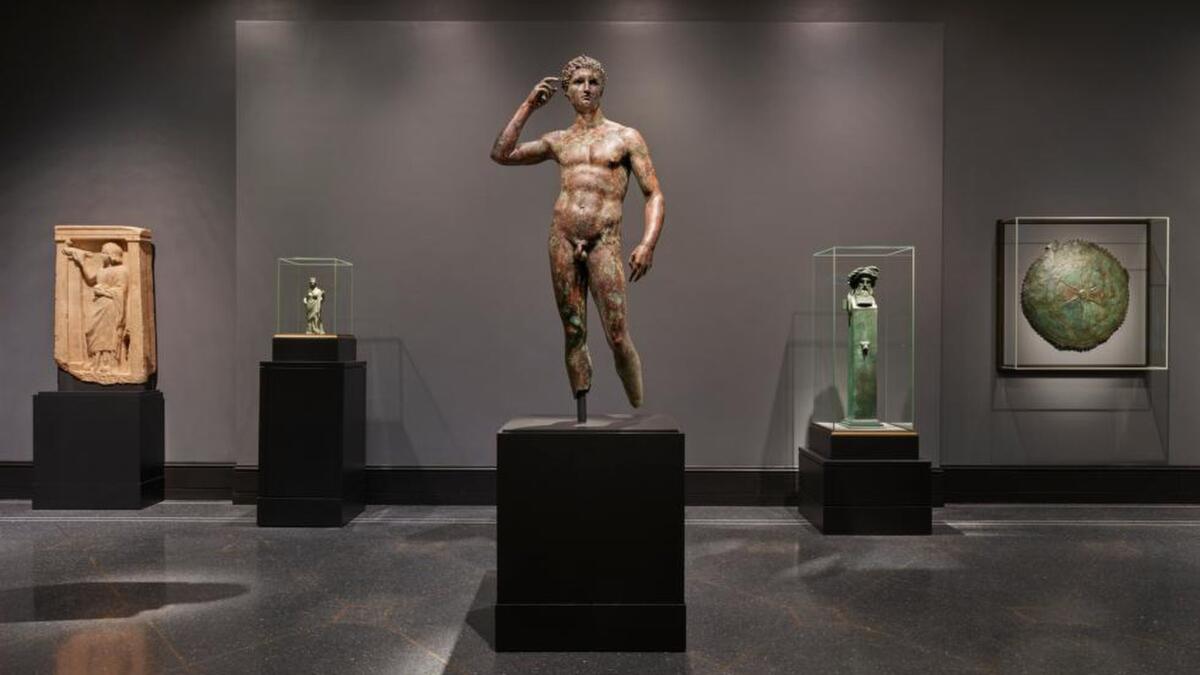 AN URBAN STATEMENT AND SKILLFUL STILL LIFES
Splashed on the exterior walls of LAXART in Hollywood are the phrases "break it own it, steal it, loan it, kiss it, slap it, hug it, hurt it." They are part of a large-scale work by conceptual artist Barbara Kruger, who is known for using bold language to take on the issues of the moment. The work, notes Times art critic Christopher Knight, "cleverly turns the façade of an innocuous strip-building into the memory of a Greek temple." Los Angeles Times
Knight also reports on a show of paintings by Dan McCleary at Craig Krull Gallery — a simply rendered series of objects and people that demonstrate the artist's "brilliant command" of color. Los Angeles Times
And because he's had a busy week: Knight also wrote about a show of Jamison Carter's new sculptures at Klowden Mann — assembled pieces of natural wood that are "like something Bernini designed to visually loft St. Peter's throne high into ceremonial space." Los Angeles Times
ARTISTIC 'REFUGE'
In an exhibition at the California African American Museum, artist Shinique Smith explores the charged nature of objects. "I'm interested in the exchange of stuff," Smith tells Deborah Vankin. "How it changes hands, how it gets abandoned, bought, sold, acquired. And the meanings assigned to it." Los Angeles Times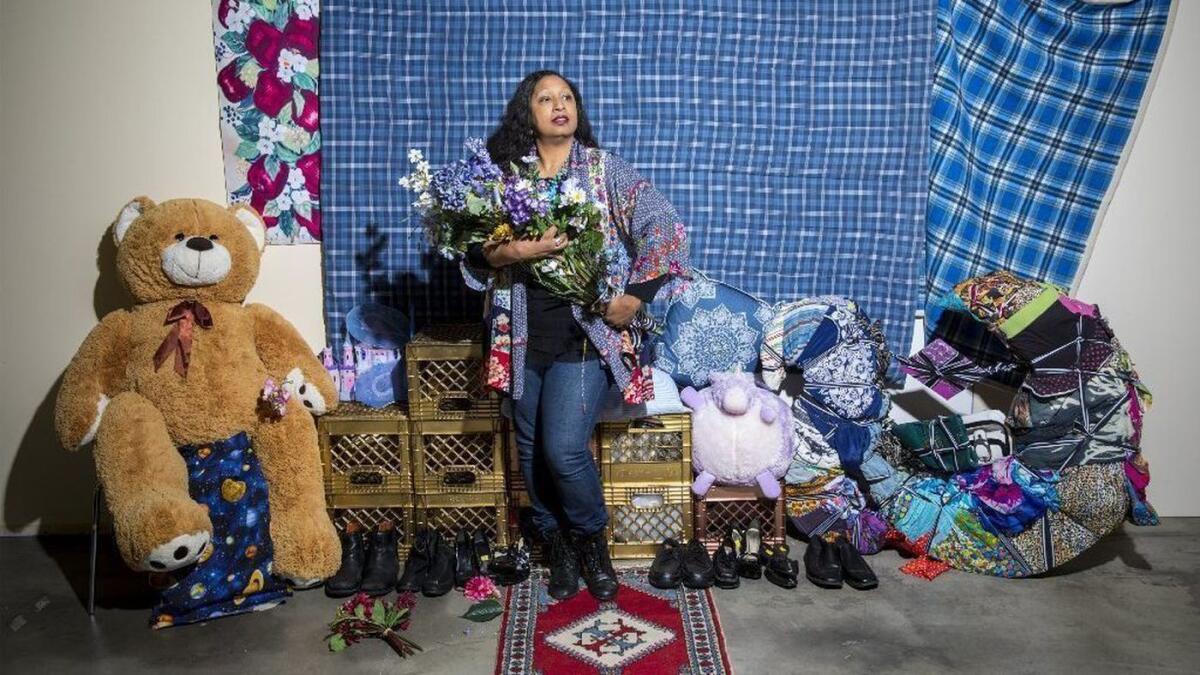 AROUND THE GALLERIES
Times contributing reviewer David Pagel sat down with L.A. artist Asad Faulwell, whose new show at Denk Gallery renders roughly a dozen women who smuggled bombs during the Algerian War of Independence in the 1950s — part of a larger series inspired by Gillo Pontecorvo's film "The Battle of Algiers." Of the women, Faulwell says, "They are victims, aggressors, killers. My interest was in the moral ambiguity of the whole thing." Los Angeles Times
Also on Pagel's docket was an installation by Katie Grinnan at Commonwealth and Council, which records a series of unusual journeys, as well as an "eye-opening" group show organized by Houston artist Trenton Doyle Hancock with David Hockney iPad and iPhone drawings, ink drawings by the late Mike Kelley, mixed-media images at Llyn Foulkes and more at Shulamit Nazarian.
Get the rundown on all the latest exhibitions — including photo collages by Todd Gray and paintings by Shizu Saldamando — in my weekly Datebook. Los Angeles Times
OJAI BLAZING
Under the direction of violinist Patricia Kopatchinskaja, this year's Ojai Music Festival, reports Times classical music critic Mark Swed, "was one of the brightest and most fun-filled in the 71-year history, and also the most defiantly dark and sobering." The festival featured work that ranged from the brutal — the compositions of Soviet-era composer Galina Ustvolskaya, known as "the lady with the hammer" — to the quirkily alive (György Kurtág's "Kafka Fragments," for violin and soprano). Los Angeles Times
Plus, Matt Cooper has a look ahead at the week in SoCal classical music, including the Pasadena Pops, tenor Andrea Bocelli at the Hollywood Bowl and the Mormon Tabernacle Choir. Los Angeles Times
ANOTHER DAY'S JOURNEY
Times theater critic Charles McNulty says "there are two main reasons" to go see "Long Day's Journey Into Night" at the Wallis in Beverly Hills: "The first is Lesley Manville's breathtaking performance as Mary Tyrone, who is played not as an excuse for flamboyant virtuosity but as a credible wife and mother imprisoned in addiction. The second is Jeremy Irons' suave and subtle portrayal of James Tyrone — one consummate actor stepping into the raffish skin of another." Los Angeles Times
HANKS AS HENRY
McNulty also caught the Shakespeare Center's production of "Henry IV," which features Oscar winner Tom Hanks in the role of Falstaff and Hamish Linklater as Prince Hal. A staging of this work by actors not known as Elizabethan specialists could make "for a long and bumpy night," notes McNulty. But able directing by Daniel Sullivan make for a "noble effort." Los Angeles Times
TONY MOMENTS
In case you didn't catch Robert De Niro delivering a few choice words to President Trump or students from the drama department at Marjory Stoneman Douglas High School performing "Seasons of Love" at this year's Tony Awards, The Times' Jessica Gelt helpfully wraps everything up. It was a show, she notes, where "the importance of diversity and representation was underlined repeatedly." Los Angeles Times
Times critic Charles McNulty appreciated the ceremony's moving and defiant moments and took a look at the larger Broadway landscape, which, despite the quality of the night's big winner, "The Band's Visit" — "as arrestingly original a show as "Hamilton" and "Fun Home" — was lackluster, largely redeemed by revivals. "The paucity of adult shows of serious artistic merit" on Broadway, McNulty writes, is a problem. "Mega-buck economics, reflecting perhaps the unequal state of the nation, are crowding out space for adventurous new plays and musicals intent on advancing and widening the art form." Los Angeles Times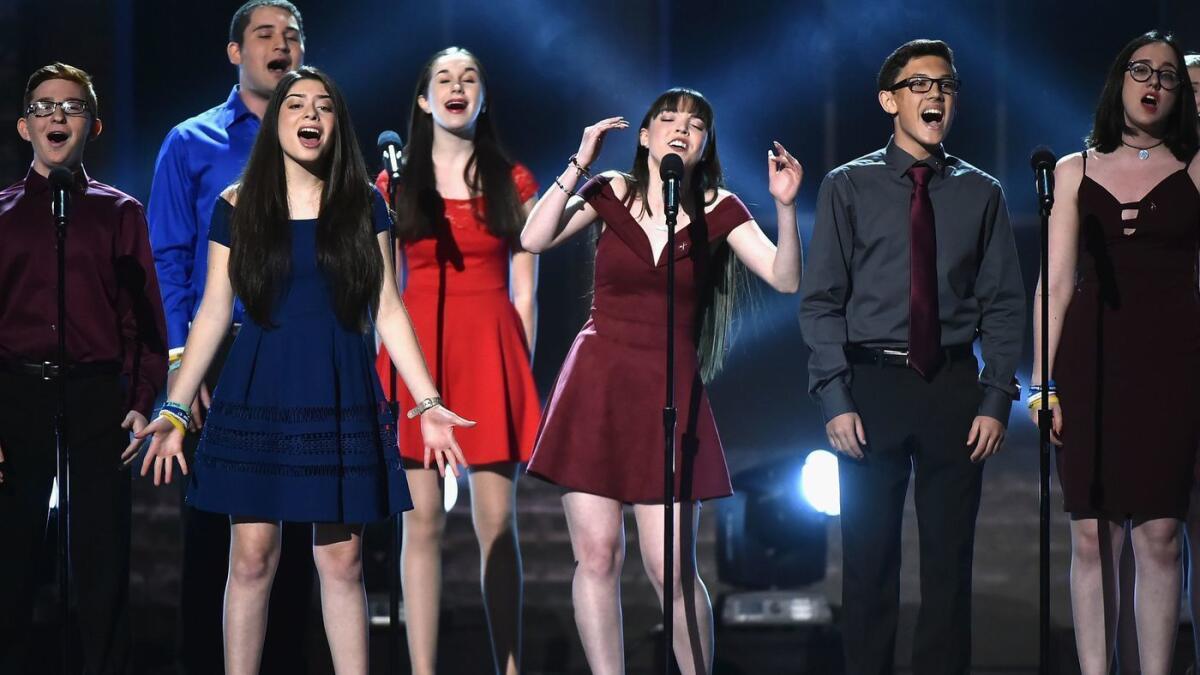 Plus, Bruce Springsteen gets a Tony and Laurie Metcalf pulls an upset win for her role in "Three Tall Women." For all of the moments captured throughout the night, check our real-time Tonys coverage: Los Angeles Times
AMANDA PEET, PLAYWRIGHT
Amanda Peet, who is best known for having acted in films such as "Syriana" and the television program "Togetherness," is premiering her second play, "Our Very Own Carlin McCullough" at the Geffen Playhouse on Tuesday. She chats with Jessica Gelt about the brutal process of writing. Los Angeles Times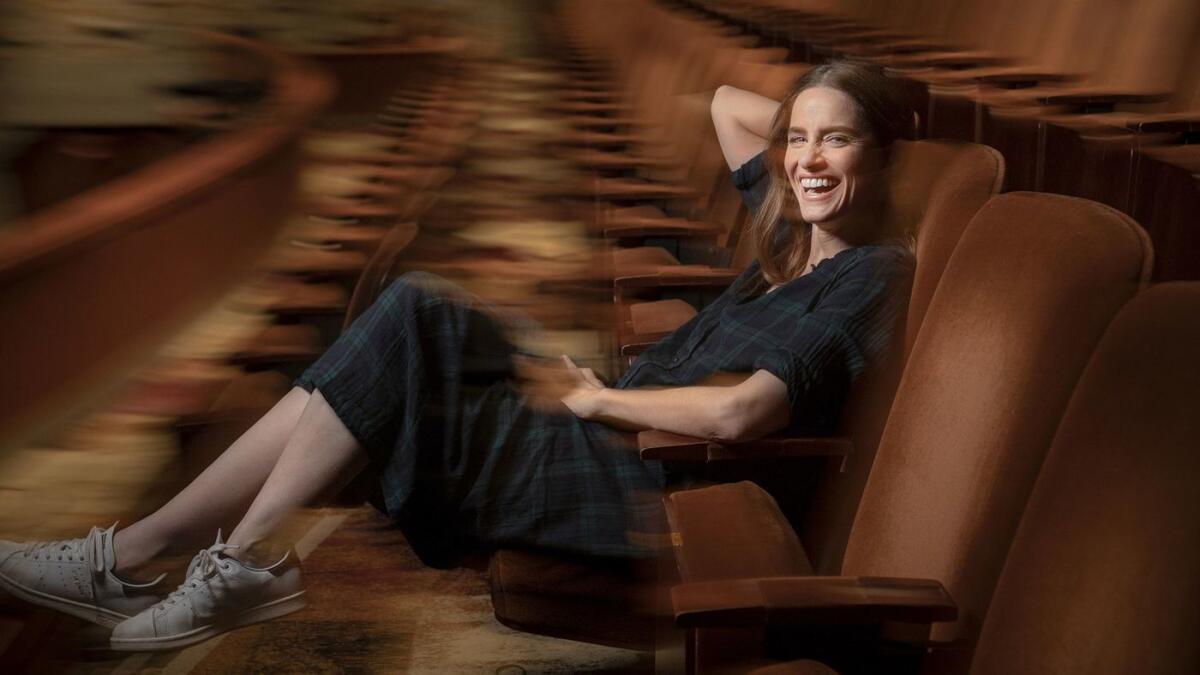 ON THE STAGE
The Times' Daryl H. Miller has a look at "The Ballad of Bimini Baths," a trio of plays staged at various locations by Los Angeles playwright Tom Jacobson that take the early 20th century L.A. hot springs complex as a point of inspiration. The narratives, which tackle some of the city's complicated issues of race and violence, collectively "force us to consider whether some sins are forgivable." Los Angeles Times
Plus, Miller has the rundown on everything that's happening in the city's 99-seat theaters, including plays inspired by Winston Churchill and Frankenstein. Los Angeles Times
And Matt Cooper has a look ahead at the week in SoCal theater, including notes on the Hollywood Fringe Festival and the openings at the Pantages of "Rodgers + Hammerstein's Cinderella" and "The Color Purple" at Segerstrom Hall. Los Angeles Times
IN OTHER NEWS…
— As the Los Angeles Times prepares to relocate to El Segundo, Darrell Kunitomi gives the last tours of our fabled downtown building. I will miss you, big concrete news factory!! L.A. Taco
— An extensive report by The Times' Melissa Etehad looks at the future of architect William Pereira's ground-breaking studio complex, CBS Television City, which opened in 1952. Los Angeles Times
— Date festivals with Arabian Nights themes and fake Iraqi towns built by the U.S. military: Artist Gelare Khoshgozaran has a fascinating essay on the ways in which notions of the Middle East have been constructed in the California desert. X-tra
— Frances Anderton looks at why Mexico City has become such an appealing destination for designers and architects. Design and Architecture
— YEEZY Home, Kanye West's design for pre-fab low-income housing is, um, carceral. Hyperallergic
— As the U.S. examines its history of lynching at a new memorial in Alabama, art critic Mary Louise Schumacher looks at a prescient Milwaukee exhibition space, America's Black Holocaust Museum, founded by a lynching survivor. Milwaukee Journal Sentinel
— "It's like watching the Great Barrier Reef die." Four New York gallerists discuss the future of art and the gallery system. New York Times Style
— "I never wanted to be a cradle-to-grave conventional schlock biographer. My presence in the book is as a reader, her best possible reader." Chris Kraus talks about writing "After Kathy Acker." Rumpus
— The New York Philharmonic may finally join the rest of us in 2018 by allowing its female musicians to wear pants. New York Times
— Speaking of pants: the triumph of a series of all-female Shakespeare productions in England. Guardian
— When "The Band's Visit" and more popular Broadway shows might hit the road — and land in Los Angeles. Los Angeles Times
— Critic Nate Chinen pays tribute to the late Lorraine Gordon, who ran New York's iconic Village Vanguard and was one of jazz's fiercest protectors. WBGO
— A podcast about life in ballet and as a drag queen. Billboard
AND LAST BUT NOT LEAST...
I can't get enough of the artist who face swaps his mug with works of art on Instagram. @bruceswap
Sign up for our weekly Essential Arts & Culture newsletter »
Get our L.A. Goes Out newsletter, with the week's best events, to help you explore and experience our city.
You may occasionally receive promotional content from the Los Angeles Times.