Happy Holidays from the High & Low!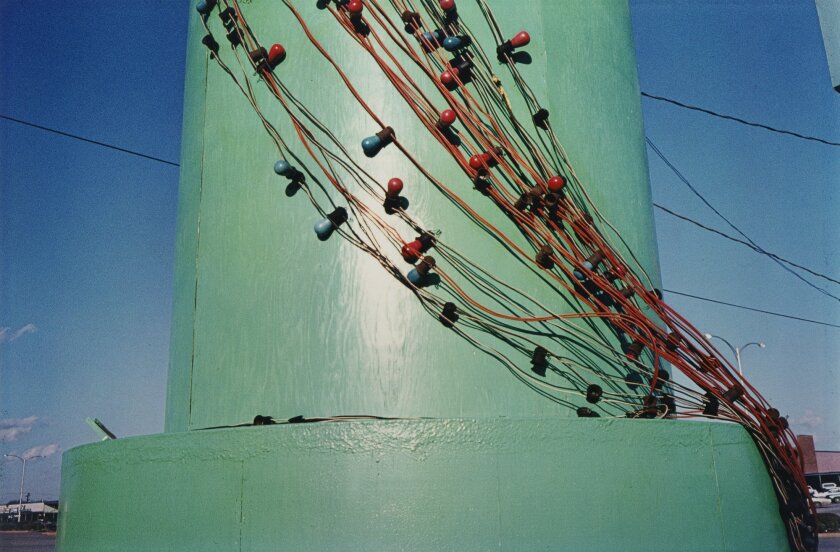 Well, it's been quite a year. I managed to get myself hired by the L.A. Times. I got to write stories about art and race, a desert swimming pool, kitties that aren't cats, an artist who made a building-sized sugar sculpture, a historic Indian jacket, an artist-made TV and the design of L.A. I also bounced around with a tuba player, irritated a famous art critic, saw art installations inside an old jail, and rocked out to one of the 20th century's best albums. And, oh, there is the small matter of the tattoo I picked up (in the name of journalism) at the Hello Kitty Convention.
In other words, it's been a pretty good year. And you guys have made it all extra worthwhile. I appreciate the emails, Tweets and Facebook posts that agree and disagree. I even appreciate the messages that tell me I've spelled something wrong (evidence that all of these stories are hand-crafted by humans and not by some Google bot). So thank you for embracing this online experiment. There will be a whole lot more next year.
If you are looking for some super-tight end-of-year wrap-ups, may I suggest these stories by my colleagues: Christopher Knight rounds up the best (and worst) exhibitions, Christopher Hawthorne looks at the year in architecture, David Ulin wraps up the best books, and David Ng takes us through all the best headlines.
In the meantime, I leave you with the image, at top, by William Eggleston, the American lensman who pulled us out of the black and white in the late '60s and early '70s with his unforgiving, brightly saturated photographs of garish bits of Americana: red rooms, a sea-foam-tinted Chevrolet fin, empty diners the color of egg yolks and polyester-clad ladies in gravity-defying 'dos.
"Tennessee," as the above image is called, was likely shot sometime around 1980 and resides in the permanent collection at the Getty Museum. It is the perfect marriage of high photography and low culture: a little bit trashy, a little bit cheeky, on greater inspection a profound meditation on color. And, ultimately, what I aspire to do on this blog — have fun while also tackling serious topics.
Thanks for stickin' with me. I'm taking a few days off for the holidays. But I'll be back at the keyboards in the New Year.
xox,
C.
---
Your essential guide to the arts in L.A.
Get Carolina A. Miranda's weekly newsletter for what's happening, plus openings, critics' picks and more.
You may occasionally receive promotional content from the Los Angeles Times.