NFL and TV networks sticking with Redskins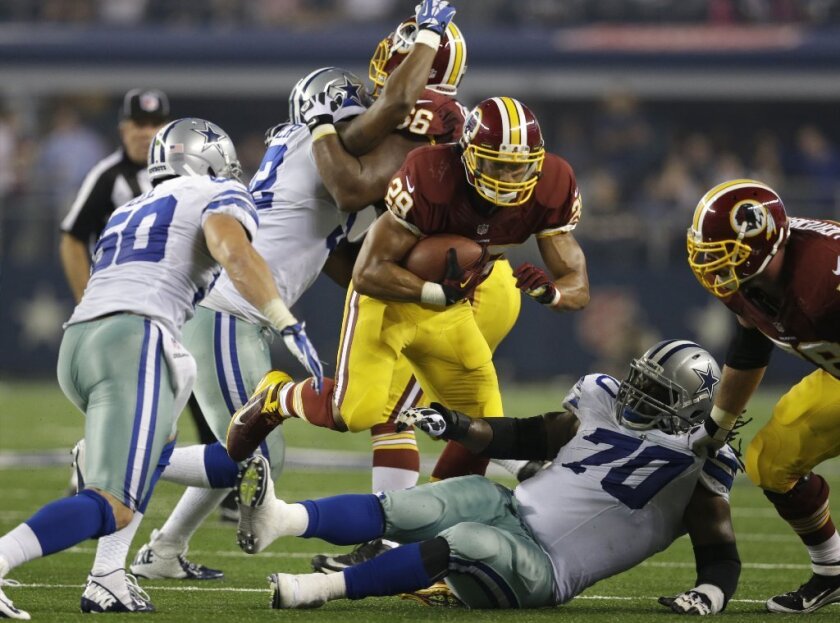 NBC's Bob Costas weighed in Sunday that it is time for the Washington Redskins to change their name.
But don't look for the networks that carry the National Football League, including NBC, to follow his lead just yet. Even if NBC wanted to, its contract with the NFL would make such a move difficult.
In a statement, an NBC Sports spokesman said, "although we are sensitive to the fact that some may find this situation offensive, we are contractually obligated to use current NFL team names. If a name changes, we'll adjust accordingly and immediately."
That was echoed by the other networks that carry the NFL.
PHOTOS: Hollywood Backlot moments
"We certainly understand the sensitivities of this situation. As broadcast partners of the NFL we use the official league names and marks to identify all 32 teams," a CBS Sports spokeswoman said. An ESPN spokesman said, "we use the marks and nicknames as utilized by the teams, leagues and conferences we cover." A Fox spokesman said the network is sensitive to the matter but "as an NFL rights-holder, we have an obligation to honor the marks and terms set forth in our contract."
An NFL spokesman said networks that carry Redskins games (including the league's own NFL Network) are required to use "team name, logos and colors during the broadcast in audio and visual references."
However, there is no quota and it is up to the announcers to decide how often they say a team's nickname during a telecast. In other words, if a broadcast crew found a way to say Redskins only once during a telecast, it might not get in hot water with the league.
PHOTOS: Cable versus broadcast ratings
Some print columnists are taking matters into their own hands regarding the issue.
USA Today writer Christine Brennan and Peter King of Sports Illustrated's have all declared they will no longer use the name in stories about the team although their news organizations still do.
The Washington Post editorial board has also advocated that the team change its name, but the paper continues to use it although columnist Michael Wise no longer does.
The Los Angeles Times has no current plans to stop using the name Redskins.
ALSO:
Using YouTube 'to strike a chord'
TV ratings: `The Voice' and `Blacklist' score for NBC
Morning Fix: Walking Dead' rises! Sony bets on Netflix. Snowden is a tough sell.
Follow Joe Flint on Twitter @JBFlint.
---
From the Emmys to the Oscars.
Get our revamped Envelope newsletter for exclusive awards season coverage, behind-the-scenes insights and columnist Glenn Whipp's commentary.
You may occasionally receive promotional content from the Los Angeles Times.