Newsletter: Gold Standard: Plenty of popular choices for this year's best picture Oscar race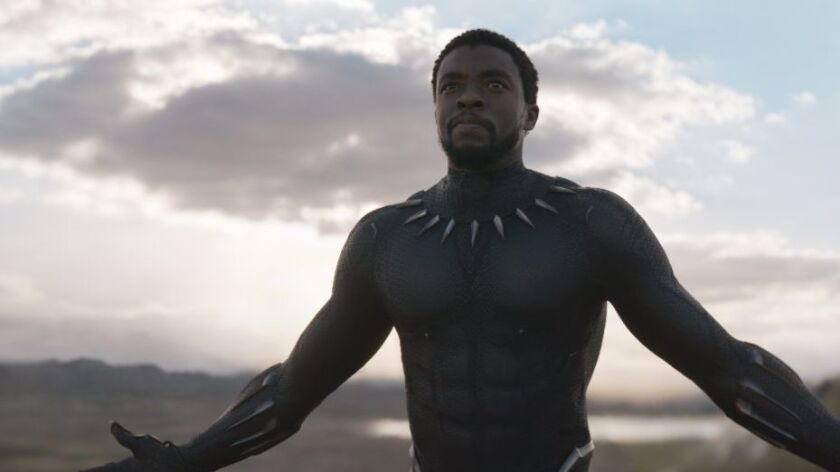 It has been six years since a film that grossed more than $100 million won the Oscar for best picture. And the year that "Argo" ("Argo"?) prevailed, five other best picture nominees — "Django Unchained," "Les Misérables," "Life of Pi," "Lincoln" and "Silver Linings Playbook" — also crossed the $100-million mark and a sixth, "Zero Dark Thirty," just barely missed.
Will this be the year when a box office hit finally prevails again at the Oscars?
Welcome to the Gold Standard, the newsletter from the Los Angeles Times that helps guide you through the ins and outs of the awards season leading up to the Oscars.
I'm Glenn Whipp, the Times' awards columnist and your newsletter host.
No popular film Oscar? No problem!
I don't know too many people who lamented the film academy's decision to reverse course and deep-six the idea of an Oscar for "best popular film." That kind of pandering is unnecessary, particularly in a year when there are a number of movies — "Black Panther," "A Star Is Born," "Crazy Rich Asians" and upcoming titles like "Green Book" and "Widows" — that, to varying degrees of success, mix strong commercial instincts with artistic daring.
I wrote about the arrival of all these crowd-pleasing movies in a column previewing the race for the best picture Oscar. For the film academy, a body concerned with both image and relevance, the potential inclusion of box office hits in the best picture field should come as welcome news. Audiences have opened their hearts to these films. I think Oscar voters will too.
And it looks like panelists for the Times' Buzzmeter agree (for the most part). You can check out their Oscar predictions (including my own) in the top 10 categories here.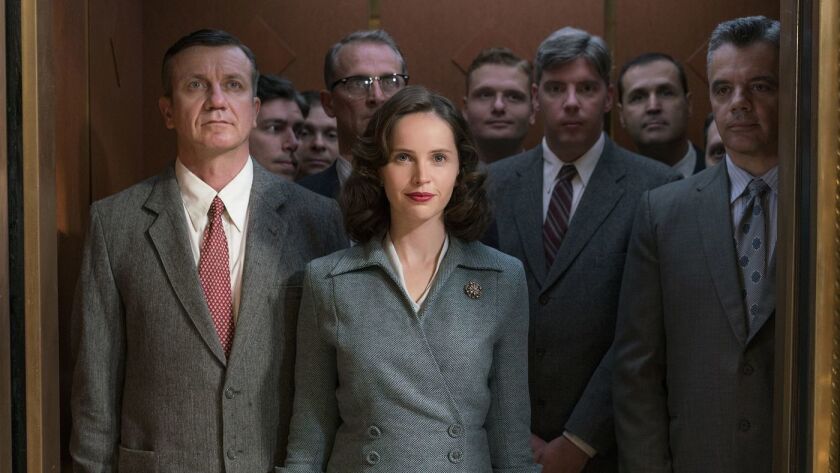 AFI Fest puts the spotlight on women
The 32nd AFI Fest opened last night with the Ruth Bader Ginsburg biopic "On the Basis of Sex," one of many programming choices made to elevate the work of female filmmakers. (Veteran filmmaker Mimi Leder directed "On the Basis of Sex.")
Times staff writer Sonaiya Kelley looks at this year's festival, which will run through Nov. 15 at the TCL Chinese Theater, the Egyptian Theatre and the Hollywood Roosevelt, paying particular attention to the choice to feature an all-female lineup of filmmakers for its Cinema's Legacy program.
"In the past, Cinema's Legacy has functioned as a greatest hits-type section, these mega hits that everyone has already seen, and as it so happens, almost all of these classics are directed by men," says festival programmer Beth Hanna. "So we wanted to rewrite what Cinema's Legacy is and look specifically at women working in the independent film sector, both here and abroad."
The festival also features a number of female-driven award contenders, including Alfonso Cuarón's Mexican family drama, "Roma," Yorgos Lathimos' cutting period romp, "The Favourite" and a gala presentation of Steve McQueen's heist thriller, "Widows," starring Viola Davis, Michelle Rodriguez, Elizabeth Debicki and Cynthia Erivo and co-written by "Gone Girl" author Gillian Flynn.
More information on AFI Fest and its lineup can be found here.
Steven Yeun delivers a star turn in 'Burning'
Andrew Lincoln voiced the feelings of every "Walking Dead" fan recently when he said he regretted the decision to kill off Steven Yeun's beloved Glenn on the show. You want to pinpoint a moment when the AMC series jumped the shark? It's hard, I realize (so many misguided decisions!), but I'd pick Glenn's brutal death. "The Walking Dead" never recovered.
Thankfully, Yeun has gone on to better things, namely starring in Lee Chang-dong's "Burning," which is South Korea's official Oscar entry for foreign language film.
The movie investigates class conflict in contemporary Seoul, following jobless introvert Jong-su (Yoo Ah-in) who unexpectedly meets and falls for a woman from his childhood, Hae-mi (Jeon Jong-seo), only to have the relationship complicated by the appearance of a wealthy new friend Ben (Yeun). Jong-su likens Ben to Jay Gatsby, mysterious and careless. And Lee uses the character to keep the audience off-balance, creating a love triangle that evolves into a study of envy, resentment and modern alienation.
Times staff writer Sonaiya Kelley, this week's newsletter MVP, spoke to Yeun about his work in this excellent movie.
"There's a really fun connection to be made about what each character is burning for in their own right, what they're waiting for," Yeun says. "Hae-mi has been waiting for Ben, Ben has been waiting for Jong-su, and Jong-su has been waiting for Hae-mi. Something to make them feel again. Maybe he's been waiting for someone like [Jong-su] his whole life."
Times film critic Justin Chang called "Burning" a "masterpiece in psychological unease." The film is currently playing in Los Angeles and Orange counties and, hopefully, will find more theaters nationally in the coming weeks. South Korea has submitted 29 movies for the foreign language feature Oscar but never been nominated. "Burning" should end that unfortunate shutout once and for all.
Feedback?
I'd love to hear from you. Email me at glenn.whipp@latimes.com.
Can't get enough about awards season? Follow me at @glennwhipp on Twitter.
Twitter: @glennwhipp
---
From the Emmys to the Oscars.
Get our revamped Envelope newsletter, sent twice a week, for exclusive awards season coverage, behind-the-scenes insights and columnist Glenn Whipp's commentary.
You may occasionally receive promotional content from the Los Angeles Times.