Academy rehires Craig Zadan and Neil Meron to produce 2014 Oscars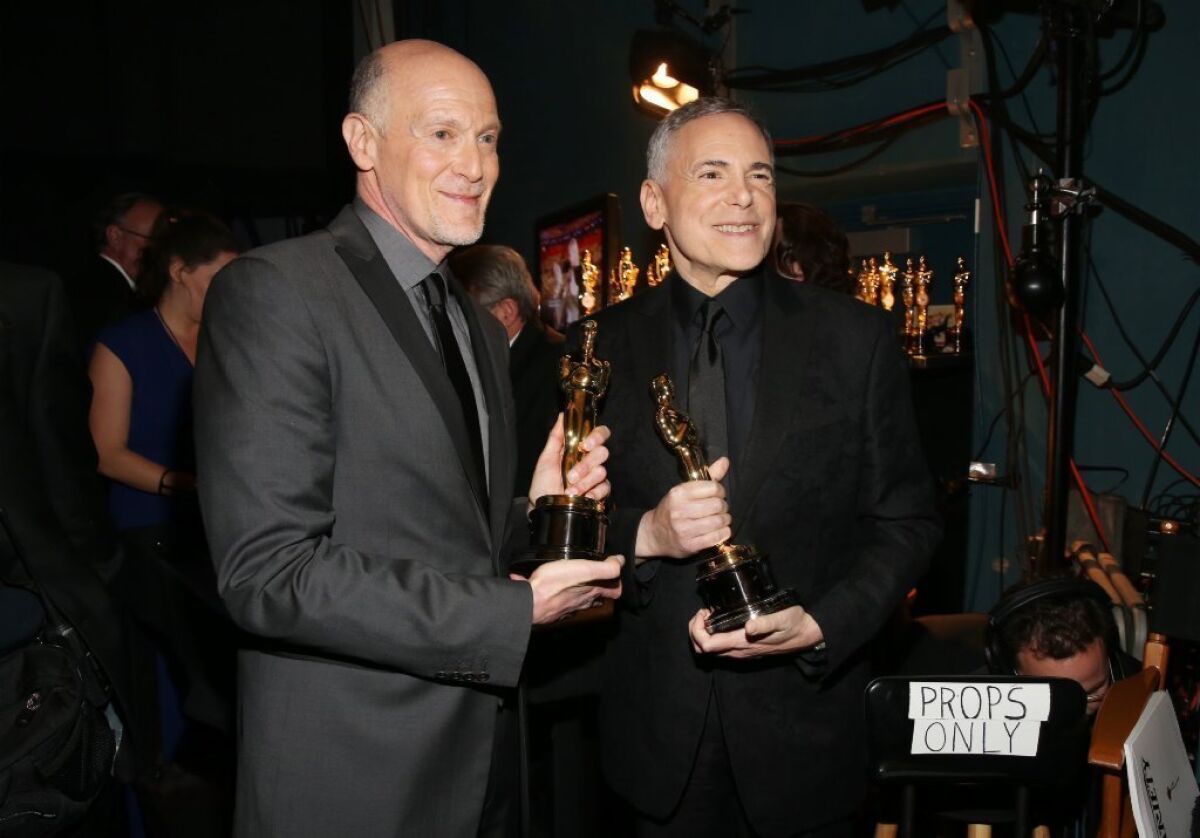 The Academy of Motion Picture Arts and Sciences has hired Craig Zadan and Neil Meron for an encore performance as Oscar producers, retaining them for the 2014 broadcast after this year's show garnered solid ratings.
The move is unusual because the job of hiring the show's producers traditionally belongs to the incoming president, who won't be chosen until the end of July. But current President Hawk Koch, whose one-year term will end this summer, made the decision with the support of the 43-member Board of Governors.
"We believe that continuity is the most important thing. One of the problems we have every year is that you always have a new producer and a new host — there's so much learning," Koch said Tuesday by phone from China, where he is attending the Beijing Film Festival. "It's so much better when you have continuity."
Oscars 2013: Winners/nominees list | Highlights
Zadan and Meron's show drew the biggest Oscar audience in several years but sparked some controversy, with a number of pundits and academy insiders criticizing host Seth MacFarlane's repartee as juvenile, including the now-infamous "We Saw Your Boobs" opening number. It's not clear whether the producers will ask MacFarlane to return as host.
Bringing back Zadan and Meron, best known for producing such movie musicals as "Chicago" and "Hairspray," was discussed by some members of the Board of Governors at the annual Oscar review committee meeting held shortly after the Feb. 24 ABC telecast.
"It's the president's prerogative to choose the new producers, but I didn't want to do anything without the review committee and the governors agreeing," Koch said. "Everybody was very excited about this."
MacFarlane, best known for his "Family Guy" animated series, has said that he doesn't intend to return to the hosting duties. He is currently readying his new film, a western he will star in called "A Millions Ways to Die in the West."
Oscars 2013: Red carpet | Backstage | Quotes | Best & Worst moments
The 2013 telecast, which featured a James Bond tribute and a movie musical medley, saw an average of 40.3 million viewers tune in — the best ratings for the show since 2010 and up 2% over the 2012 show, which Billy Crystal hosted.
Most important, the show lured in more younger viewers, with the 18- to 49-year-old audience up 11% over the year before.
Last year, outgoing academy President Tom Sherak attempted a similar effort to put his stamp on the telecast before leaving office, working diligently to hire producer Lorne Michaels and talk-show host Jimmy Fallon to host the 2013 show, only to falter on the deal-making as he concluded his term.
Sherak's efforts at the time were criticized by some insiders at the academy who believed he was overreaching and not properly deferring to his successor.
While veteran Oscar producer Gil Cates ran the show 14 times from 1990 to 2008, most recently the job has become a one-season office with movie directors and producers such as Adam Shankman, Brian Grazer and Bill Condon overseeing the show in between their feature films. Laura Ziskin produced the show twice, in 2002 and 2007, and was the first woman to hold the job solo.
Nailing down a producer can be a difficult task. Consider the 2011 debacle when producer Brett Ratner and host Eddie Murphy backed out of their jobs in November after Ratner uttered an anti-gay slur. Grazer filled in quickly and hired veteran host Crystal to right the ship.
Zadan and Meron had wanted the producer job for years, speaking frequently during this past Oscar season about how running the telecast was fulfilling a lifelong dream. The two are currently in production on a Bonnie & Clyde miniseries for Lifetime and on the NBC television series "Smash."
The 2014 telecast will be March 2.
ALSO:
Oscars 2013: How Seth MacFarlane's sexist jokes hurt women
Oscar producers bask in their golden glow
Oscars 2013: TV ratings rise with Seth MacFarlane as host
WINNING BALLOT: A list of the 2013 winners

TIMELINE: Academy Awards through the years
---
Get our L.A. Goes Out newsletter, with the week's best events, to help you explore and experience our city.
You may occasionally receive promotional content from the Los Angeles Times.