At the West Coast Salsa Congress, the rhythm can't be stopped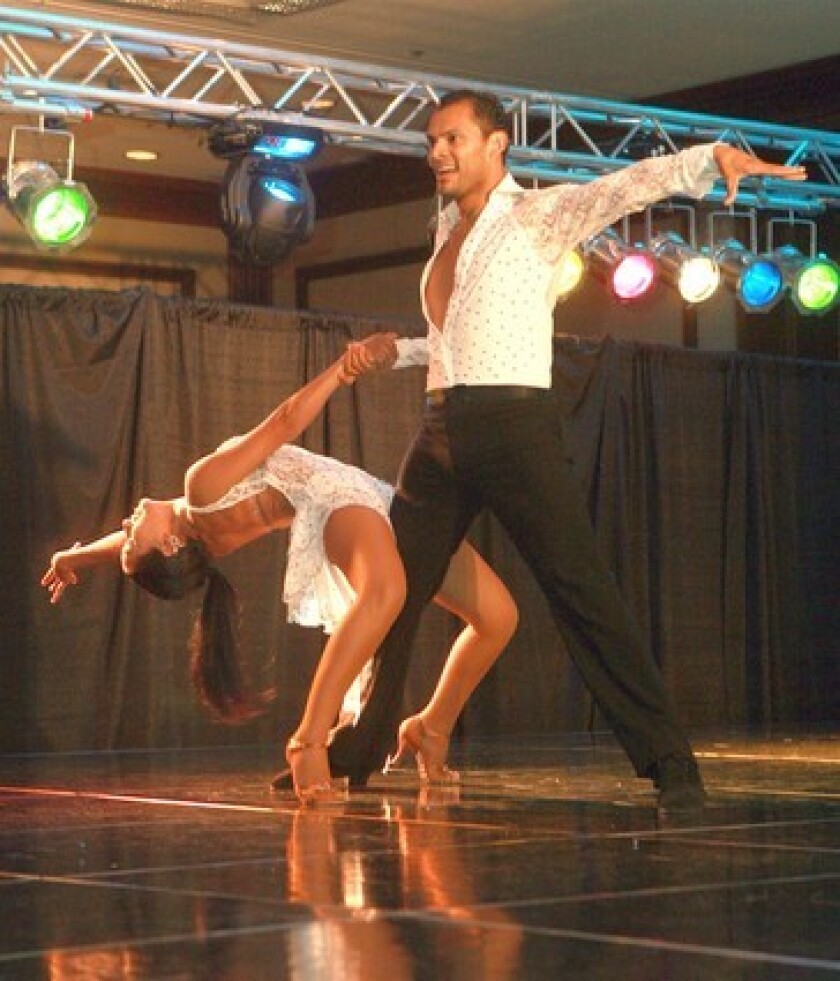 Los Angeles Times Staff Writer
His name is synonymous with the business of salsa dancing. Albert Torres is a former drug addict and petty criminal who escaped from a dead-end life by becoming a music entrepreneur -- please don't call him a promoter -- best known for his global dance competitions called the Salsa Congress, a name that hints at his belief in the unifying power of the music.
But four years ago, at his sixth annual congress in Los Angeles, Torres thought he'd met the end of the road. He says he was swindled out of more than $100,000 in ticket sales by a trusted worker who nearly ran him over during a confrontation in a parking lot, with Torres clinging to the hood of the car like a movie stuntman.
The loss cost him his dream of buying his own house, says the Santa Monica renter, and later cost him his marriage. Divorced and in debt, Torres just kept on going, like the Energizer Bunny of salsa, a genre that has fallen in CD and concert sales since the 1990s heyday of Marc Anthony and the annual salsa festivals at the Hollywood Bowl.
The dancers never stopped either. So Torres is back this week for the 10th anniversary of the Los Angeles (formerly West Coast) Salsa Congress. It continues to draw dozens of dancers from around the world. This year, the often dazzling showcase will feature competitors from three dozen countries, including unexpected salsa outposts in China, Bulgaria, Dubai, India and New Zealand.
"We have the beauty of something that mixes all communities together," Torres told me during a break at the Radisson Hotel near LAX. "I travel around the world, and it's exhausting, but at the same time I get to see the glow in people's eyes, the glee of doing something they love. Maybe they don't even understand the words. But boy, they live it, they feel it and they dream it."
The event has been significantly scaled back from past extravaganzas at Hollywood Park in Inglewood, where big-name bands performed nightly in the ballroom and competitions were held in large outdoor tents. It was like a salsa circus, and Torres admits the outsize ambition also contributed to his woes.
"It was part ego," he says. "I wanted to make it Disneyland for salseros. . . . Yes, you're showing the world how big salsa can be, but you're losing 50 grand doing it."
The quest sure seemed quixotic. I kept writing articles saying salsa was dead, and the Salsa Congress just kept getting bigger and bigger. Obviously, there's a huge disconnect between salsa as pop music and salsa as dance fever.
With roots in Afro-Cuban music, salsa has gone through waves of popularity, from the mambo era of the '50s to the politically tinged rebirth of the '70s (when the term "salsa" was coined) and the Havana renaissance of the '90s. But this decade, the salsa record industry has been mostly down. There are no new noteworthy bands on the horizon, and even in New York, the hotbed for the great bands of the '70s, the salsa club scene has all but vanished.
Rubén Blades, perhaps the most influential artist to emerge from the '70s era, still recalls the excitement of his first visit to New York in 1969, on the cusp of the coming explosion. The native Panamanian, then barely 20, walked into the Village Gate and caught a performance by innovative pianist Eddie Palmieri playing "Pa Huele." "Internally, for me, that song never stopped," Blades told me this week. "Almost 40 years later, it's as fresh as the first time I heard it."
It's the staying power of those songs that explains salsa's survival, says Blades, who coincidentally was in Los Angeles, where he keeps a home, during a break from his job as Panama's tourism minister. He points as evidence to new versions of standards, such as Ray Barretto's "Indestructible" by a band from Lithuania and Ismael Quintana's "Mi Debilidad" by an Israeli group, both discussed on his regular podcast, El Show de Rubén Blades. "Salsa doesn't really die; it just goes into hibernation," says Blades, who has penned some of the genre's most enduring hits.
Not surprisingly, classic salsa is a big part of the congress, which runs through Sunday. Friday was designated Fania Night, featuring singer Cheo Feliciano, one of the stars of Fania Records. He was scheduled to be backed by the New Sawing Sextet, which has reunited after a 35-year hiatus.
Tonight is Gala Night, with the Los Angeles All Star Salsa Band directed by Johnny Polanco. Sunday's closing lineup features a showcase of dancers that caught Torres' attention over the last decade, including a team of kids from Japan and a one-legged dancer from Colombia whose video was a with almost 2 million views to date. YouTube sensation, "There's no sense in us saying, 'We have to revive salsa,' " says Giora Breil, the German-born record executive whose company, Miami-based Emusica, now owns the Fania catalog. "You can't revive Impressionism. . . . But I'd sure like to own a Renoir."
Breil was in town to meet Torres and discuss plans for collaborations with the label. "I admire him," Breil told me over coffee at the hotel, "because he's one of those apasionados, as we say in Portuguese. He's passionate about the music."
Torres' passion took him to 36 countries last year, covering 250,000 air miles. He's working on a film project, record compilations and a proposed reality TV show.
As for his personal problems, Torres hopes to put those in the past, along with his remaining debt. "There's the old saying, 'I may not be the man I wanted to be and I may not be the man that my family thought I should be,' " he says. "But thank God I'm not the man I used to be."
2008 Los Angeles Salsa Congress through Sunday at the Radisson Hotel at LAX, 6225 W. Century Blvd., Los Angeles. For more information, call (310) 445 9705 or go towww.mysalsacongress.com.
---
Inside the business of entertainment
The Wide Shot brings you news, analysis and insights on everything from streaming wars to production — and what it all means for the future.
You may occasionally receive promotional content from the Los Angeles Times.