CBS' 'S.W.A.T.' reboot 'will take on the Trump years,' #BlackLivesMatter, says Shemar Moore
Don't let the funky theme song or the '70s origins fool you.
While technically a remake — of both the original series and the subsequent 2003 film based on it — CBS' upcoming cop drama "S.W.A.T." is very plugged into the current moment, according to its cast and creators.
In the series, former "Criminal Minds" star Shemar Moore plays a native Angeleno who runs a tactical unit for the LAPD and finds his loyalty torn between his fellow officers and the community in which he was raised.
As co-creator Aaron Rahsaan Thomas told reporters Tuesday at the Television Critics Assn. press tour, the series was inspired by his experiences growing up in Kansas City, which have helped him understand both sides of the raging debate over police violence.
"I grew up in a neighborhood that had a very complicated view towards police officers," said Thomas, who created the series with veteran showrunner Shawn Ryan. "On one hand, a 12-year-old kid who was a neighbor of mine was shot and killed by a police officer. On the other hand, another neighbor of mine was an actual police officer."
Moore, best known for his long run on the CBS procedural "Criminal Minds," noted the diversity of the cast and creative team and added that, while the show is primarily designed to entertain, it will also resonate politically.
"We're taking on the Trump years," he said. "I don't care who you voted for. It's just what's happening today. It's Black Lives Matter. As much as some people don't want to hear it, it's All Lives Matter. It's not just black versus blue or black versus white. It's every ethnicity. It's fear. It's racism. It's terrorism. It's subject matter of today."
Ryan, who created the groundbreaking drama "The Shield," about corrupt Los Angeles police officers, said he was excited about the chance to examine the often charged relationship between law enforcement and the communities they serve.
"Los Angeles is such a diverse, amazing community, and seeing an officer who kind of lives in the city and sort of sees the people that are being policed as humans and as neighbors and as friends was really important to me."
Netflix getting 'A Little Help' from Carol Burnett
What do you get when you pair up a living legend with a bunch of little kids? Comedy gold, if Netflix has its way.
The online streaming service announced Monday that comedy icon Carol Burnett will be returning to television with "A Little Help With Carol Burnett," an original unscripted series that pairs Burnett with children to tackle life's dilemmas.
"Someone once asked me how old I am inside," Burnett said in a statement Monday. "I thought about it and came up with, 'I'm about 8.' So it's going to be a lot of fun playing with kids my age."
Kids ages 4 to 8 will join Burnett as celebrities and everyday folks bring their real-life problems to the show to get advice in front of a live studio audience.
"We're thrilled Carol is bringing her unique sensibilities to Netflix," Bela Bajaria, the service's vice president of content acquisition, said in Monday's announcement. "Carol is truly a legend in the entertainment industry with unprecedented success and fandom across TV, film and the stage, and we are both honored and excited to work with her."
"A Little Help With Carol Burnett" will be produced by Dick Clark Productions and is the company's first Netflix project.
This is the second television project announced this year for Burnett, 84. In February, ABC ordered a pilot for the multi-camera comedy "Household Name," starring Burnett, though the series has not been picked up in its current iteration.
Debuting in 2018, "A Little Help With Carol Burnett" will feature 12 half-hour episodes.
Anthony Scaramucci is out and Twitter is having a field day
To lift a line from the pop song "Na Na Hey Hey Kiss Him Goodbye," go ahead and kiss Anthony Scaramucci goodbye.
It's been a robust 10 days since the former Goldman Sachs investment banker, affectionately known as "the Mooch," started his new job as White House communications director. And what a whirlwind 10 days they were.
During that time, Scaramucci's estranged wife, Deirdre Ball, gave birth to their second child. Scaramucci was not present for the birth, busy as he was at his new job in Washington, D.C.
On Wednesday, Scaramucci lashed out on Twitter at then White House Chief of Staff Reince Priebus, seemingly implying that Priebus had leaked a publicly available financial disclosure form to Politico, tagging both the FBI and Justice Department in the tweet.
On Thursday, Scaramucci took to the CNN morning show "New Day" to continue his attack on Priebus. Later that day, New Yorker magazine writer Ryan Lizza confirmed that Scaramucci had spoken to him via phone Wednesday night and called Priebus a "paranoid schizophrenic" and had, somehow, even worse (vulgar) things to say about White House strategist Stephen K. Bannon.
All of which led to Priebus' unceremonious dismissal from his position on Friday, with the White House announcing that former general and current Homeland Security Secretary John Kelly would be replacing him.
Hopefully, Scaramucci enjoyed his weekend because it took only a few hours Monday before it was announced that he was the latest ouster in the revolving door that is the Trump administration.
In a statement released Monday, the White House said it "felt it was best to give Chief of Staff Kelly a clean slate and the ability to build his own team."
Twitter, unsurprisingly, is beside itself.
Here are a few choice takes from social media. Fare thee well, Mooch. We hardly knew ye.
For the Record
1:45 a.m.: In a previous version of this post, Deirdre Ball's first name was misspelled as Diedre.
Ken Burns explains why his Vietnam War documentary is more relevant than ever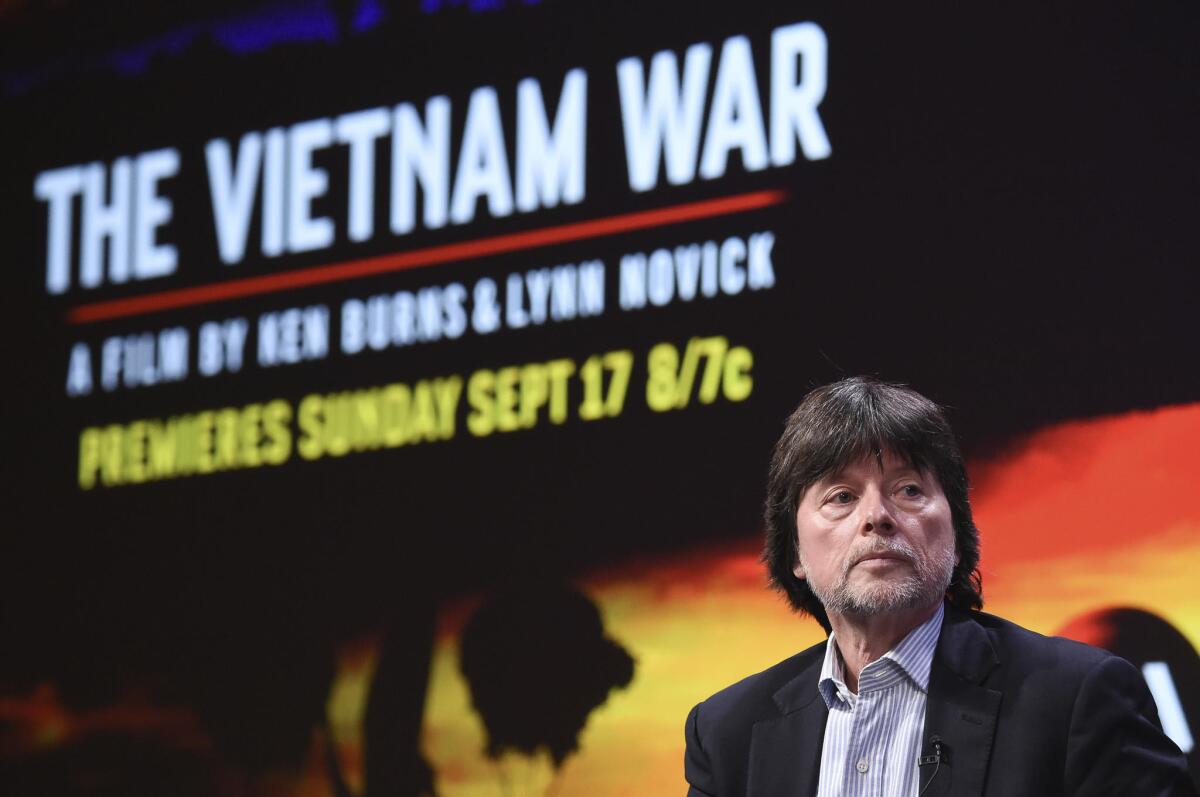 "History doesn't repeat itself," Ken Burns told a room of journalists gathered Sunday at the Television Critics Assn. summer press tour in Beverly Hills
"We're not condemned to repeat what we don't remember," Burns explained. "It's that human nature never changes."
It's a curious statement from the storied documentarian, particularly given his latest project, the 18-hour, 10-part documentary series "The Vietnam War," directed with Lynn Novick.
But just because humanity isn't trapped in a constantly repeating cycle doesn't mean that the echoes of modern strife aren't plentiful throughout the upcoming PBS series.
"This is a story about mass demonstrations all across the country against the current administration," Burns said in response to a question about what the youth of America will find relevant in "The Vietnam War." "About a White House obsessed with leaks and in disarray because of those leaks, about a president railing against you, the news media, for making up news.
"It's about asymmetrical warfare, which even the mighty might of the United States Army can't figure out the correct strategy to take, and it's about big document drops of classified material that's been hacked, that suddenly is dumped into the public sphere, destabilizing the conventional wisdom about really important topics and accusations that a political campaign reached out to a foreign power at the time of a national election to influence that election.
"This is the film we started in 2006, and every single one of those points are points about the Vietnam War having nothing to do with today," Burns concluded.
By creating a fully-formed picture of Vietnam, Burns hopes to shed light on the rancor and alienation defining this present moment, he explained.
For Novick, the thematic relevance only serves to help teachers who have long struggled in tackling the Vietnam War.
"We've had great response from teachers already that the Vietnam War is difficult to teach because it's controversial and unsettled history and they're looking forward to using the film in the classroom," Novick said. "Those resonances that Ken is talking about, those will be assignments for students. We're not going to have to work very hard with teachers to come up with those themes, and students are curious about what's happening now."
"The Vietnam War" premieres Sept. 17 at 8 p.m. PDT
Goodbye, MTV Moonman trophy. Hello, 'Moon Person'
MTV's token space cadet just scored an identity revamp — and gender didn't make the cut.
In a recent interview with the New York Times, MTV President Chris McCarthy said the network's iconic Moonman trophy has been discontinued. From now on, the metallic figurine — whose impenetrably opaque helmet has become the unofficial "face" of MTV's Video Music Awards — will go by "Moon Person" instead. Because who knows what's really going on beneath that lacquered astronaut getup, anyway.
"Why should it be a man?" McCarthy told the Times. "It could be a man, it could be a woman, it could be transgender, it could be nonconformist."
This new development is just the latest installment in MTV's string of efforts to do away with gender norms during its awards proceedings. The network eliminated gender-specific categories at its MTV Movie & TV Awards earlier this year, where all nominees were placed in neutral categories (i.e. best actor in a show, best actor in a movie).
And the network isn't going to stop there. McCarthy also announced a new MTV reality series — still in development —called "We Are They" about a group of gender-nonconforming young adults coming of age.
With Katy Perry hosting, the VMAs will broadcast from the Forum in Inglewood on Aug. 27. Here's the full list of nominees.
Sam Shepard: Pulitzer Prize-winning playwright, actor and ... avant-garde drummer?
Sam Shepard, whose death at 73 was announced on Monday, will be remembered for his cross-discipline versatility. As a Pulitzer Prize-winning playwright, he penned classic off-Broadway plays including "True West," "Buried Child" and "Fool for Love."
An Oscar-nominated actor, he starred in films including "Days of Heaven," "The Right Stuff," "Crimes of the Heart" and "The Assassination of Jesse James by the Coward Robert Ford."
To fans of underground music, however, Shepard served a lesser-known role as the drummer for seminal New York avant-garde folk band the Holy Modal Rounders, with whom he performed on the crucial late 1960s albums "Indian War Whoop" and "The Moray Eels Eat the Holy Modal Rounders."
The band is best known for its song "If You Want to Be a Bird," which plays during the classic scene in "Easy Rider" in which Dennis Hopper, Peter Fonda and Jack Nicholson roar down the highway on their motorcycles. That's Shepard playing drums as Rounders founders Peter Stampfel and Steve Weber whoop and yowl.
It was in his capacity as a percussionist, in fact, that he drew the attention of a young Patti Smith, who, in her 2010 memoir "Just Kids," recounted their first early '70s meeting at seminal music club the Village Gate.
Escorted to the club by Todd Rundgren, who had just issued his album "Runt," Smith described the Holy Modal Rounders' set as "like being at an Arabian hoedown with a band of psychedelic hillbillies. I was fixed on the drummer, who seemed as if he was on the lam and had slid behind the drums while cops looked elsewhere."
Smith, who at the time was freelancing for Crawdaddy magazine, introduced herself to this drummer, who said his name was Slim Shadow.
The two started hanging out, wrote Smith, describing his tales as being "even taller than mine. He had an infectious laugh and was rugged, smart, and intuitive. In my mind, he was the fellow with the cowboy mouth."
Only later did she learn Slim's real identity when a friend pulled her aside after seeing them at a restaurant together. As recounted in "Just Kids," Smith wrote that her friend asked, "What are you doing with Sam Shepard?"
"Sam Shepard?" I said. "Oh, no, this guy's name is Slim."
"Honey, don't you know who he is?"
"He's the drummer for the Holy Modal Rounders."
No, corrected her friend, "He's the biggest playwright off-Broadway. He had a play at Lincoln Center. He won five Obies!"
Once she learned of his reputation and acclaim, Smith and Shepard continued to see each other -- despite his being married at the time -- and eventually collaborated on a play called "Cowboy Mouth."
Smith described telling him of nervousness at writing for the stage, which she had never done. But Shepard urged her on, Smith wrote, telling her that "you can't make a mistake when you improvise."
Replied Smith: "What if I screw up the rhythm?"
"You can't," Shepard explained. "It's like drumming. If you miss a beat, you create another."
7:15 a.m. Updated to correct the title of Smith's memoir, "Just Kids," and to identify the Holy Modal Rounders' co-founders, Stampfel and Weber.
Lady Gaga subpoenaed in producer Dr. Luke's lawsuit against pop singer Kesha
The ongoing offstage drama between the pop singer Kesha and her former producer Dr. Luke has entangled another platinum superstar: Lady Gaga.
On Saturday, attorneys for Dr. Luke, whose real name is Lukasz Gottwald, issued a statement regarding their attempt to depose Lady Gaga about relevant conversations she may have had with Kesha.
The artist, who was born Kesha Sebert, is the subject of a defamation suit filed in New York by Dr. Luke stemming from allegations of sexual misconduct, which the producer vigorously denies.
The statement reads:
"Dr. Luke's counsel served a subpoena on Lady Gaga because she has relevant information regarding, among other things, false statements about Dr. Luke made to her by Kesha. This motion has become necessary because Dr. Luke's counsel has not been able to obtain, despite repeated request [sic], a deposition date from Lady Gaga."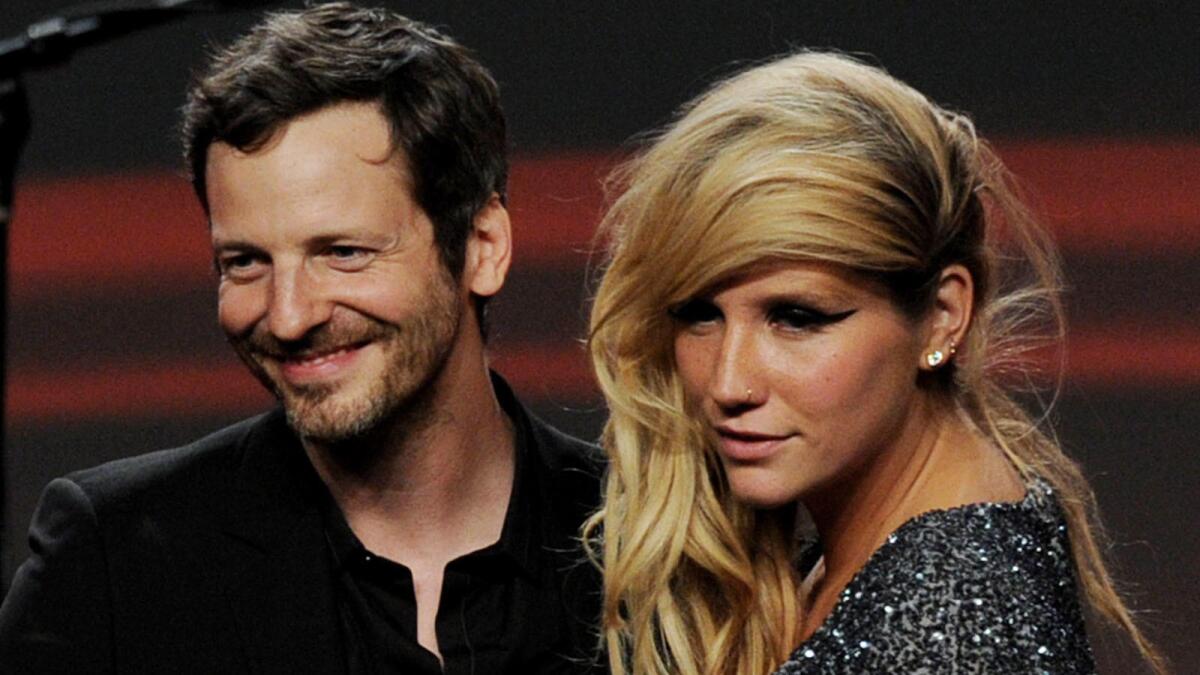 Representatives for Gaga, whose real name is Stefani Germanotta, said in a statement issued to The Times on Monday morning: "As Lady Gaga's legal team will present to the court, she has provided all of the relevant information in her possession and is at most an ancillary witness in this process. Dr. Luke's team is attempting to manipulate the truth and draw press attention to their case by exaggerating Lady Gaga's role and falsely accusing her of dodging reasonable requests."
Among the information Lady Gaga has provided are copies of text messages that were, according to a report on TMZ, heavily redacted.
Lady Gaga has been a vocal Kesha supporter. Last year, Gaga wrote about her peer's plight in an Instagram post: "The very reason women don't speak up for years is the fear that no one will believe them or their abuser has threatened their life or life of their loved ones/livelihood in order to keep their victim quiet and under control. What happened to Kesha has happened to many female artists, including myself, and it will affect her for the rest of her life."
The news comes at a particularly crucial moment for Kesha's career. On Aug. 11, she will release her highly anticipated new album, "Rainbow." The record, featuring songs such as "Learn to Let Go," will arrive via Dr. Luke's imprint, Kemosabe, a situation Kesha sought to avoid in a 2014 lawsuit of her own, which she later dropped.
'Ride on, genius': Celebrities mourn the loss of Sam Shepard
Sam Shepard — Oscar-nominated actor and critically acclaimed playwright, author, screenwriter and director — died on July 27 after suffering complications from ALS (Lou Gehrig's Disease). When news of his death broke Monday morning, Twitter erupted with posts to mourn, honor and remember one of show business' beloved renaissance men.
This story was updated with additional reactions.
Macaulay Culkin got his first tattoo with goddaughter Paris Jackson, and it's a match
For Paris Jackson, getting inked is nothing out of the ordinary. With more than 50 tattoos already under her belt, the 19-year-old daughter of late pop king Michael Jackson collects body art like postage stamps.
According to E! News, the budding actress got her latest over the weekend: an understated sketch of a red spoon, just below the crook of her left arm.
A new tattoo might be old-hat for Jackson, but it wasn't for Macaulay Culkin, Jackson's 36-year-old godfather -- and first-time tattoo patron -- who emerged from West Hollywood's Tattoo Mania with a matching spoon on his own forearm.
Though neither Jackson nor Culkin spoke to the meaning of the double-inking, the design is supposedly meant to represent a kind of chronic struggle.
And that's not the only news that Culkin made recently. The Internet nearly lost its collective mind last week when a new photo emerged of the "Home Alone" actor looking healthy and happy. E! News even declared that Culkin "definitely just won 2017's greatest makeover."
Alex Jones' products are almost as bad as his conspiracy theories, says John Oliver
Over the last year, conspiracy theorist and influential radio host Alex Jones has come under intense scrutiny for his fringe beliefs, most notably his claim that the massacre at Sandy Hook Elementary School was a hoax perpetrated by the government.
On Sunday's "Last Week Tonight," John Oliver noted that Jones' status as a Sandy Hook "truther" qualified him for an Easy Pass to "hell's version of the champagne room." But he spent most of his time on a relatively overlooked aspect of Jones' conspiracy empire -- the wide range of products that he sells in order to fund it.
According to Oliver, Jones spends nearly a quarter of his airtime plugging InfoWars-branded merchandise, including Wake Up America Patriot coffee to Combat One Tactical Bath Wipes and a powder called Caveman True Paleo (made from "chocolate and domesticated bird corpses," Oliver joked).
As the comedian pointed out, it just so happens that many of the products Jones sells, often at a significant markup, purport to address the conspiracy theories with equally wild-eyed zeal. Think: water filters to remove chemicals that supposedly turn frogs gay or vitamins to boost your immunity and ward off germs from allegedly disease-ridden refugees.
Jones even has his own in-house "expert," Dr. Edward Group, with dubious qualifications (and equally questionable hair) to back up his various outlandish claims.
InfoWars is essentially a "QVC for conspiracy," Oliver argued.
So in the spirit of InfoWars, Oliver decided to introduce his own personal care product, John Oliver Moisture-Armored Tactical Assault Wipes, available via Infowipes.com. The price? A mere $1 million. Worth every penny, we're sure.
You can watch the complete segment here.
A Star Is Born: J.K. Rowling turns 52 today
One of my strengths, I think, is that I am able to know when I haven't done my best. I think I'm generally able to see where I fall short.
— J.K. Rowling, 2000
FROM THE ARCHIVES: Upward and Onward Toward Book Seven -- Her Way
Vintage 'Casablanca' poster sells for $478,000
How much would someone pay for a vintage movie poster? Well, if that film is "Casablanca," one person's answer is $478,000.
That's how much a bidder coughed up Saturday for the only known surviving Italian-issue poster for the 1942 film starring Humphrey Bogart and Ingrid Bergman. The poster sold through Heritage Auctions of Dallas.
"The buyer has just set a world record and acquired what we in the poster collecting world would equate to a masterpiece," said Grey Smith, Heritage's director of vintage posters. "The stunning artistry put into this poster makes it stand head and shoulders above any paper produced for the film."
The poster, measuring 55.5 inches by 78.25 inches, was produced in 1946. The film opened in Italy on Nov. 21 that year, almost four years after its U.S. premiere. Featuring artwork by Luigi Martinati, the poster is considered the best of the picture's numerous advertisements, Smith said.
Previous Italian-issue posters for the film have sold for as much as $203,000. A U.S.-issue of the poster has fetched $191,200.
The auction featured other rare posters for the film, with a half-sheet going for $65,725, and a postwar Spanish-release poster selling for $35,850.
----------
For the Record
An earlier version of this article misstated the purchase price of the "Casablanca" poster sold Saturday as $487,000.
Why people are tweeting #NoConfederate during tonight's 'Game of Thrones'
"Confederate," HBO's controversial alternate history series, which will include dramatizations of modern-day slavery and has come under fire since its announcement earlier this month, will be the target of a social media protest during Sunday's episode of "Game of Thrones."
April Reign, the activist behind #OscarsSoWhite is one of the organizers of the protest which is asking people to tweet to @hbo using the hashtag #NoConfederate during the 9 p.m. East Coast and West Coast broadcasts of "Game of Thrones." The series is being developed by "Game of Thrones" creators David Benioff and D.B. Weiss, who are white. The pair invited husband and wife writer-producers Malcolm Spellman ("Empire") and Nichelle Tramble Spellman ("The Good Wife"), who are black, to join the creative team for the show.
"We want to show HBO the power of social media of those who are against this show, and demonstrate that there is a unified voice against 'Confederate," Reign said in a phone interview. "Our objective is for HBO to cancel this idea and spend no more money on it."
Reign said she and others are tired of the pain of African Americans "being commodified for others' enjoyment." Author Roxane Gay echoed this exhaustion in a recent opinion piece for the New York Times headlined "I Don't Want to Watch Slavery Fan Fiction."
Reign stressed that the protest was not a boycott of HBO, which airs the critically-acclaimed comedy "Insecure," co-created by and starring African American actress and writer Issa Rae, a half hour after "Game of Thrones."
Said Reign, "We feel that HBO's money, time and energy can be better placed on a different idea."
The sci-fi-tinged series revolves around events that lead to the "Third American Civil War" and examines an alternate reality in which the South seceded from the Union and thus, slavery is still legal in part of the country.
Last week Benioff, Weiss and the Spellmans responded to the criticisms in an article in Vulture, explaining the genesis of the idea and saying they expected initial reactions to be negative.
"It's an ugly and a painful history," said Weiss, who called slavery America's "original sin."
"But we all think this is a reason to talk about it, not a reason to run from it. And this feels like a potentially valuable way to talk about it."
In discussing how they came aboard Malcolm Spellman said that he and his wife felt a sense of urgency in furthering a discussion about race in America. "As people of color and minorities in general are starting to get a voice, I think there's a duty to force this discussion."
Tramble Spellman said she understands people's concerns about such volatile subject matter, but noted that she wished they'd reserved judgment on "whether or not we succeeded in what we set out to do" until they had seen the show, which is still in development.
Earlier this week, Casey Bloys, spresident of HBO programming, echoed that sentiment during the premium network's session at the summer edition of the Television Critics Assn. gathering at the Beverly Hilton.
"My hope is people will judge the actual material instead of what it could be or should be or might be."
But Reign said Bloys' defense of "Confederate" fell short: "''Wait and see' is what we were told about the Trump administration."
She also repeated criticisms of "Game of Thrones," saying that Benioff and Weiss had been negligent in including blacks and other people of color in key roles both in front of and behind the camera on that show.
"We're still living in a time where there are protests about Confederate monuments coming down," Reign said. "How much history are we talking about? These are living concerns today."