Wendy Williams collapses during her live show
How you doin', Wendy Williams?
The answer is probably not as positive as usual, as the enthusiastic talk show host suffered a scary — not spooky — moment during Tuesday morning's live broadcast.
Clad in a glitzy Statue of Liberty costume, Williams began slurring her words while introducing an audience participation segment late in the Halloween broadcast. Eyes wide, the host then went silent and stumbled before collapsing.
The show quickly cut to commercial, and upon returning Williams was adamant that her fall had not been staged.
"That was not a stunt. I'm overheated in my costume and I did pass out. But you know what, I'm a champ, and I'm back," Williams proclaimed before continuing the show.
"Wendy fainted on-air this morning," a spokesperson for "The Wendy Williams Show" told The Times via email Tuesday morning. "She is dehydrated and is on her way home to rest and sleep. She has been examined by medical professionals and finished the show in true Wendy spirit. She has never missed a day of work, and will continue all shows as planned. She will address this on-air tomorrow."
It was a sentiment echoed on Williams' official Twitter account as well.
"Everybody relax. I'm doing fine, just need some water and electrolytes," read a tweet posted on Williams' feed. "On another note, I stayed and laid Halloween, LOL! Shout out to my magnificent Glam Squad and Ceaser Galindo the costume designer. More on this tomorrow."
Williams' Halloween show wasn't a total drag, however. Actor Jerry O'Connell stopped by in a truly disturbing costume attempting to depict multiple Kardashians at once.
Netflix halts 'House of Cards' Season 6 production in wake of Kevin Spacey accusation
Production has halted on "House of Cards" in the wake of a recent accusation levied against Emmy-nominated star Kevin Spacey, Netflix and Media Rights Capital said Tuesday in a joint statement.
"MRC and Netflix have decided to suspend production on 'House of Cards' Season 6, until further notice, to give us time to review the current situation and to address any concerns of our cast and crew," the statement read.
"Star Trek: Discovery" actor Anthony Rapp came forward Sunday night with an accusation that Spacey had made an unwanted sexual advance on him in 1986, when Rapp was just 14.
Spacey quickly responded to Rapp's allegation with an apology for his "drunken" behavior, which he said he did not recall, before using his official statement to come out as a gay man.
Some in Hollywood criticized Spacey's timing as opportunistic and damaging to the LGBTQ community for conflating pedophilia and homosexuality.
On Monday, Netflix and MRC announced that "House of Cards" would conclude with Season 6. The companies also released a joint statement calling the accusation against Spacey "deeply troubling" and reporting that both organizations had sent executives to Baltimore to speak with cast and crew members currently on set.
"House of Cards" debuted in 2013 and quickly became a player in the prestige television movement, becoming the first original online-only streaming series to receive nominations in major categories at the Emmy Awards.
Halloween is finally here, and these celebrities have conquered it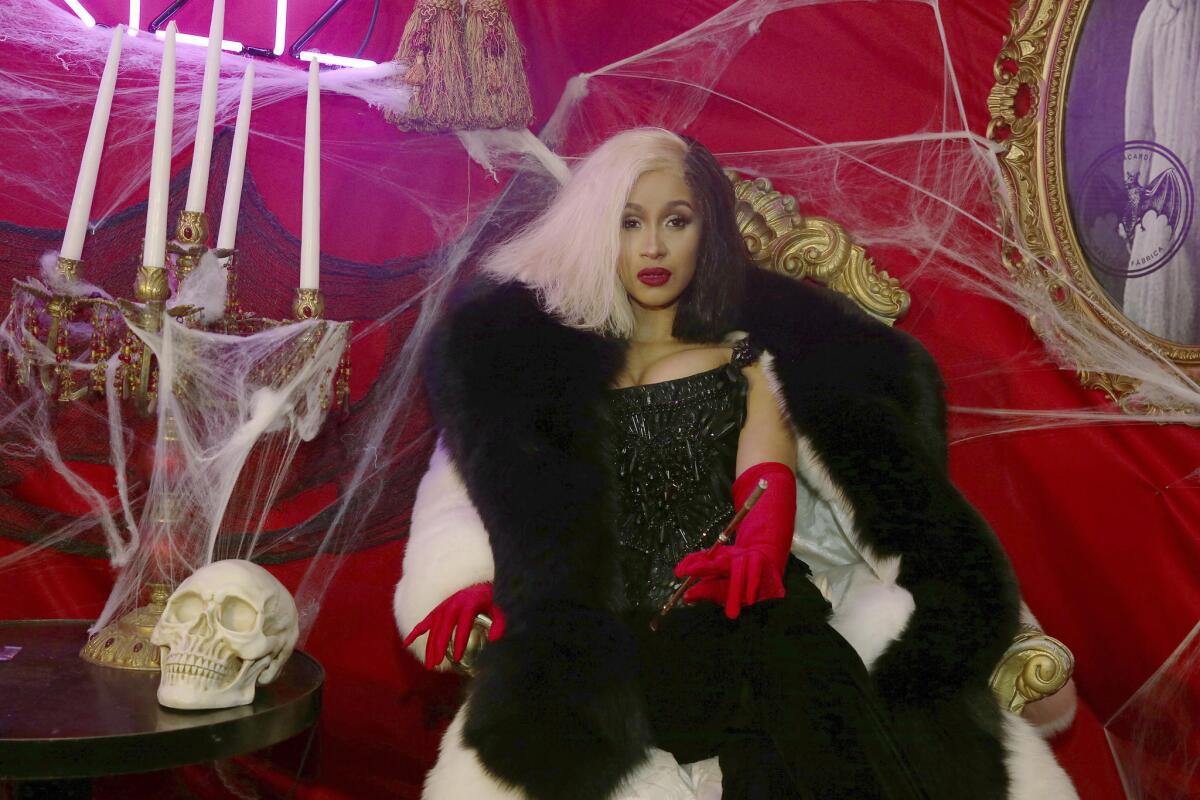 This year, a Tuesday Halloween arrives almost as an afterthought to the October costume parties that have flooded social media feeds for weeks.
You've seen the Kardashian family flit through dozens of costume combinations and witnessed a handful of celebs skulking down the red carpet as "Stranger Things" favorite Eleven, but have you seen some of the top-of-the-line costumes Hollywood has to offer?
Read on to find out which NBA stars are getting spooky, which couples are getting silly and which Oscar-winning actress is getting spoiler-y with some of the best celeb costumes of 2017.
Gabrielle Union and Dwyane Wade as Milli Vanilli
Beyoncé and Jay Z as Lil' Kim and the Notorious B.I.G.
Neil Patrick Harris and family as Carnival of Curiosities
Demi Lovato as Selena Quintanilla
Kristen Bell as Elsa (not Anna) from 'Frozen'
Steph Curry as Jigsaw
LeBron James as Pennywise
Gwyneth Paltrow as Gwyneth Paltrow's head (as seen in the movie 'Seven') with Brad Falchuk
Jay-Z to receive Grammy Salute to Industry Icons Award
The Recording Academy and Clive Davis will honor Jay-Z with the Grammy Salute to Icons Award at Davis' annual pre-ceremony gala.
A 21-time Grammy winner, Jay is being singled out for his storied rap career, business acumen and philanthropic work.
He will be presented with the award at the Sheraton New York Times Square Hotel on Jan. 27, the night before the 60th annual Grammy Awards.
"Jay-Z is a quintessential icon and I couldn't be happier and more excited to share the evening with him," Davis said in a statement. "What a night this will be!"
The honor comes amid a big year for Jay: He became the first rapper to be inducted into the Songwriters Hall of Fame, he executive-produced a poignant documentary on Kalief Browder that earned critics' praise (and saw him feted by the L.A. Press Club) and his comeback effort, "4:44," was a searing character dismantling that showed the rapper hadn't lost any hunger in a career that stretches over two decades. He even signed a new 10-year touring deal with Live Nation worth a reported $200 million.
Past honorees include Davis, Herb Alpert and Jerry Moss, Irving Azoff, Martin Bandier, Richard Branson, Ahmet Ertegun, David Geffen, Berry Gordy, Lucian Grainge, Debra L. Lee, Doug Morris, Mo Ostin and Antonio "L.A." Reid.
"We are absolutely thrilled and delighted to honor Jay-Z with this year's Grammy Salute to Industry Icons Award. His contributions as an industry trailblazer and music visionary only begin to touch on the tremendous impact he's made both in entertainment and beyond," Neil Portnow, president of the Recording Academy, said in a statement. "Jay-Z also embodies the vibrant spirit of New York City and we couldn't imagine a more fitting honoree as we return to Manhattan for this year's Grammy Awards."