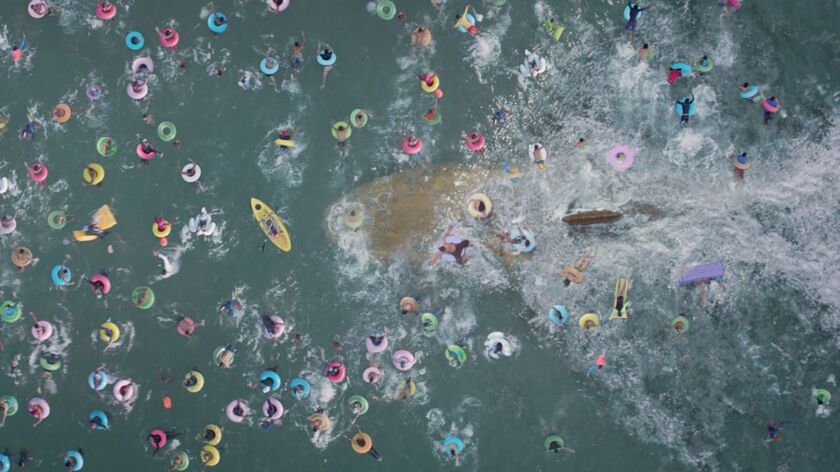 China will welcome a giant prehistoric shark into its theaters this weekend — but not a beloved teddy bear named Winnie the Pooh.
Warner Bros.' "The Meg," about an ancient predator that rises from the deep to terrorize humanity, is the latest Hollywood offering to bet on audiences' fascination with killer fish devouring people.
The film, which will be released simultaneously in the U.S. and China, is being closely watched because it's a high-profile co-production between the countries.
But the movie may face choppy waters when it debuts, analysts say.
"The Meg," which stars action hero Jason Statham as the only man who can defeat the 70-foot carnivore, is expected to open with $18 million to $22 million in domestic theaters Friday through Sunday, according to people who have reviewed prerelease audience surveys.
That means it will have to do big business abroad — including in China — to make back its money.
Here's what to watch:
A bigger boat?
By any measure, "The Meg" is a major box-office gamble. The movie cost at least $130 million to produce, according to estimates, and while it's not exactly an "original" movie, few people have heard of the 1997 pulp novel on which it is based.
The project has been in and out of development for two decades, cycling through studios including Disney's Hollywood Pictures and New Line Cinema before getting the green light from Warner Bros.
"The Meg" will try to unseat Paramount Pictures' hit "Mission: Impossible — Fallout," which has grossed $329 million worldwide and ruled the charts for two weeks. But despite a soft projected start, "The Meg" should still top newcomers including LD Entertainment's canine comedy-drama "Dog Days," Spike Lee's "BlacKkKlansman" and Screen Gems' "Slender Man."
"The Meg" represents another test of a long-running movie business experiment: co-producing movies with Chinese companies to draw audiences in the world's second-largest box-office market.
"The Meg" features Chinese stars including Li Bingbing. Warner's Chinese joint venture Flagship Entertainment and Beijing-based Gravity Pictures produced the film, which was shot in New Zealand.
China co-productions are attractive because they give U.S. studios a bigger cut of the box office than other imports and have prime spots on the release schedule. The industry has largely soured on the practice, though, after such flops as "The Great Wall" showed the limits of shoehorning Hollywood elements into Chinese stories, and vice versa.
But people involved in "The Meg," including producer Belle Avery, said the Chinese elements were naturally integrated into the narrative.
"It was important to find the right partner to create real Chinese characters and story line that supported it that could work globally, and I found that partner in Gravity Pictures," Avery said in a recent interview with The Times.
No Pooh for China
One movie that won't make it into Chinese theaters is Walt Disney Co.'s "Christopher Robin," which debuted in second place in the U.S. and Canada last weekend with a slightly lower-than-expected $25 million in ticket sales.
The movie, starring Ewan McGregor as a sad adult who reconnects with Winnie the Pooh and the rest of the Hundred Acre Wood gang, was denied a release in China, where the government tightly controls what gets into the lucrative market.
The move follows years of Chinese social media users employing pictures of the silly old bear to mock President Xi Jinping. China does not explain its decisions about what movies it allows. But the Pooh ban triggered speculation, first reported by the Hollywood Reporter, that censors had kept "Christopher Robin" away from the box-office honey pot because of the subversive memes.
The viral gags have irked China's censorial government officials for years. The memes started in 2013 with an image that juxtaposed a photo of Xi and President Obama with a similar picture of Winnie the Pooh and Tigger. China blocked HBO's website this year after comedian John Oliver made fun of Xi's sensitivity over the Pooh comparisons on his show "Last Week Tonight."
So I just found out that China banned Winnie the Pooh because this comparison photo feat. Xi Jinping and Obama went viral on Weibo. Lol. pic.twitter.com/RVmV6kBrIj

— Santiago Arnaiz (@TiagoArnaiz) August 11, 2017
There may be a more innocent explanation, though.
"Christopher Robin," insiders note, could have been denied entry simply because the government didn't think it was commercial enough for the market, which favors action and spectacle over whimsical period dramas.
China's government allows only 34 foreign films a year under a revenue-sharing agreement. Disney's "A Wrinkle in Time" also failed to secure a Chinese release date.
Times staff writer Josh Rottenberg contributed to this article.
---