'Westworld' creators celebrate their nominations by hinting at one big character's return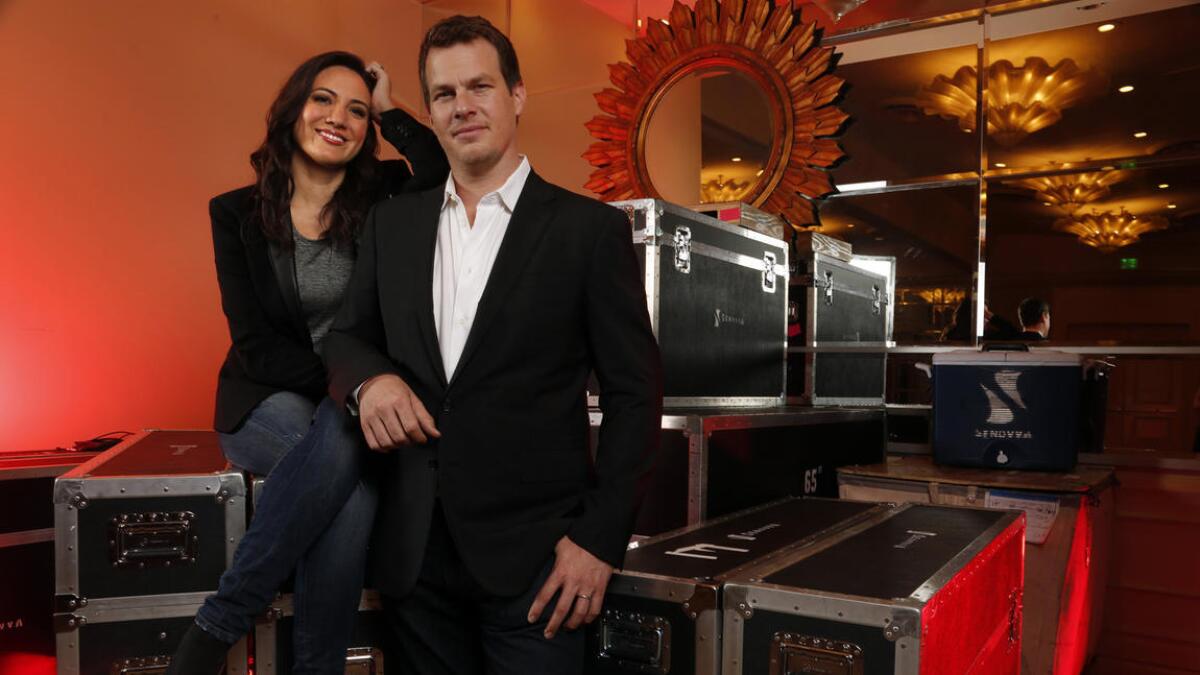 Just a little over a week after the much-discussed season finale of "Westworld," creators Jonathan Nolan, who also goes by Jonah, and Lisa Joy were excited to learn the HBO series had been nominated for three Golden Globe awards: TV series, drama; supporting performance by an actress in a drama for Thandie Newton; and performance by an actress in a drama for Evan Rachel Wood. We caught up with the couple to discuss that news and ask a couple of burning questions.
It must have been nice to see not only the show nominated but also Evan and Thandie.
Nolan: We're just thrilled. It's been a long journey to the screen with this show and we're so excited to share their performances with the audiences. To see their talent and their fearlessness and their brilliance recognized, it's fantastic.
Joy: Both of them have such amazing range and heart and strength and, honestly, not just in their performance but in real life too. You could not ask for better collaborators in every way. I feel that way about our entire cast.
Whenever a new show this twisty launches there must be jitters about whether the audience will engage. Viewers definitely engaged with "Westworld"; it was the show that launched a thousand think pieces and fan theories.
Nolan: Yeah, it's definitely gratifying to see the level of conversation that the show drove. In a peak TV moment, when you've got 400-plus scripted shows, to have any kind of conversation around your show is exciting, but the level of engagement the fans brought to it, it's very, very gratifying.
Were you surprised or disappointed that some viewers guessed some of the twists?
Nolan: No, not surprised. They're not really guessing so much as doing some elegant detective work based on the little pieces that we very carefully laid into the narrative.
You've had "theories" shows where the theories seldom add up to much or they're not really covered in the scope of the season.
What we really wanted to do here was tell a complete story in one season. It's a story told in chapters, more in the way a film franchise works where each piece can stand by itself. I think that meant people felt free to theorize, which is great. There's always a community that's in there micro-analyzing what you're doing. The only somewhat disappointing thing here was that, some of those theories wound up as headlines in articles put out by some sources that sort of spoiled it for the audience that was trying not to participate in that theorizing. And at some point, what's the difference between a theory and a spoiler? Hopefully, in the second season, that means people will watch and write about the show a little bit differently.
Were there any crazy theories you heard or read that didn't apply to the first season but had you thinking, "Hmm, maybe for next year?"
Nolan: [Laughs.] You have to be very careful not to read too much because when the fans are writing better stuff than you it's always galling. You have to be careful not to let the conversation drive the show. Lisa and I laid out a plan for the show — and obviously it's a plan that's subject to some adjustment — and we're sticking to it.
So after what I'm imagining is a vacation, do you all have any idea on the timeline for production on season two yet?
Joy: I would love a vacation. When is that going to happen?
Nolan: That's not going to happen. [They both laugh.]
Joy: The great thing about it is, it's a really ambitious show. We've got these incredible actors and the network has been so supportive. And the one thing we've got to do is just write, feed the beast of pages. And that means, unfortunately for us, that we don't get a lot of time off.
Nolan: It's a good problem to have. The short version is: not before 2018.
I think we were shooting the second episode of the first season when we started the conversation with the network where we said, "You guys know we can't do this every year, right?" Not because we needed time off, but because the complexity of the narrative and the complexity of the production and the complexity of pulling it all together in postproduction is such that we can't really multitask the way that I did in broadcast TV [with "Person of Interest"]. It's a little different with this show.
And just a couple of burning questions. From the clues in the finale — about a potential "Samurai World" and the note that Maeve holds that partially reads "Park 1" on it — can we presume that the second season will open up to different worlds or parks, that "Park 1" might be just beginning?
Joy: Yeah, I think that there's a little hint there that "Park 1" might just be the beginning and we'll continue to do this journey as we have, which is we'll discover the mysteries of Westworld through the perspective of our characters, so when they found out, we'll find out.
Ed Harris' character was shot, but just in the arm. That doesn't mean he's dead, right?
Joy: Yeah, I mean, how could an arm wound slow that guy down? [Laughs.] He's stronger than that; he can withstand.