New video: 'Blade Runner 2049' demands a lot from audiences, but the rewards are rich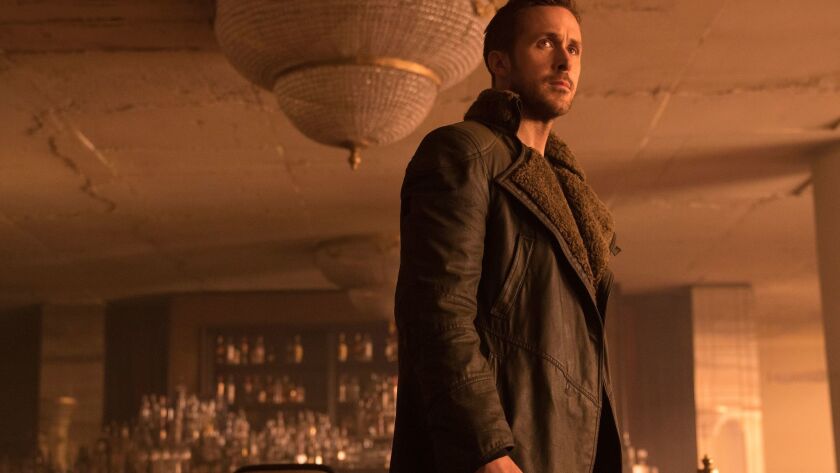 New on Blu-ray
"Blade Runner 2049" (Warner Bros. DVD/Blu-ray combo, $35.99; 4K, $44.95; also available on VOD)
It's apt in a way that this movie never became a runaway hit last year, because like the original 1982 film, director Denis Villeneuve's sequel is built to appeal to connoisseurs of science-fiction cinema — who'll undoubtedly still be watching it decades from now. Ryan Gosling gives a soulful performance as K, a skilled mercenary tasked with hunting down rogue bioengineered androids. When his latest case leads him back into his own hazy past, he soon finds himself at odds with both a malevolent tycoon and another legendary blade runner who's been missing for decades. It's slow-paced, cerebral and stunningly beautiful to behold, and it demands a lot from its audience, but the rewards are great.
[Special features: Extensive featurettes and bonus material]
VOD
"Mom and Dad" (available Jan. 19)
Nicolas Cage seems to be taking nearly every movie role he's offered these days, but every now and then he stumbles onto something worthy of his gonzo talents. Here, he's cast by writer-director Brian Taylor as an amiable suburbanite, living in an upper-middle-class neighborhood where every parent gets infected by a virus that drives them to kill their children. Despite the horror movie premise, the film plays more like an action-thriller, with mothers and fathers as the alien monsters the kid heroes are trying to flee. What makes the picture playfully subversive is that Cage and costar Selma Blair play their homicidal impulses as only slightly removed from their real feelings toward the irritating offspring that complicate their lives.
TV set of the week
"Better Call Saul: Season Three" (Sony DVD, $35.99; Blu-ray, $45.99)
After spending two seasons setting up the mundane routine of Albuquerque ambulance-chaser James McGill, the third season begins tearing everything down, bringing the "Breaking Bad" prequel series closer to the show that spawned it. While "Breaking Bad" fans already know where this story's going, there's still a lot to get out of the "how." In Season 3, we watch Bob Odenkirk's Jimmy and Jonathan Banks as pragmatic "fixer" Mike Ehrmantraut both make fateful choices, for reasons that seem to make sense at the time.
[Special features: Commentary tracks, deleted scenes and featurettes]
From the archives
"The Cat Returns"/"My Neighbors the Yamadas"/"Whisper of the Heart" (GKIDS/Shout! Factory DVD/Blu-ray combo, $19.95 each)
For decades, American animation fans who wanted to experience the work of one of the world's top studios — Japan's Studio Ghibli — were limited to the films of the company's co-founder and best-known director, Hayao Miyazaki. Over the last decade, though, a series of reissues has turned the spotlight to other anime masters, three of whom are represented in the latest round of GKIDS Ghibli Blu-rays. Isao Takahata's "My Neighbors the Yamadas" is essential viewing, replicating the feel of a daily newspaper comic strip by applying a minimalist style and watercolor hues to domestic slapstick. The late Yoshifumi Kondo's "Whisper of the Heart" is another winner, using whimsical fantasy segments to illustrate a shy teen girl's search for self, while Hiroyuki Morita's semi-sequel "The Cat Returns" inverts that formula, using adolescent angst to shade something wildly fantastical.
[Special features: Behind-the-scenes featurettes on each]
Three more to see
"Happy Death Day" (Universal DVD, $29.98; Blu-ray, $34.98; also available on VOD); "I, Daniel Blake" (Criterion DVD, $25.99; Blu-ray, $30.99; also available on VOD); "Loving Vincent" (Cinedigm DVD, $19.97; Blu-ray, $24.99; also available on VOD)
---
Get the Indie Focus newsletter, Mark Olsen's weekly guide to the world of cinema.
You may occasionally receive promotional content from the Los Angeles Times.