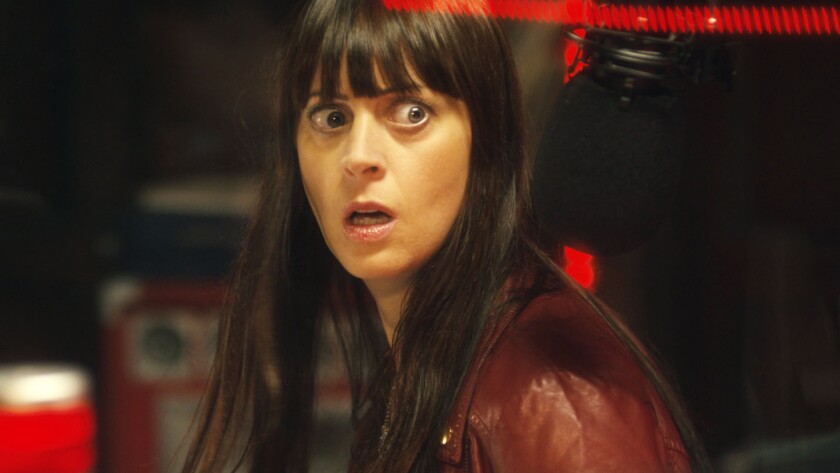 Seeing Neil Marshall's name in the opening credits of a horror film should spark delight in genre fans' gore-loving hearts, but it only brings disappointment in "Dark Signal." The "Descent" and "Dog Soldiers" director serves as executive producer here, but there's little of the energy he's known for in director Edward Evers-Swindell's dull, poorly structured movie.
A masked serial killer strikes in Snowdonia, Wales, targeting young women and cutting off their ring fingers. Meanwhile, local radio DJ Laurie Wolf (Siwan Morris) and her engineer, Ben (Gareth David-Lloyd), are broadcasting their final show when they begin to pick up the cries of a murdered woman via EVP (Electronic Voice Phenomenon).
Nearby, single mother Kate (Joanna Ignaczewska) waits for her boyfriend to return to her car on a quiet country road, when mysterious happenings begin to haunt her. These multiple narrative threads are loosely tied together, united largely by a lack of logic or sympathetic characters in any of them.
Evers-Swindell, who co-wrote with Antony Jones, clearly has affection for the genre. "Dark Signal" gives nods to Italian giallo and '80s American slashers, while still feeling like a product of Wales and the U.K. However, it creeps along without providing either scares or an unsettling mood. Instead, it's punctuated by brief moments of violence; if you've ever been curious about the sound a head would make when being crushed by a shovel, this is the movie for you.
-------------
'Dark Signal'
Not rated
Running time: 1 hour, 38 minutes
Playing: Arena Cinelounge Santa Monica
See the most-read stories in Entertainment this hour »
---