Review: Horror film 'Condemned' has a bad virus not worth catching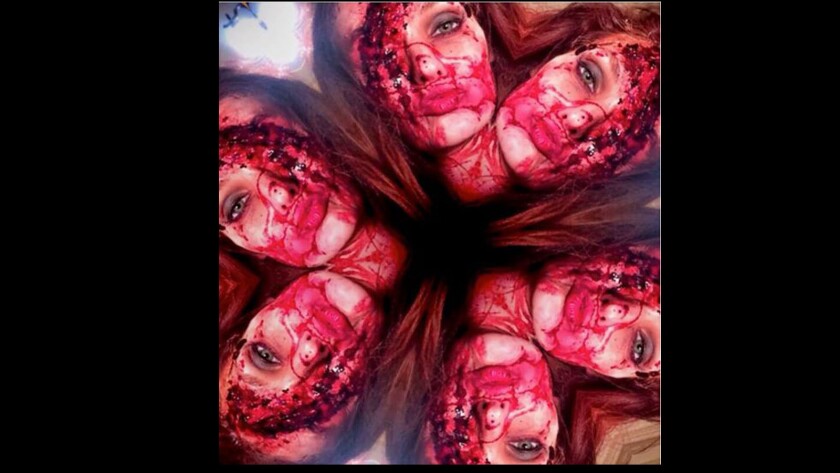 Pro skateboarder and fashion designer Eli Morgan Gesner takes a crack at writing and directing horror with "Condemned," a stylish, pointless exercise in sleaze. Aggressively ugly and gross, the movie boasts a certain low-rent authenticity, but the auteur never figures out how to fill his grubby little rooms.
Aside from Gesner, the most recognizable name here is Dylan Penn, an occasional model and full-time daughter of Robin Wright and Sean Penn. She plays Maya, a melancholy rich girl who goes slumming with her boyfriend, Dante (Ronen Rubinstein), in the graffiti-covered Lower East Side tenement where he squats in Manhattan.
Penn's work doesn't approach the level of that of her award-winning folks, though to be fair, all she really has to do is act confused and stressed — and to look relatively cool.
SIGN UP for the free Indie Focus movies newsletter >>
The source of Maya's anxiety is a rapidly mutating pestilence that affects Dante's disreputable neighbors. Years of drug-cooking and sickly bodily fluids — coupled with garden-variety New York rot — have repurposed the building's plumbing into an incubator for a superbug. The virus' victims become puking, pus-covered, hallucinating rage-heads, tearing at each other.
Gesner knows a few fancy cinematic tricks — animated interludes, whooshing camera moves and whatnot — but he mainly seems interested in re-creating a convincingly disgusting holdover from Gotham's "urban jungle" years.
The bile-splattered sets might make a good fashion-shoot location for Gesner's hip Zoo York clothing line. In "Condemned," they put an almost unbearably unpleasant frame around a thin, predictable story. Consider the movie's title a warning.
------------
"Condemned"
MPAA rating: None.
Running time: 1 hour, 23 minutes.
Playing: Laemmle's NoHo 7, North Hollywood.
---
Inside the business of entertainment
The Wide Shot brings you news, analysis and insights on everything from streaming wars to production — and what it all means for the future.
You may occasionally receive promotional content from the Los Angeles Times.