Dev Patel: 'It's such a shame' to compare 'Lion' to 'Slumdog Millionaire'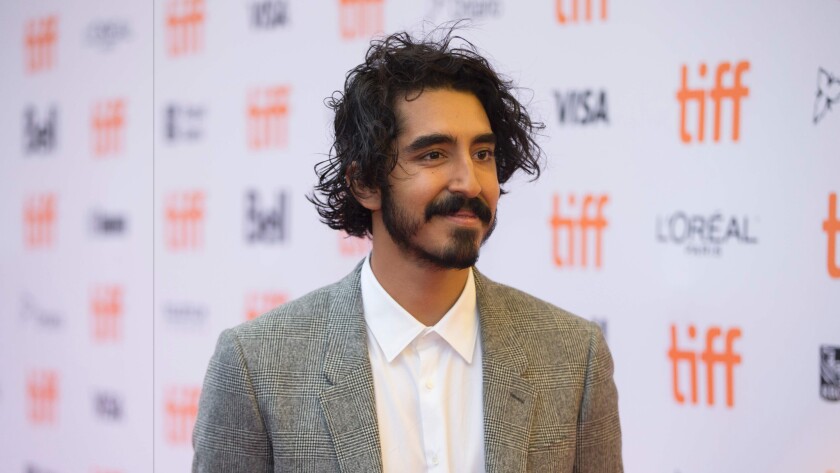 Reporting from Toronto —
"That's enough of me for one day," Dev Patel said, walking over to a poster board featuring a huge image of his head and flipping it over.
"Much better," he said, grinning proudly.
It was the day after his new movie "Lion" had premiered here, and he was holed up in a hotel room fielding a barrage of fresh interview requests. Heading into the festival, everyone in Hollywood seemed to be buzzing about a few films — the musical "La La Land," the love story "Moonlight" — but "Lion" wasn't one of them.
That all changed Sunday night, when the movie from first-time feature director Garth Davis caused a theater packed with jaded industry types to break into full-blown sobs. The film is based on the true story of Saroo Brierley, who got lost on the crowded streets of Calcutta when he was just 5 years old. He ended up in an orphanage, where he was adopted by a well-off couple in Australia. He grew up in a loving home where he thrived, eventually attending college in Melbourne.
It was there that he began to share his origin story with some classmates, one of whom suggested he try searching for his long-lost home on a then-primitive Google Earth. With only a few vague landmarks from India still imprinted in his memory, he spent years scouring the satellite images in the hopes he might reunite with his biological family. To find out how it all plays out, you'll have to see the film when the Weinstein Co. releases it this Thanksgiving.
Rooney Mara, Dev Patel and Nicole Kidman star in "Lion."
Newcomer Sunny Pawar plays young Saroo -- you're going to have a difficult time handling his level of adorable -- while Patel plays the character in his older years. Though the 26-year-old Patel was born in London, like his character, he too was always curious about his family's roots in India. At school, he said, he felt he had to hide his culture so that he wasn't singled out as somehow different.
"The only way to try and fit in was to try to be like everyone else, otherwise you'd get bullied," recalled Patel. "I spent a lot of growing up trying to shun that part of myself."
That shifted when he was 17 and traveled to India to shoot "Slumdog Millionaire," the Oscar-winning Danny Boyle film that would launch his Hollywood career. Walking the streets of the country, he found himself shell shocked: "It was a life-changing moment for me," he said. "It made me feel a bit more whole and understand myself and my heritage more."
See more coverage from the Toronto Film Festival »
Before the trip, he admitted, his idea of India was rather stereotypical. Heading into auditions for his "Slumdog" character's love interest, he thought the local young women "were going to have these little bindi marks and have coconut oil in their hair and wear saris and a cow would be outside walking by," he said with a laugh. "And actually they just came in with ripped jeans, beautiful, just listening to Led Zeppelin. They were more forward-thinking in culture than I was. It was eye-opening."
"Lion," meanwhile, is already drawing comparisons to "Slumdog Millionaire" -- largely because the film features a young Indian boy fighting his way out of poverty. It's a correlation that bothers Patel, who considers his character to be more Australian than he is Indian. (He spent eight months trying to perfect Saroo's Tasmanian accent and met with Saroo and his Australian parents -- played by Nicole Kidman and David Wenham -- to prepare for the role.)
"Everyone will pigeonhole you into, 'Oh, he's playing an Indian guy. The movie is kind of set of India and there's poverty, so it's like 'Slumdog,'" he said. "It's such a shame. That's just naiveté to me. It just takes away from all the hard work."
It's been a struggle getting casting directors to look beyond his skin color, Patel said.
"There aren't many roles written for someone that looks like me. It's slim pickings," the actor acknowledged. "It's difficult, but I try and stay on the optimistic side. I want there to be people that look like me represented on screen. Because when I was growing up, the only person that I could look up to that kind of resembled what I looked like was Bruce Lee.
"We're at the front of something," Patel continued. "If you look at the African American struggle in Hollywood, there are so many of these great icons -- from Sidney Poitier to Denzel Washington to Samuel L. Jackson to Cuba Gooding to Will Smith. But in terms of being Asian or South Asian -- whatever you want to call it -- we're treading new ground."
Twitter: @AmyKinLA
---
Get the Indie Focus newsletter, Mark Olsen's weekly guide to the world of cinema.
You may occasionally receive promotional content from the Los Angeles Times.