Director Dean DeBlois sought depth in his solo flight on 'Dragon 2'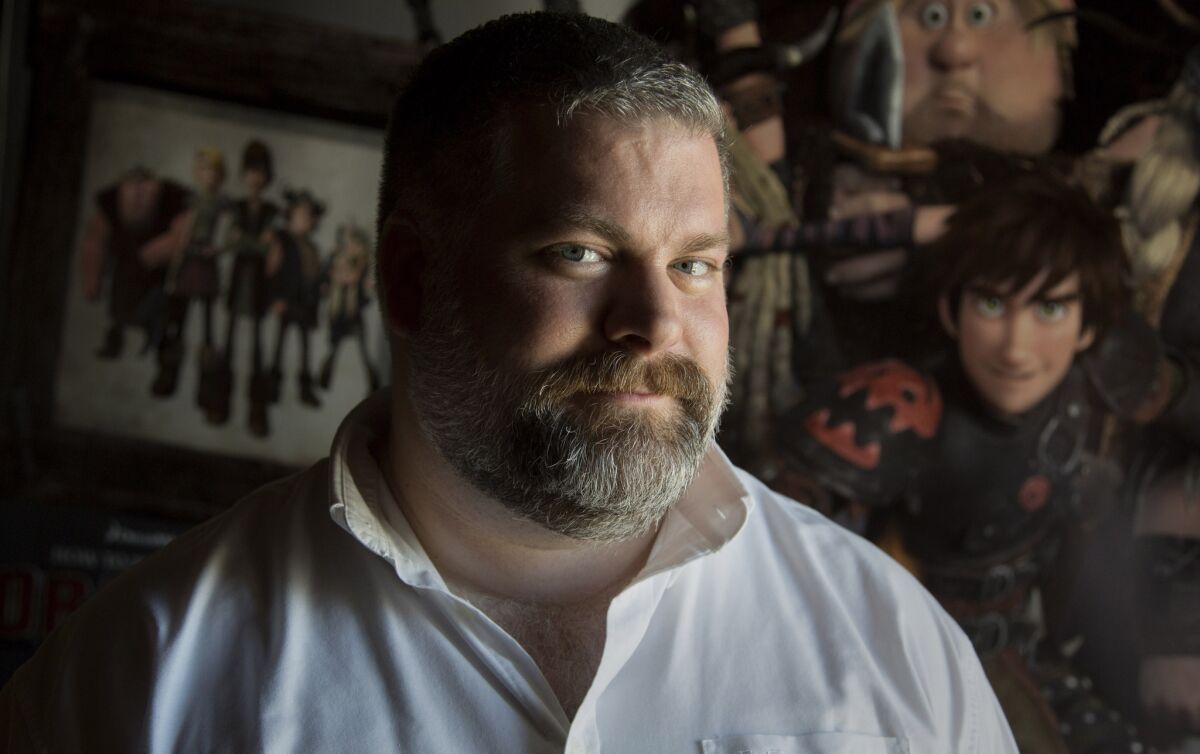 film, movie, animation, Train Your Dragon, Jay Baruchel, Cate Blanchett, Djimon Hounsou, Kit Harington, Gerard Butler, America Ferrera, Chris Sanders, Dean DeBlois
After writer-directors Dean DeBlois and Chris Sanders completed "How to Train Your Dragon," the charming, Oscar-nominated 2010 animated blockbuster about a young Viking and his adorable dragon, Sanders segued to the 2013 hit "The Croods" and DeBlois was asked to come up with ideas for a "Dragon" sequel.
DeBlois envisioned a film that appealed to both "the 10-year-old in me and the 44-year-old in me, to have that diverse broad audience and a story that speaks on multiple levels."
Not only is "How to Train Your Dragon 2," which opens Friday, not a retread of the original, its themes are more "sophisticated, rich and grown up," DeBlois said this week at the DreamWorks Animation campus in Glendale. Indeed, the film includes an epic battle scene, the death of a major character and a maniacal villain.
"When I considered the most successful sequels I could think of, my mind wandered to 'Star Wars' and 'The Empire Strikes Back' and how [the "Dragon'] world shares similar traits — there are endless islands they can travel to," DeBlois said.
"Now that Vikings are on the backs of dragons, they have their world at their fingertips, and that means new cultures and new dragons," DeBlois said. "I wanted to frame it in the conversation of a trilogy — so it could be a second act of a larger three-act story."
Set five years after the first adventure, "How to Train Your Dragon 2" finds the Vikings of Berk living in harmony with the dragons, enjoying racing competitions with the winged creatures. But heroic Hiccup (Jay Baruchel) and his dragon, Toothless, would far rather be mapping uncharted territories.
Hiccup and Toothless' wanderings ultimately set up a dangerous battle between the citizens of Berk and the fearsome Drago Bludvist (Djimon Hounsou) and his army of dragons. The film also features the voices of America Ferrera, Kit Harington of "Game of Thrones," Gerard Butler and Cate Blanchett in key roles.
"The great thing about Dean as a director," producer Bonnie Arnold said, "is he doesn't shy away from that emotional place. There's a lot of things in this movie that people can relate to."
Such as Hiccup's growing pains.
"He is the town hero and has achieved all the things he wanted in the first movie, but he's stepping into a new stage of his life where he has to set aside the freedom of childhood and essentially become his father," DeBlois said. "He doesn't really feel cut out for the job."
The whole concept of Hiccup's mapping the world, the director added, "is a visual representation of the restlessness within him. He's still searching for that missing part of him — the conviction that he finally attains when he meets his mother."
DeBlois describes the design of Hiccup's mother, who had been carried away by a dragon when he was just a baby and had been presumed dead, as a cross between Tilda Swinton and 1980s' action star Brigitte Nielsen. But he always had Blanchett in mind while writing Valka, who Hiccup discovers has created a magical sanctuary for dragons.
"She's an amazing actress because she does vulnerability and commanding presence very well," DeBlois noted. "Cate has the capacity for remorse and regret and assertive commanding control, which I need for the vigilante side of [Valka]."
Valka, though, went through many permutations. "I came to realize mothers judge other mothers very harshly, particularly if it's a character who is supposed to be a heroine in the movie," he said. "There is heavy judgment no matter how you spin it over a mother who would leave her child under any circumstances."
Initially, she was more of the "sympathetic antagonist of the movie, and Drago was just a force to be reckoned with," DeBlois said. "We collapsed that arc down. We made her stance a little less extreme and her capacity to change come a little sooner. Also, it set up Valka's return in the first act of the third movie as Hiccup's greatest ally."
DreamWorks Animation has not set a release date for the final installment of the "Dragon" trilogy.
The production of the current film was greatly aided by a new software program suite called Apollo.
"Prior to Apollo, the animators had to work in a really clunky, laborious way," DeBlois said. "Every tiny little tweak they wanted to do to a face, for example, they would have to select a left eye from a menu and input a numeric arc, then wait for it to render and decide if it was too much or too little. It took forever."
Not only does Apollo allow animators to work with several characters simultaneously, it's also artist friendly.
"Instead of working with numeric entries, they work with a tablet, which is a screen and a stylus. It's very much like how a stop-motion animator would work with a clay puppet. So they are working with their hands again. It's a much clearer translation from thought to screen."
The software also helped with the film's evocative, elegiac lighting design. As did veteran Oscar-nominated cinematographer Roger Deakins ("No Country for Old Men," "Skyfall"), who, as with the first installment, was a lighting consultant on the film.
"The technology involved has advanced quite a bit since the making of the first 'Dragon' film," said Deakins via email. "Both the tools for animation and for lighting can bring quite a high degree of naturalism to a film."
Deakins discussed every scene with visual effects supervisor Dave Walvoord "as the look of the lighting developed. From my perspective, the use of the camera, composition and the use of lighting to create a mood and describe or enhance a dramatic moment is the same whether it is live action storytelling or an animated one."
After he had written a couple of drafts of the screenplay, DeBlois decided to embark on a team-building trip to Norway with his department heads and Deakins for a week to "research the look of the world in which the story was to take place," Deakins said.
"This kind of detailed research was such a help toward the authenticity of the look that Dean was after and was passionate to get right," Deakins said.
The highlight of the trip for DeBlois and Deakins was an excursion to Svalbard, a Norwegian archipelago in the Arctic Ocean near the North Pole.
"The light up there was just unbelievable at the northern latitudes — the way it filters through the cloud cover," DeBlois said. "The skies would have these amazing bands of yellow, magenta and slate. We took a lot of photos and managed to bring a lot of that in the movie."
---
Get the Indie Focus newsletter, Mark Olsen's weekly guide to the world of cinema.
You may occasionally receive promotional content from the Los Angeles Times.