Review: Jordan Peele's clever horror-satire 'Get Out' is an overdue Hollywood response to our racial anxiety
Film Critic
The opening scene of "Get Out," a satirical horror-thriller perfectly tailored to our post-postracial moment, is so cleverly composed and effortlessly subversive that writer-director Jordan Peele never quite manages to top it. Filmed in a single take with an elegantly swiveling camera, it shows a young black man (Lakeith Stanfield) walking through an affluent neighborhood at night, nervously reassuring himself and trying not to freak out when he realizes he's being followed.
The scene is a jolting piece of suspense craftsmanship and a clever dismantling of several decades' worth of racist stereotypes: The black guy walking alone on a dark street, so routinely depicted as a figure of fear, menace and criminality, is here recast as a frightened, vulnerable innocent. It's not the first such inversion; it's been almost half a century since George Romero cast Duane Jones as the hero in "Night of the Living Dead," though few genre filmmakers have been quite as willing to throw down that particular gauntlet in the decades since.
FULL COVERAGE: Golden Globes 2018
Part of the thrill of "Get Out" — a thrill that springs from a place of very real, entirely justified anger — is that it feels like a long-overdue response to Hollywood's collective failure. This is surely the nerviest, most confrontational treatment of race in America to emerge from a major studio in years, and it brilliantly fulfills the duty of both its chosen genres — the horror-thriller and the social satire — to meaningfully reflect a culture's latent fears and anxieties.
Not that Peele, making a knockout feature directing debut, has much interest in leaving anything to subtext. With the same bracing directness that informed his Comedy Central series with Keegan-Michael Key, Peele comes right out and asks: Is there anything scarier than being a black man in America today? It's a question that naturally invites a nervous chuckle. But it also comes spring-loaded with the kind of satirical payload certain to have many viewers — particularly progressives inclined to congratulate themselves on their color-blindness — choking on their own laughter.
After that opening sequence, "Get Out" introduces us to its main character, a Brooklyn photographer named Chris (the excellent British actor Daniel Kaluuya), who has been dating his girlfriend, Rose ("Girls'" Allison Williams), for almost five months. She decides it's time for him to meet her parents, prompting his awkward but necessary next question: "Do they know I'm black?"
No, Rose says, but it won't be an issue: "My dad would've voted for Obama a third time if he could've." And then: "They are not racist."
We get to observe firsthand just how not racist they are when Chris and Rose drive upstate and, after a minor road mishap, arrive at her parents' beautiful suburban manse. Rose's gregarious father (Bradley Whitford) wastes little time pulling Chris in for a back-slapping "my man" hug, announcing his support for Obama, and chattering on and on about what a privilege it is to be able to experience other people's culture.
Her mother (Catherine Keener), a psychiatrist, is a bit more tactful, offering endless cups of tea while prattling on about the virtues of hypnosis therapy. Rose's brother, Jeremy (Caleb Landry Jones), is an altogether nastier piece of work, with his crudely insinuating admiration of Chris' "beast"-like physique. Most disquieting of all are the family's black housekeepers, Georgina (a superb Betty Gabriel) and Walter (Marcus Henderson), who perform their duties with creepily robotic efficiency, pausing at times to cast a meaningful stare — is it a threat, or a warning? — at the fellow outsider in their midst.
Peele, making a knockout feature directing debut . . . comes right out and asks: Is there anything scarier than being a black man in America today?
A few spooky shock cuts and grim orchestral surges aside, the horror in the first half of "Get Out" is less hair-raising than cringe-inducing. Rose's parents throw a party for their wealthy white neighbors, who show up looking like Satanic extras from "Rosemary's Baby," and who proceed to assail Chris with their country-club manners and moronic attempts at conversation.
A deadpan compendium of racial microaggressions, this sequence brings Peele's script fully into its own without losing its peculiar cultural and narrative focus. The partygoers may make forced references to Tiger Woods and fondle Chris' muscles with the sort of relish that brings Southern slave traders to mind, but no one threatens to lynch him or drops the N-word. One of the movie's most persistent insights is that even politeness, from presumably enlightened individuals, can feel smothering and oppressive.
The jabs here feel urgent but not overtly topical; there's a weirdly antiquated feel to some of the white characters' more outrageous faux pas, with their crudely suggestive sexual undertones. But even that makes a strange kind of sense, given the thinly veiled threat that Chris and Rose's relationship represents to the dominant social order, and that threat is directly linked to the deeper revelations in store.
It's not terribly hard to guess what those revelations are, even if you haven't seen the spoiler-heavy trailer; the plot owes something to "The Stepford Wives," "Invasion of the Body Snatchers" (take your pick), the collected works of John Carpenter and other touchstones of the-world's-gone-mad horror cinema. And as in those thrillers, uneasy paranoia soon gives way to full-throttle panic, sending Chris plunging down a rabbit hole and into a down-and-dirty B-movie funhouse, with only one predictable yet viscerally satisfying way out.
Smoothly directed by Peele with a particularly fluid eye for camera movement, "Get Out" is ultimately stronger on conceptual audacity than on moment-to-moment delivery. I wanted one or two more comic fillips from the movie's endgame, which is more inventive on a prosthetic level than a satiric one, and a buried trauma from Chris' past isn't deployed effectively enough to justify the emotional manipulation.
Still, there's so much here that Peele gets right, and he delights in turning familiar thriller tropes on their head: In this racially charged context, he knows exactly how to exploit the sight of an approaching police car for maximum stomach drop. One of his shrewdest inclusions is the character of Chris' boisterous friend Rod (comedian Lil Rel Howery), whose running commentary on the nightmarish absurdity of the situation supplies Chris and the audience with some much-needed comic relief.
Rod, as it happens, works for the Transportation Security Administration, an entirely germane plot point that offers its own chastening reminder. Not every employee of a government agency is a racial profiler, just as not every Hollywood movie is content to keep its head down any longer.
------------
"Get Out"
MPAA rating: R, for violence, bloody images and language including sexual references
Running time: 1 hour, 43 minutes
Playing: In general release
See the most-read stories in Entertainment this hour »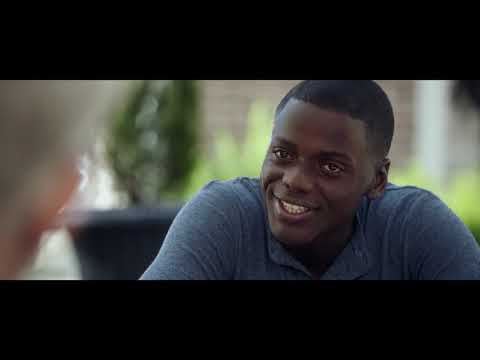 The trailer for "Get Out," written and directed by Jordan Peele.
ALSO
How Allison Williams mined the horrors of white privilege for 'Get Out'
Jordan Peele horror movie 'Get Out' takes on 'Lego Batman' at the box office
Jordan Peele's post-racial horror 'Get Out,' the scariest film at Sundance
Meet 'Moonlight's' Joi McMillon, the first black woman editor to receive an Oscar nomination
Samuel L. Jackson on Denzel, Viola, this year's Oscar race and his own 'Pulp Fiction' fight
Get the Indie Focus newsletter, Mark Olsen's weekly guide to the world of cinema.
You may occasionally receive promotional content from the Los Angeles Times.