Indie Focus: Seeing more in 'Blindspotting,' 'McQueen' and 'Mamma Mia! Here We Go Again'
Hello! I'm Mark Olsen. Welcome to another edition of your regular field guide to a world of Only Good Movies.
The UCLA Film and Television Archive will be launching a retrospective of the work of filmmaker, choreographer and dancer Bob Fosse that goes well beyond his greatest hits. The series will include not only the rightfully celebrated "Cabaret" and "All That Jazz," but also the television concert film "Liza with a Z," his features "Sweet Charity," "Lenny" and "Star 80" plus numerous films Fosse choreographed or danced in. I took a look at Fosse's legacy, talking to his editor Alan Heim, stars Shirley MacLaine and Liza Minnelli and biographer Sam Wasson.
The new digital restoration of Agnes Varda's 1977 film "One Sings, The Other Doesn't" will have its Los Angeles premiere Tuesday at the Downtown Independent thanks to Acropolis Cinema. J. Hoberman recently called the film "a fairy-tale French musical" and, honestly, do you need to hear anything more?
LACMA will be showing Edward Yang's 2000 movie "Yi Yi," which was No. 6 on the New York Times' list of the 25 best films of the 21st century so far. It's a rare chance to see the film screen in a 35 mm print.
And on Tuesday, we'll have a screening of "The Wife," starring Glenn Close and Jonathan Pryce. Screenwriter Jane Anderson and novelist Meg Wolitzer, on whose book the movie is based, will be there for what should be a very exciting Q&A.
We'll have more screenings and Q&As to announce soon, so for info and updates, go to events.latimes.com.
'Blindspotting'
Though it's being received as part of the new renaissance of movies coming out of Oakland, "Blindspotting" is wholly original. Created by and starring Daveed Diggs and Rafael Casal and directed by Carlos López Estrada, the film combines drama, music and spoken word in a powerful tale of the emotional stains of police violence and the disorienting sweep of gentrification.
Reviewing for The Times, Justin Chang wrote, "There is something about the calculation of 'Blindspotting,' a movie all too aware of its own impressive ambition, that somehow resists the poetic abandon, the electrifying spontaneity that López Estrada and his collaborators are trying to pull off. You can see and admire what it's doing, even as your better judgment, and the movie's own egalitarian sensibility, compel you to believe there might be another way to do it."
I spoke to Diggs, Casal and Estrada about the film when it premiered earlier this year at the Sundance Film Festival.
At the Village Voice, Alan Scherstuhl called the movie " a thrilling, riotous, language-drunk elegy and celebration for this most unfixed of cities. The film, like Oakland itself, is forever evolving, always becoming some new thing just when it at last seems to have revealed its full self."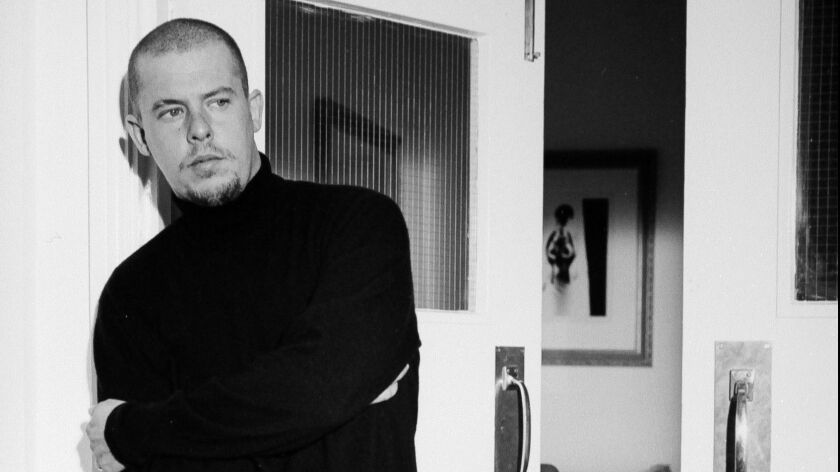 'McQueen'
The new documentary "McQueen" examines the life and career of celebrated fashion designer Alexander McQueen, who made his way to the top ranks of a world in which he was entirely an outsider. Directed by Ian Bonhôte and Peter Ettedgui, the movie examines McQueen's rise and the little-known, behind-the-scenes struggles leading to his suicide in 2010.
In his review for The Times, Kenneth Turan wrote, "The designer, and the documentary, bear a resemblance to Kevin Macdonald's "Whitney," another illustration of the reality that great ability does not ensure happiness; both feature individuals everyone knew were in trouble but no one was finally able to help."
For Vulture, Emily Yoshida honed in on the way the film plays with the skull motif that was so prevalent in McQueen's work, noting, "It's an endlessly pliable canvas, from the first frame of 'McQueen' and throughout, in evocatively animated chapter markers. Bonhôte and Ettedgui find new dimensions in the skull's contours, covering it in creeping gold filigree or reflecting the misty Scottish highlands off of it, letting it be both chilling or gorgeous depending on the context of their subject's tumultuous life. It's a brilliant, evocative touch that demonstrates early on how deep the film is willing to go in its appreciation."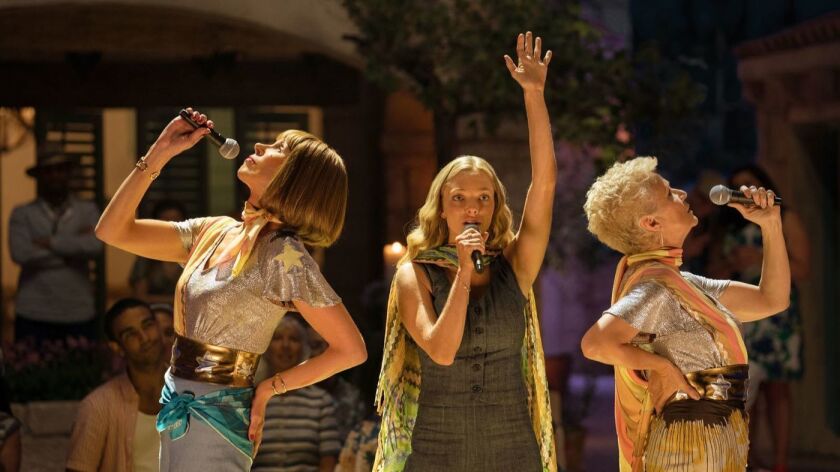 'Mamma Mia! Here We Go Again'
No one would have expected one of the most divisive films of the summer to be the effervescent ABBA-inflected musical "Mamma Mia! Here We Go Again," but here we are. Folks seem split on whether the new film is better than the original. Likewise, the structure of the new film works along two timelines, one focusing on Lily James as the younger version of the character played by Meryl Streep in the original and the other focusing on Amanda Seyfried reprising her character in the film's present day. Even fans of the new film seem to be taking sides on which works better. But regardless of where people fall, the addition of Cher to the new movie has been widely hailed.
For The Times, Justin Chang (who prefers the new film) wrote that the movie is "the rare sequel so unexpectedly enchanting that it plays less like a rehash than a reclamation. It may take you a moment to understand why, or how, this could be the case. The title alone feels like a winking admission that, as with nearly every Hollywood cash cow that suddenly fancies itself a franchise, we're basically in store for more of the same. … We are and we aren't."
Taking a counterposition in the New York Times, Wesley Morris (who prefers the previous film) notes, "Most of the musical sequences are creaky, but not that far from some of what Damien Chazelle was going for with the singing and dancing in 'La La Land': passionate amateurism. But that's some of what made the first movie such a kick. Nobody was Barbra Streisand. None of the songs were Stephen Sondheim's. You were watching very good actors do karaoke in an Anglo-Nordic telenovela. Now you're watching them do it in a sequel, which means you're also watching something more inscrutably sad: karaoke of karaoke."
For The Times, Emily Zemler spoke to Judy Craymer, creator of the "Mamma Mia" stage musical and producer of the new film. Of the surprising emotional turn of "Here We Go Again," Craymer said, "I'm very pleased that it has a weight to it that I think will surprise people. ABBA songs — they're great pop songs and a gift in themselves, but it's fun to have explored them even more and brought a heft to the lives of those people onscreen."
Reviewing the film for the Chicago Tribune, Katie Walsh added, "Much like its predecessor, 'Mamma Mia! Here We Go Again' is escapist fluff of the highest order — joyful, filled with beloved pop songs and incredibly bizarre."
Email me if you have questions, comments or suggestions, and follow me on Twitter @IndieFocus.
---
The complete guide to home viewing
Get Screen Gab for weekly recommendations, analysis, interviews and irreverent discussion of the TV and streaming movies everyone's talking about.
You may occasionally receive promotional content from the Los Angeles Times.