Indie Focus: Sly surprises in 'Support The Girls,' 'Searching' and 'The Bookshop'
Hello! I'm Mark Olsen. Welcome to another edition of your regular field guide to a world of Only Good Movies.
Lately there has been lots of talk of a revival of rom-coms and coming-of-age movies, inspired in part by the likes of Susan Johnson's "To All the Boys I Loved Before" on Netflix. But a precursor of this moment is coming back to theaters, with a restoration of French filmmaker Diane Kurys' 1977 debut "Peppermint Soda." In the film, two teenage sisters in Paris navigate romance and adolescence, where feelings can be very big about the smallest of things.
In Charles Champlin's original review when the film eventually opened in Los Angeles in 1979, he wrote that "in its intimacy, its universality, its charm and its sense of truth remembered, it is a pleasure to see, and an uncommonly assured debut."
It's exciting to note that two of the movies featured in the newsletter below were recently shown as part of our Indie Focus Screening series, followed by Q&As with some of the creative teams behind them. For info and updates on future screenings, go to events.latimes.com.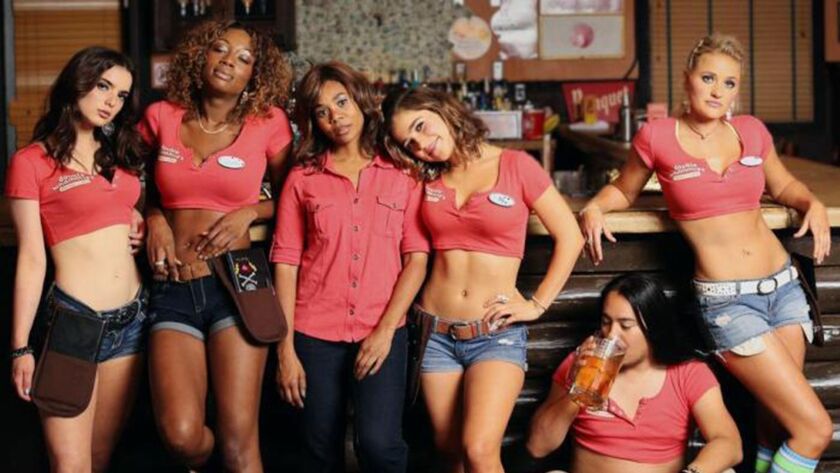 'Support the Girls'
Written and directed by Andrew Bujalski, who remains one of the most vital and consistently exciting voices on the landscape of American independent filmmakers, "Support the Girls" is a witty, humane workplace comedy where its characters work in a most unusual place. At Double Whammies, a Hooters-style bar and restaurant, Lisa (Regina Hall) tries to hold on to just a little bit of herself as she navigates a very busy day as manager of a rambunctious staff of young women. The supporting cast includes Hayley Lu Richardson, Shayna McHale, James Le Gros, Dylan Gelula and Brooklyn Decker.
In his review for The Times, Justin Chang wrote, "At times, 'Support the Girls' suggests a tamer, femme-forward version of 'Magic Mike,' not just because of the communal vibes and partially bared bodies but also because of Bujalski's sharp, jaundiced critique of late capitalism and his clear-eyed sympathy with those struggling near the bottom."
Hall spoke to The Times' Sonaiya Kelley about the new movie and her career after the success of last year's "Girls Trip." Of "Support the Girls," Hall said, "It was a simple slice-of-life script. I think that humanity and people's day to day existence — there's a beauty to that."
I also spoke to Hall, as well as Bujalski, when the film premiered earlier this year as part of the South by Southwest Film Festival. As Bujalski said then of what drew him to the setting, "It was a bit of a puzzle .… You could do a big broad comedy, and I knew I wasn't going to do that, and you could do a real nasty version where everybody is horrible, but neither of those were what this is about [to me]. In everything I've ever done, I'm always attracted to these unsolvable problems of human interactions."
Reviewing the movie for the New York Times, Manohla Dargis called the film a "stealth charmer" while adding of Hall's performance, "You can see a lifetime in that smile. In moments, as it trembles and almost disappears, and as Ms. Hall's eyes gently widen and her face briefly freezes, you clearly see both the mask and the woman who wears it. You also see what it takes to be a woman in this man's world — the spirit, grit, pain and, of course, laughter."
At Rolling Stone, David Fear declared that the movie, "suggests Bujalski's sweet spot is really a shaggy, Jonathan Demme-like humanism .… What he's really interested in is providing a canvas and letting his cast paint the picture. This is an actors' film, one that proudly wears its women-run-the-world bona fides on its sleeve. They provide the sisterhood and the sense of boiling over."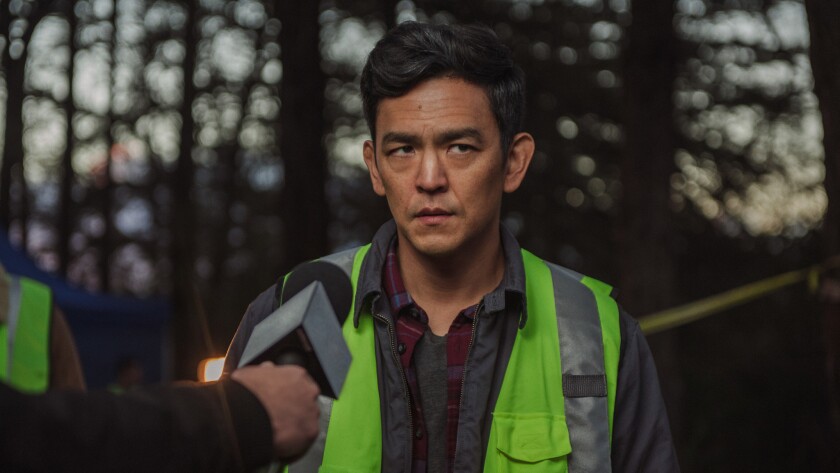 'Searching'
Directed by Aneesh Chaganty, who co-wrote the screenplay with Sev Ohanian, "Searching" creates a unique grammar all its own to tell the story of a missing teenage girl. Existing entirely via screens — computers, phones and TVs — in the film, a widowed father (John Cho) desperately tries to piece together what may have happened to his daughter after she goes missing.
Reviewing for The Times, Justin Chang wrote that the film gives Cho "the kind of full-bodied actor's showcase that has eluded him too long. He runs the full gamut of fatherly emotions like a pro, escalating from mild panic to violent outrage, but the key to Cho's charisma, a quality that Hollywood seldom knows what to do with anymore, is that he can just sit there and still hold your attention. He may just be a guy in a plaid shirt mumbling into a webcam, but that doesn't make him any less of a movie star."
For the New York Times, Aisha Harris added, "What sets Aneesh Chaganty's feature debut apart is its meticulously constructed storytelling device, which calls to mind 'Unfriended (2014),' the horror film about a group of teenagers whose video chat is interrupted by the presence of an online phantom, and its sequel 'Unfriended: Dark Web,' released earlier this summer. Every shot of 'Searching' plays out on a screen — a computer, a phone, through the lens of a clandestinely placed camera."
For the Chicago Tribune, Katie Walsh wrote, "It's a standard missing person story, but the use of technology demonstrates how we're at once constantly connected in a way that allows us to be entirely disconnected. Who needs face-to-face time when there's FaceTime? Photos can be manipulated or applied to other narratives. Technology allows us to see everything, and also nothing, if the story is twisted in the right way .… What's bone chilling about 'Searching' is how it lays out the way the truth can be right in front of us. We just have to be willing to look, and to see it."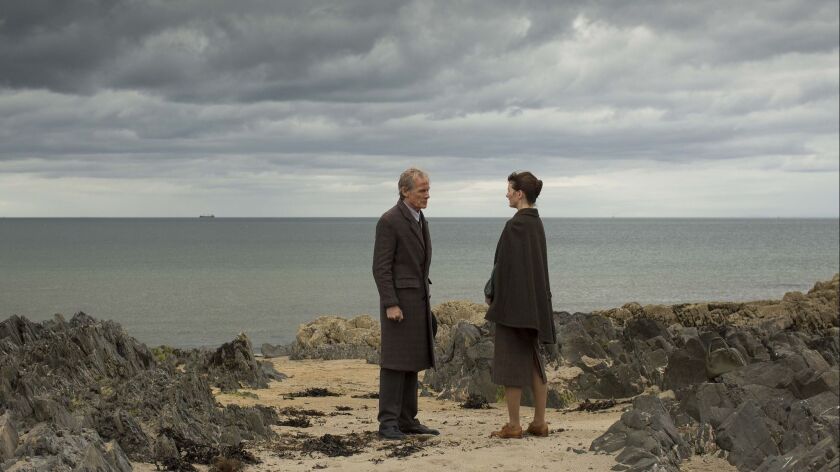 'The Bookshop'
Directed by the Spanish filmmaker Isabel Coixet, who also adapted the 1978 novel by Penelope Fitzgerald, "The Bookshop" is set in a small English coastal village in the late 1950s. A young widow (Emily Mortimer) tries to open a small bookshop, but soon runs afoul of a local society maven (Patricia Clarkson), as a reclusive local man (Bill Nighy) tries to help her keep the shop running.
Reviewing for The Times, Gary Goldstein said, "[T]he film possesses such a clear passion and advocacy for writing, knowledge and personal expression that it emerges as a largely worthy and poignant accomplishment, especially given the vanishing state these days of that beloved institution known as the bookshop."
Mortimer spoke to Emily Zemler for The Times about the movie and a few other roles from over the years. Of "The Bookshop" she said, "What I love about the movie and the story is that it's one that's very seldom told .… It's about trying very hard to do something fulfilling. Most of our lives is trying very hard to do something and not succeeding, and I don't think that experience is portrayed enough in cinema. There's something beautiful and hopeful and brave about that."
For the New York Times, Jeannette Catsoulis wrote that the film "grows on you. Wistful but never sentimental, it quietly turns the fortunes of one little store into a comment on the fate of many."
For the Village Voice, April Wolfe wrote, "To an American like me, the essence of Britishness isn't what's said but rather what's not .… 'The Bookshop,' for instance, is so bloody British that the story's central concern is that an aristocratic heiress is quietly making it difficult for a young widow to run a bookshop in a small fishing town. This is a story of stifling manners and oppressive codes of conduct, where the wealthy 'villains' wear a strained smile and an icky sheen of privilege. Social mores dictate that all others must simply fall in line."
Email me if you have questions, comments or suggestions, and follow me on Twitter @IndieFocus.
---
The complete guide to home viewing
Get Screen Gab for weekly recommendations, analysis, interviews and irreverent discussion of the TV and streaming movies everyone's talking about.
You may occasionally receive promotional content from the Los Angeles Times.