'Most Beautiful Island' and 'The Work' win top prizes at South by Southwest Film Festival
Even as it garners more headlines for screening star-studded premieres such as this year's "Baby Driver," "Atomic Blonde" and "The Disaster Artist," the true soul of the South by Southwest Film Festival still lives in the charmingly homespun and offbeat appeal of its awards presentation.
Few other film festivals might have awards for high school short films, a presenter asking for a fresh beer while onstage or host Sasheer Zamata thanking a presenter for introducing her to magic mushrooms. But SXSW's Film Awards had all that and more Tuesday night at Austin's Paramount Theater,
"I hope all your movies pass the Bechdel test," joked Zamata to the competition filmmakers sitting in the audience. "And the racial Bechdel test."
This year, SXSW's top prizes did both.
The narrative feature competition winner was director Ana Asensio's "Most Beautiful Island." The documentary feature winner was Jairus McLeary and Gethin Aldous' "The Work."
Louis Black, co-founder of the festival, opened the show with spirited remarks that were met by rousing ovations from the audience.
Full coverage: 2017 South by Southwest Film Festival »
"I shouldn't get partisan here," Black said, "but given the people in the White House, given the current administration, given the fact that stories that have not been told are now being suppressed, given that voices that haven't been heard from are being driven out of the country, more important than ever are independent narrative, documentary, experimental and animated film."
Black acknowledged that not everyone in the room may feel the same way, "but most of you are engaged in a humanist battle for the soul of our country. And what you are doing is subversive, it is important, it is about bringing us together, not tearing us apart. It is about inclusion and not exclusion."
That feeling was largely borne out by the awards presentation that followed, with an emphasis on female filmmakers and filmmakers of color and stories about immigrants and people on the fringes of society.
The Grand Jury Prize for narrative film went to Spanish filmmaker Asensio, a veteran TV actress who made the leap behind the camera with the New York City-set thriller "Most Beautiful Island."
Asensio wrote, directed and also stars as an immigrant in the country illegal who spends a hellish day trying to survive a job that sounds too good to be true.
"This is my first film," she said, shaking as she took the stage to huge cheers. "It took me six years to make this film, and a pregnancy in between."My husband, who's not here, encouraged me to tell this story and to step out of being an actress and try to put my voice into something else."
Special jury prizes for the narrative competition were given to actor James Freedson-Jackson for breakthrough performance in "The Strange Ones" and best ensemble to the cast of "A Bad Idea Gone Wrong."
The top prize for documentary film was awarded to the Folsom Prison-set "The Work," directed by court videographer and filmmaker McLeary and video-game motion capture director Aldous.
The film follows three convicts and three civilians who are participants in an unconventional four-day men's group therapy program inside the Northern California facility.
"I want to thank the guys inside prison, those who have gotten out, those who are still there, and those who continue to do this work," said McLeary. "It's about all of us each picking up our individual piece of a much larger problem."
A special jury prize for observational cinema was given to Miao Wang for "Mainland." A special jury prize for documentary storytelling was given to Nanfu Wang for "I Am Another You."
A number of special awards were also announced. The Chicken & Egg award for a female documentary filmmaker also went to Wang for "I Am Another You." The Gamechanger award for a female narrative filmmaker went to Ceylan Ozgun Ozcelik for "Inflame."
The Louis Black "Lone Star" award for Texas film went to Noël Wells for "Mr. Roosevelt." The Karen Schmeer Film Editing Fellowship, given to a documentary film editor, was awarded to Leigh Johnson.
The inaugural Adam Yauch Hörnblowér award, named for the filmmaking alter-ego Nathaniel Hörnblowér of Beastie Boys member Adam Yauch, was given to Peter Vack for "Assholes." The award was given to a filmmaker from the festival's Visions section "in honor of a filmmaker whose work strives to be wholly its own, without regard for norms or desire to conform."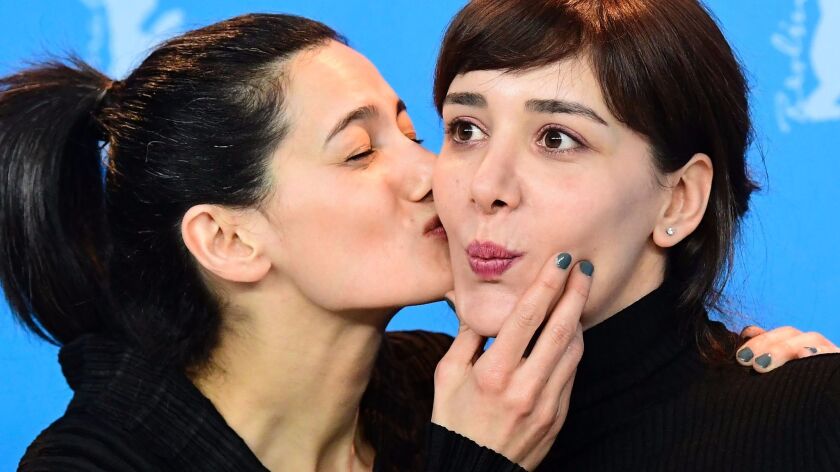 Kristian Håskjold's "Forever Now" won the narrative short award, while Wes Hurley and Nathan M. Miller's "Little Potato" won the documentary short prize. Todd Rohal's "The Suplex Duplex Complex" won for midnight short and Nicolas Menard's "Wednesday With Goddard" won for animated short.
A prize for excellence in poster design went to Caspar Newbolt for "Fry Day." The excellence in title design prize went to Chris R. Moberg and Jared Young for "Into the Current."
The 2017 SXSW Film Festival ends Saturday with the world premiere of Daniel Espinosa's "Life," starring Jake Gyllenhaal, Ryan Reynolds and Rebecca Ferguson. Audience award winners will be announced Saturday morning.
SIGN UP for the free Indie Focus movies newsletter »
Follow on Twitter: @IndieFocus
Follow on Twitter: @jenyamato
ALSO
James Franco's 'The Disaster Artist': A great movie about the greatest bad movie? The SXSW reaction
New security footage in Michael Brown documentary sparks debate: nonsense or coverup?
Joe Biden calls for tech innovators to join 'the only bipartisan thing left in America'
Aaron Katz's 'Gemini' brings moody LA cool to South By Southwest
---
The complete guide to home viewing
Get Screen Gab for weekly recommendations, analysis, interviews and irreverent discussion of the TV and streaming movies everyone's talking about.
You may occasionally receive promotional content from the Los Angeles Times.