Directed by Steve McQueen with a knockout cast that includes Viola Davis, Elizabeth Debicki, Michelle Rodriguez, Cynthia Erivo, Carrie Coon, Daniel Kaluuya, Brian Tyree Henry, Colin Farrell, Jacki Weaver, Robert Duvall and Liam Neeson, the Chicago-set thriller "Widows" is already one of the fall's most anticipated movies.
For anyone needing even more incentive to see it, the end credits include a new song by Sade, "The Big Unknown."
"Widows" will have its world premiere Sept. 8 as part of the Toronto International Film Festival ahead of its theatrical release Nov. 16. With a screenplay by McQueen and "Gone Girl" and "Sharp Objects" author Gillian Flynn, the movie is an adaption of the 1980s UK TV crime drama of the same name that makes for McQueen's follow-up to his Oscar-winning "12 Years a Slave."
"It was an honour to work with such a legend. Sade is an incomparable talent and incredible artist who so rarely releases new material," said McQueen in a statement, "but luckily the original series of 'Widows' had deeply resonated with her."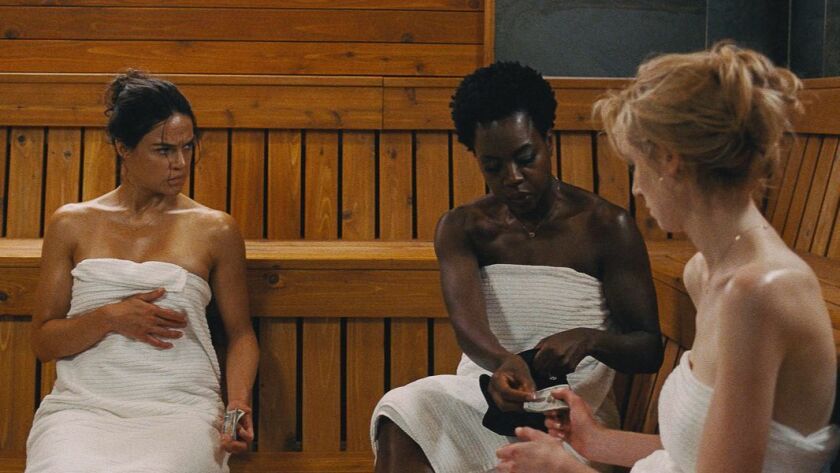 The new song was written by Sade and Ben Travers and produced by Sade, Travers and Aaron Taylor Dean.
"Her music works in complete harmony with the film, it is a perfect combination," added McQueen. "Working with Sade was a powerful experience — we had many deep conversations about the song which is extremely heartfelt and moving. I feel so lucky that she has made this beautiful song for my film."
The song for "Widows" is the second song Sade has unveiled this year; the first, "Flower of the Universe," was part of the soundtrack to Ava DuVernay's "A Wrinkle in Time." Prior to that, Sade last released new music on the 2011 compilation "The Ultimate Collection" and her last full-length album was 2010's "Soldier of Love."
As of now plans for releasing "The Big Unknown" are still being decided. So at least for the time being, the most reliable way to hear the new Sade track is by seeing "Widows."
SIGN UP for the free Indie Focus movies newsletter »
Follow on Twitter: @IndieFocus
---