Reviews commend Hathaway and De Niro's platonic friendship in 'The Intern'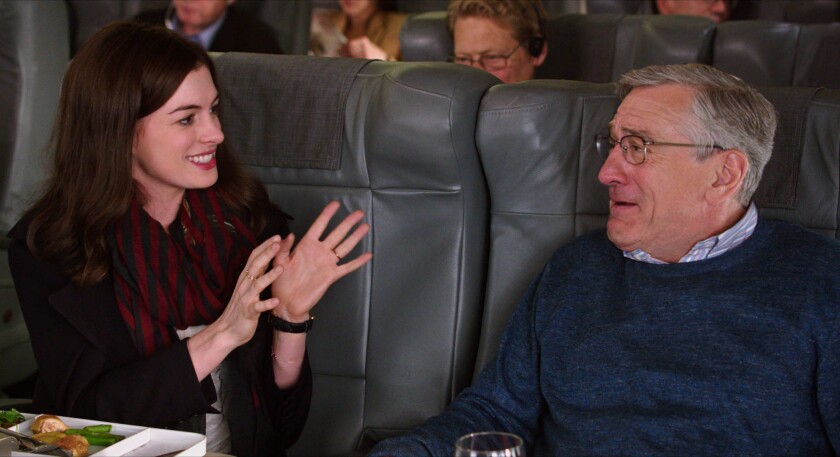 Like it or dislike it, the critics agree that "The Intern" is very much a Nancy Meyers film.
"The Intern" stars Anne Hathaway as Jules Ostin, the founder and CEO of a fast-growing online fashion retailer, and Robert De Niro as Ben Whittaker, a 70-year-old retired widower who joins her company through its "senior intern program" to have something to do with his day.
The reviews are mixed, with critics noting that many things are "nice" in the film, for better or worse. "The Intern" has so far earned a 50% rating on review aggregation site Rotten Tomatoes. Most critics were charmed by Hathaway's and De Niro's performances, noting that one of the film's strength is that Jules and Ben's friendship remains completely platonic.
SIGN UP for the free Indie Focus movies newsletter >>
"The smartest idea in the movie is that the relationship between Jules and Ben never goes anywhere near being romantic," writes The Times' Mark Olsen in his review of the film.
"De Niro brings a fresh, relaxed lightness to his performance, tinged with the gruff charm of Spencer Tracy," Olsen says. "Many of the best moments in the film involve placing Ben in relief to the younger male employees who become his de facto charges, as they learn the wonders of a briefcase, the power of tucking in a shirt or the importance of taking responsibility for their sloppy cluelessness."
But Olsen notes that "overall the film feels scattered, an assortment of scenes and ideas that mostly represent a notebook full of thoughts from Nancy Meyers."
However, "that still makes for a better, funnier and more considered movie than much of what passes for nonfranchise studio filmmaking, even as it shows a world almost exclusively white, straight and upmarket," Olsen says.
Mick LaSalle of the San Francisco Chronicle says that De Niro's performance is one of the highlights of the film.
"Ben's life, as written, is little more than a series of cliches, but De Niro goes through the movie saying a lot just by the way he looks at people," LaSalle writes. "In De Niro's gaze we see something we don't usually see — the pity of the old for the young, for all their emotional torments, avoidable mistakes and illusion of infinite time."
Overall, he says, " 'The Intern' is a nice movie about nice people, living in a world in which everyone is nice."
However, "the artistry of 'The Intern' is that Meyers figures out how to make the inevitable interesting, or at least interesting enough," LaSalle writes. "We are made to feel, almost by instinct, without really being told, that Ben has things to teach Jules, and we're also made to care that Jules learns them."
Also on Team De Niro is the New York Times' Manohla Dargis, who says that Meyers' smartest choice in "The Intern" is to make De Niro the film's "most valuable player."
"Mr. De Niro owns the movie from the moment he opens his mouth, and is staring into the camera and right at you," Dargis writes. "You can't look away, and soon you don't want to."
Dargis is less charmed by Hathaway's Jules because she "is less of a character and more of a fast-walking, speed-talking collection of gender grievances."
Ann Hornaday of the Washington Post writes that "Robert De Niro attains peak adorable-ness in 'The Intern.' "
The premise of the film "at first threatens to be a thinly disguised Baby Boomer screed against Millennial laziness and entitlement," but it ultimately "winds up being a surprisingly affecting meditation on ambition, self-doubt, gender roles and the enduring search for balance between 'love and work, work and love,' as Ben intones during the film's opening sequence," Hornaday says.
Hornaday commends the film for its feminist politics and the fact that filmgoers get to see "a genuine friendship between a grown man and younger woman, uncontaminated by jejune cliches or icky innuendo."
However, while "Meyers seems content to make a nice movie about nice people doing their best to be nice to each other despite one or two not-nice things that happen along the way ... [it's] not particularly the stuff of potent or rousing entertainment."
Stephen Farber of the Hollywood Reporter similarly notes that while "The Intern's" "premise has possibilities," because "Hathaway's Jules doesn't really have anyone trying to challenge or undermine her ... [the] drama often is shortchanged."
Farber, however, commends Hathaway's performance.
"Given the vacuity of the script, it must be admitted that Hathaway achieves something of a triumph," Farber says. "She's always engaging and keeps the character on a human rather than superhuman scale."
Similarly, Slate's L.V. Anderson writes that "Hathaway ... is pretty much perfect as Jules."
" 'The Intern' is far more charming, and far savvier about gender politics, than the trailers led me to believe," Anderson says. And although "that doesn't mean it's a great film by any means ... nobody does visually pleasing, occasionally funny escapist entertainment about goodhearted rich people trying their best to do the right thing better than Nancy Meyers."
For Anderson, the way Ben and Jules' friendship is presented is another strength of the film because "audiences — and people in general — still don't quite know what to make of platonic friendships between men and women, especially older men and younger women."
"No one could accuse Meyers of realism — 'The Intern,' like her other movies, is a modern-day fairy tale set inside a Pottery Barn catalog — but she's smarter about sex, and about gender, than most comedy filmmakers," Anderson says.
Twitter: @tracycbrown
---
From the Emmys to the Oscars.
Get our revamped Envelope newsletter, sent twice a week, for exclusive awards season coverage, behind-the-scenes insights and columnist Glenn Whipp's commentary.
You may occasionally receive promotional content from the Los Angeles Times.