Oscars: From J-Law to French animators, decoding five strange moments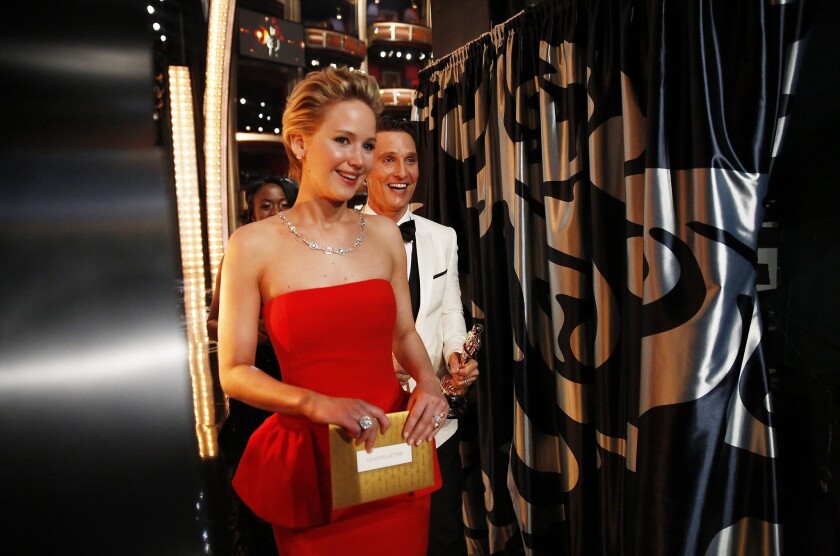 The Oscars on Sunday night were a popular affair with some moving moments -- including speeches from Jared Leto and Lupita Nyong'o -- and some warm humor courtesy of host Ellen DeGeneres. It also had its share of mysteries. Was John Travolta rehearsing backstage or otherwise engaged before he invented the new Broadway singer Adele Dazeem? What was Jennifer Lawrence laughing about when she took the podium to present best actor? And who was that exuberant Frenchman who staged one the night's few upsets? We break them down.
Twelve months a feud. Observant viewers might have sensed a chill in the air when "12 Years a Slave" scribe John Ridley seemed to hug the wrong director on the walk from his seat to the podium to claim the Oscar for best adapted screenplay. (Ridley strode right past "12 Years" director Steve McQueen without so much as looking his way, then stopped to embrace "American Hustle" director David O. Russell, with whom he once feuded over the screenplay for "Three Kings.")
FULL COVERAGE: Oscars 2014 | Complete list of winners
McQueen, for his part, reacted to Ridley's name being called by staring straight ahead and giving some perfunctory applause. During Ridley's acceptance speech, he conspicuously didn't mention McQueen by name, though he thanked nearly everyone else involved with the film. At the podium later, McQueen continued the non-quid pro quo by not mentioning Ridley in his own acceptance speech, even as he read a laundry list of names.
What gives? Turns out there's a long-simmering feud stemming from their credits -- namely, McQueen sought one on "12 Years" and Ridley resisted. The writer prevailed -- and so, apparently, did the frostiness.
Welcome Back, Zotker. Who is Adele Dazeem? Only John Travolta knows for sure. Travolta, a two-time Oscar nominee, was called on to introduce Idina Menzel's live performance of "Let It Go." But in a moment that quickly went viral, Travolta hilariously butchered Menzel's name and called her something that sounded like "Adele Dazeem."
A parody Twitter account with a variant spelling, @AdelaDazeem, popped up shortly thereafter to return the favor, tweeting, "Thank you, Jorn Tromolto!" Slate offered a program to Travoltify any name.
PHOTOS: Red carpet arrivals | Show highlights
But Travolta, who did attend Oscar rehearsals on Saturday, didn't look nervous in the moments before he stepped on stage, according to a person behind the scenes. In fact, the actor was schmoozing with Robert De Niro up until he had to go on -- though unlike some actors he was notably not looking at the script. Still, it may have been the best thing for him: Travolta hasn't been discussed this much since the last talk of a "Grease" reboot."
Our bodies, our selfies. How spontaneous was Oscar host Ellen DeGeneres' celebrity-packed cellphone photo? Did she really manage to wrangle Meryl Streep, Jennifer Lawrence, Julia Roberts, Brad Pitt, Angelina Jolie, Kevin Spacey and Bradley Cooper, to name a few, on the spot? The superstar selfie wasn't as off-the-cuff as it looked. Often Oscar producers will alert an actor's representatives in advance if the host plans a particularly tart joke or an elaborate bit involving their client. And DeGeneres apparently had informed several of the stars, including Streep, she was going to involve them in a photo. (Samsung, meanwhile, was in on it too.) But she did give the stars few details about the scope of the shot. And some stars appeared to join the photo-op of their own volition, such as Jared Leto, who darted over and said, "I've got to get in on this." She also couldn't have quite predicted Jennifer Lawrence's off-the-cuff remark that a wardrobe malfunction would help with the re-tweets.
PHOTOS: Winners' room | Behind the scenes | Quotes from the stars
Catching giggles. Speaking of the "Hunger Games" star, when Lawrence came out to present the lead actor prize, she told someone in the audience -- whom viewers were unable to see -- to stop laughing. "What's so funny?" she asked the anonymous giggler. The director was confused because there was no cutaway to whoever was causing the distraction.
So to whom was she speaking? Jared Leto, says Matthew McConaughey. When McConaughey came backstage after he won his Oscar, he told reporters that before J-Law walked on stage, host DeGeneres was in the wings, making some kind of gesture indicating that Lawrence might trip again. Leto saw DeGeneres mocking Lawrence and started cracking up.
"Jared was laughing at Ellen, so [Lawrence] yelled over to Jared, like, 'What?' " McConaughey told reporters.
The man who took down Disney. Even casual Oscar observers thought they had an obscure category locked up when they picked "Get a Horse!" to win animated short. After all, the movie came from Disney and had been playing in front of "Frozen" -- exposure the other four nominees could only dream about Yet in one of the only surprises of the evening, the prize went to "Mr. Hublot," a silent 3-D film about an eccentric man and his robotic pet, the writer-director Laurent Witz then taking the stage and gushing with surprise.
PHOTOS: Movie mainstays who have never won an Oscar
So who is Witz? A veteran of French television who spends most of his time in studios in Luxembourg and northeastern France, he spent a year raising money for the film, which was made for a paltry $300,000. He hopes to direct a feature, hopefully set in the same universe as "Mr. Hublot." Bound for the airport Monday after several weeks of meetings in Hollywood, he told The Times that there was no one more surprised than him Sunday. "People were preparing me to lose," he said. "Even friends who loved the movie said 'You know it's Disney, right? You can't beat Disney.' "
Since his win, he's said he's had a flurry of emails from Hollywood and European producers who want to meet or work with him. And yes, he said, "one of them was from Disney."
Amy Kaufman contributed to this report.
ALSO:
Oscars 2014: Leonardo DiCaprio strikes out, fans cry '#PoorLeo'
Memo to Hollywood: Why you should handle Lupita Nyong'o with care
Oscars 2014: 'Gravity's' David Heyman -- most-thanked man of the night?
---
Get the Indie Focus newsletter, Mark Olsen's weekly guide to the world of cinema.
You may occasionally receive promotional content from the Los Angeles Times.