Aretha Franklin's funeral was as churchy as she was
Here are scenes from Aretha Franklin's celebration of life ceremony in Detroit.
Pop Music Critic
Those who could brought their biggest voices Friday to the Greater Grace Temple in Detroit, where the late Aretha Franklin was remembered by an expansive cast of peers and inheritors in a lengthy funeral service billed officially as a "celebration of life."
And those whose voices weren't quite up to the task at hand? Well, they showed all the affection and respect owed a woman as responsible as any for the sound of modern American music.
Backed by a large choir and a band that included horn and string players — and positioned on an altar-turned-stage just behind Franklin's gold-plated casket — the nearly seven-hour event's strongest performers came out of the gospel tradition that Franklin was born into and that sustained her until her death two weeks ago at age 76.
"In the midst of a broken world, Aretha was our preeminent theo-musicologist," said one of the funeral's many speakers, the Rev. Dr. William J. Barber II of North Carolina's Greenleaf Christian Church. As a reminder of that role, Shirley Caesar and Tasha Cobbs blazed through a rollicking rendition of "How I Got Over."
The Clark Sisters sang "Is My Living in Vain," toying with the song's melody and rhythm with the same sanctified instinct that Franklin introduced to millions of unchurched Americans in the 1960s and '70s.
And Yolanda Adams teamed with Bishop Paul S. Morton for a throbbing yet stately take on "Mary, Don't You Weep," the traditional African American spiritual that Franklin made a showpiece on her classic live album "Amazing Grace."
After each, the few thousand mourners inside Greater Grace leaped to their feet (if they weren't already on them) to shower praise on this stirring display of precisely that.
"You hear all this singing and don't feel something, something wrong with you," the Rev. Jesse Jackson said at one point in the service, which aired live on various television networks and was streamed online. (Other guests included Whoopi Goldberg, Tyler Perry, Smokey Robinson, Marvin Sapp and Cicely Tyson.)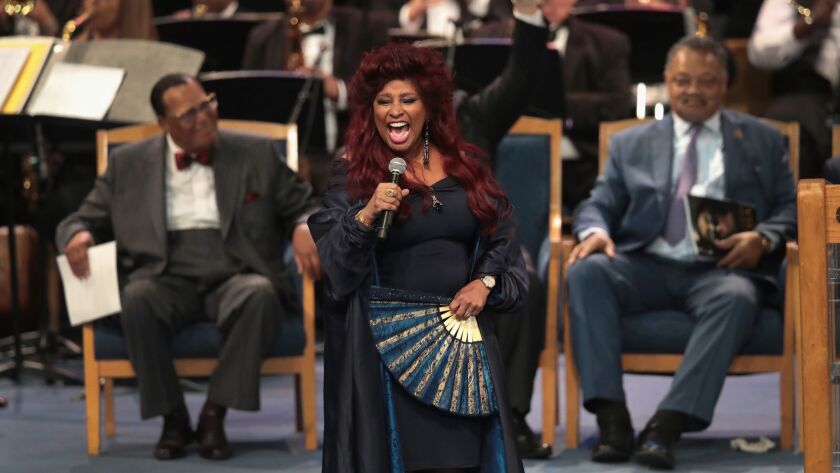 Aretha Franklin dies at 76: Remembering the Queen of Soul »
The occasion inspired singers less closely associated with the church — and some who started in gospel but, like Franklin, moved on to soul and pop — to step in that direction.
Wearing a silky dark-blue robe and clutching a fan with a lyric sheet clipped to it, Chaka Khan emphasized the bluesy rasp in her voice in a performance of "Going Up Yonder" that had Rep. Maxine Waters singing along in a pew near the front of the room.
Ron Isley did "His Eye Is on the Sparrow" as a kind of haunted torch song, his voice soft and supple, his eyes seeming to tear up behind his sunglasses.
And then there were Jennifer Hudson and Fantasia, two of Franklin's clearest stylistic disciples. Both women sang tunes from "Amazing Grace" — Hudson the indelible title track and Fantasia the medley of "Precious Lord, Take My Hand" and "You've Got a Friend."
Or rather both women used those songs as launching pads to blast off into the kind of free-form vocal runs that will no doubt call Franklin to mind for decades to come.
You knew Fantasia was serious about the job when she took off her shoes before she began.
Not everyone at Friday's ceremony seemed so in touch with Franklin's spirit.
Country star Faith Hill opened the production on a rather wobbly (and scratchy) note with "What a Friend We Have in Jesus." And Ariana Grande seemed hampered by nerves in a very tentative rendition of "(You Make Me Feel Like) A Natural Woman," which the young pop singer has interpreted powerfully in the past.
Still, it was easy to see how honored Hill and Grande were to have been invited to take part — a vivid demonstration of the breadth of Franklin's influence.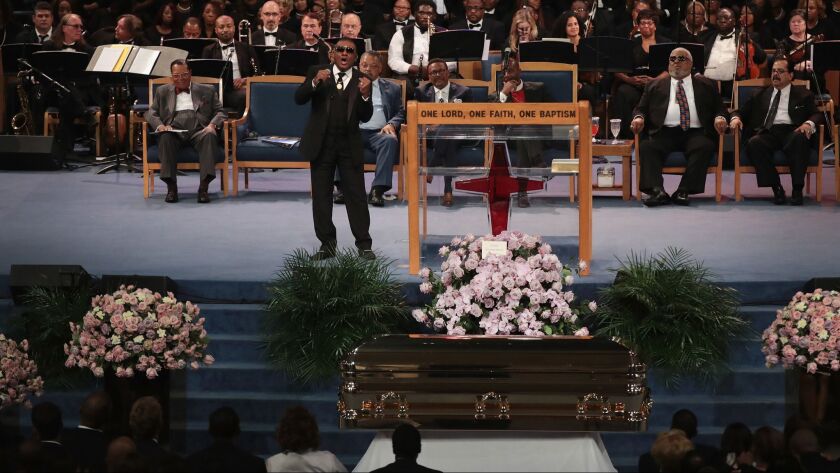 Plenty of non-singers paid tribute to the Queen of Soul as well, including former President Bill Clinton — who said that before he and his wife, Hillary, entered politics they were basically "Aretha groupies" — and Al Sharpton, who described her as a feminist before feminism was popular.
As suited an artist as politically consequential as Franklin, several speakers used Friday's event to move beyond remembrances to address the hot-button topics of the day.
Judge Greg Mathis, the reality-TV personality, recalled that in his last conversation with Franklin, she'd urged him to go see government officials in Flint, Mich., and "sock it to 'em" over that city's protracted water crisis.
After shouting out "President Clinton and her husband Bill," Georgetown professor Michael Eric Dyson laid into President Trump with a torrent of colorful epithets including (but certainly not limited to) "lugubrious leech," "dimwitted dictator" and "foolish fascist."
And Rev. Barber concluded his remarks by urging the luminaries in attendance to gather again for a get-out-the-vote rally before this fall's midterm elections.
The funeral drew to a close with stirringly intimate performances by two of Franklin's closet confidants: Gladys Knight, who sang "Bridge Over Troubled Water," and Stevie Wonder, who accompanied himself on keyboard for "As."
Wonder's parting message?
That Franklin would want us to "make love great again."
Twitter: @mikaelwood
---
Inside the business of entertainment
The Wide Shot brings you news, analysis and insights on everything from streaming wars to production — and what it all means for the future.
You may occasionally receive promotional content from the Los Angeles Times.