Chance the Rapper buys 'Chicagoist' website, revealing the news in song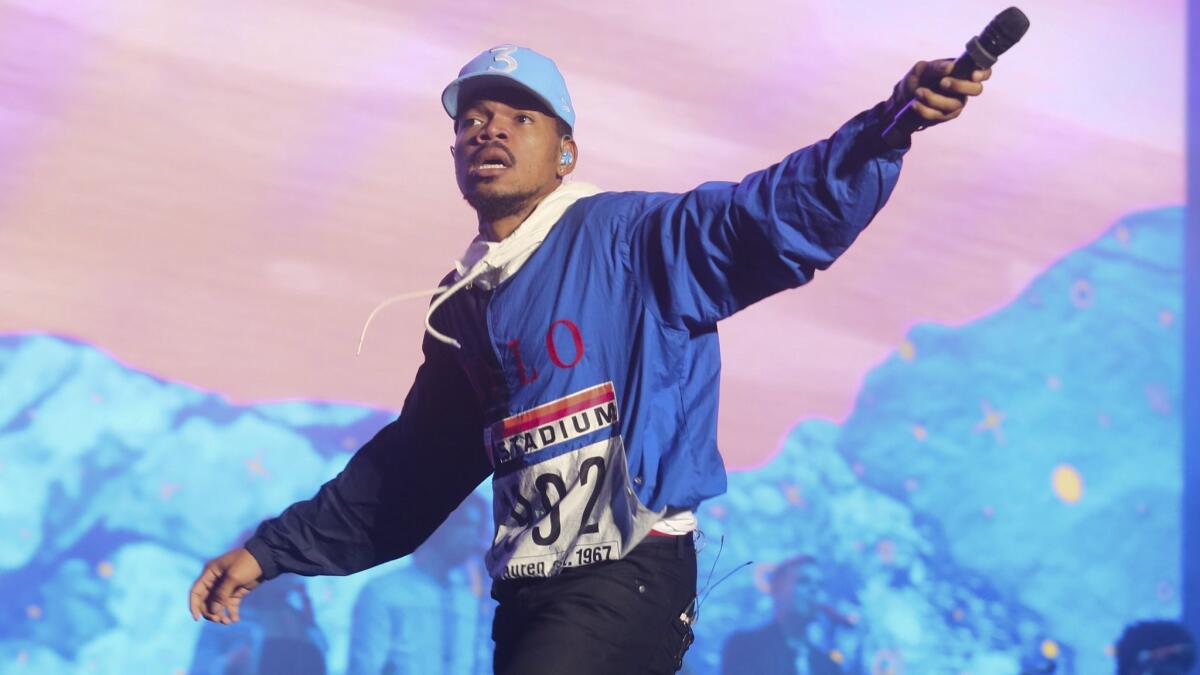 Washington Post
On Wednesday night, fans of Chance the Rapper were treated to a surprise release of four new singles.
The songs — "Work Out," "Wala Cam," "65th and Ingleside" and "I Might Need Security" — are available on all streaming platforms.
But within the NSFW lyrics of "I Might Need Security," there was an even bigger surprise, with the entertainer saying, "I bought the Chicaogist."
In what may be one of the more exciting announcements of a media company's sale, the Chicago native used his song to reveal that he is the new owner of the Chicago-based news, food and culture website, which has existed only in archive form since being shut down by its former owner.
In a tweet and in a statement, WYNC, a public radio station that owned the Chicagoist's assets, confirmed the acquisition was made through a deal with Chance the Rapper's Social Media, a newly formed company.
WYNC initially owned the Chicagoist when it acquired its sister site, the Gothamist, in February 2018, the statement said.
"I'm extremely excited to be continuing the work of the Chicagoist, an integral local platform for Chicago news, events and entertainment," the rapper said in the statement. "WNYC's commitment to finding homes for the 'ist' brands, including Chicagoist, was an essential part of continuing the legacy and integrity of the site. I look forward to re-launching it and bringing the people of Chicago an independent media outlet focused on amplifying diverse voices and content."
Laura Walker, New York Public Radio president and CEO, said in the statement that WNYC is "pleased that these assets will be used to support local coverage in the great city of Chicago."
"We are delighted that the Chicagoist assets are finding a new home in the hands of a proud Chicagoan," she said.
The city-centric "ist" brands include, in addition to Gothamist, DCist, in Washington, and LAist in Los Angeles. They were once owned by TD Ameritrade founder Joe Ricketts, who also ran DNAInfo, but he closed the sites after writers joined a union. Public radio stations, including WNYC, KPCC in Southern California and WAMU in Washington then picked up the properties, according to an article on WBUR's website.
Gothamist's founders, Jake Dobkin and Jen Chung, spearheaded the search for backers after Ricketts shut the sites down, as Wired reported.
These local news sites and similar alt-weekly publications, while often very popular, especially with young urban dwellers, are not money-makers. Around the country, many have folded in recent years. But they've represented lively "hyper-local" alternatives to major media outlets.
Beyond music, Chance the Rapper has gained attention for his social activism, with many of his efforts focused on improving his hometown.
In 2017, the rapper made headlines when he met with Illinois Gov. Bruce Rauner to discuss Chicago Public Schools and the state's financial crisis. When the meetings and phone calls failed to produce results, Chance the Rapper announced that he would be using money from his ticket sales to donate $1 million to Chicago Public Schools. The rapper also runs a nonprofit called SocialWorks, an organization that works with Chicago youth.
In March, he spoke about the work he has done for the city during a sold-out event at the Museum of Contemporary Art Chicago, the Chicago Sun-Times reported.
"I'm gonna live in Chicago until the day I die, and I may go away a bit and tour but I'll always come back and lobby for y'all," he said.
Chiu writes for the Washington Post.
Get our L.A. Goes Out newsletter, with the week's best events, to help you explore and experience our city.
You may occasionally receive promotional content from the Los Angeles Times.