Meet Gojira, the hard rockers who became a Grammy surprise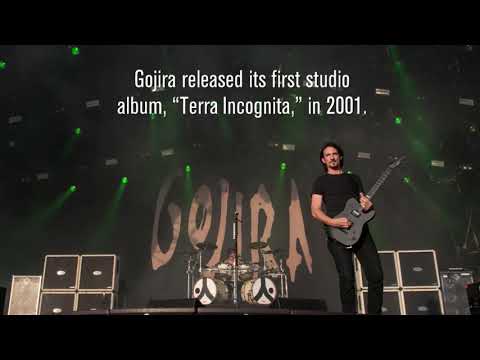 Joe Duplantier, the band's guitarist and singer, and his brother, drummer Mario Duplantier, founded the band in 1996. (Feb. 8, 2017)
Drone metal, black metal, speed metal, sludge metal, death metal, groove metal, deathcore, stoner metal, deathgrind. In 2017, hard, aggressive rock has splintered into so many factions that it takes a grim-reaping interpreter to explain the terrain.
Unless you're the French American metal band Gojira — "Godzilla" in Japanese — in which case, enough with the categorizing. Turn up the volume
"For 10 years now I've been telling people when they say, 'What kind of metal are you playing?' I like to answer, 'It's rock, you know?' It's rock. I don't even like to call it metal," says Joe Duplantier, Gojira's guitarist, singer and, along with his drummer-brother, Mario, co-founder.
Duplantier has the Recording Academy on his side. Although Gojira won't be sharing screen time with Beyoncé and Adele on Sunday night's Grammy telecast — Metallica will represent the hard rock category on the show — Gojira's name can be found among the nominees in multiple rock categories.
"Magma" earned a surprise Grammy nomination for rock album, where it will compete against a ragtag bunch of bands that illustrate the genre's breadth and its lack of propellant center: Santa Monica alt-rock band Weezer; Southern California commercial-punk band Blink-182; Bowling Green, Ky., indie rock band Cage the Elephant; and Las Vegas emo-rock band Panic! at the Disco are the band's competitors.
Gojira's album is heavier, sonically and emotionally, than any of those records.
"Magma" also earned a nomination in the metal performance category. The single "Silvera" will go against a competitive (and thematically grim) field that also includes Megadeth's "Dystopia," Korn's "Rotting in Vain," Baroness' "Shock Me" and Periphery's "The Price Is Wrong."
At various points recalling "Master of Puppets"-era Metallica, the proto-grunge sounds of Helmet and contemporary kindred spirits Lamb of God, "Magma" captures a moment when, according to Joe, the brothers were "thrown into another dimension" after the death of their mother.
The dislocation wasn't just familial. The brothers, who have duel French and American citizenship, had just built a new studio in Queens, New York, after ascending to be one of the most acclaimed rock bands in France.
The dislocations sent the brothers into a period of creative mourning.
"It's life and we all go through similar things eventually, but when it happens to you it's so unique and total," says Joe, on the phone from Paris a few hours before a homecoming concert.
The band has experience in harnessing its experiences in service of its art. Joe composed the band's previous album, "L'Enfant Sauvage," which was named after the 1970 Francois Truffaut film, after he became a dad, and the album explores what it means to be alive.
"It's difficult to explain the state of mind," says Joe, "but what we do with our music is what we always did: We recycle whatever happens to us and whatever emotions we have — joy, anger, sadness — into sounds and into music."
Even through sadness or horror, there's energy. And we had something to do with it.
— Gojira's Joe Duplantier, on the album "Magma."
Joe describes the experience as "an amazing process that is very, very helpful. Even through sadness or horror, there's energy. And we had something to do with it." He adds that without music, "I don't know where we would put all that sadness and grief."
"Magma" is dense with it.
It opens with the first steps of a journey: "Departure has arrived, don't look back," sings Joe as Mario and bassist Jean-Michel Labadie work a hardened groove and lead guitarist Christian Andreu dots out a ringing melody. "Avoid the darkness, stay away, stay out of sight."
Their destination? "Headed north, frozen land — where tigers go to die."
Needless to say, the journey's not easy, and within a few tracks the band is playing songs about being locked away, stranded, yearning for escape and grappling with faith.
"You're invisible, you're in everything — tell me what you see," pleads Joe during "Low Lands," about life after death, repeating the command, "Tell me what you see when you're everywhere."
The problem with writing about hard experiences can be reliving them onstage, where the physicality of performance intertwines with the emotion of lyrics and energy of the crowd.
The band just concluded a yearlong world tour focused on the new songs, a journey that Joe says helped him to cope with the loss.
Equally moving, says Joe, has been how the music resonates with a crowd willing to scream along with every syllable. "We have a lot of fans that thank us for these songs — from people that lose family members — and they use this music and this energy to move on."
He adds: "Each time I sing those lyrics they also evolve. It's like they take a different meaning or slightly different angle. It's very interesting and it's not depressing at all. It's quite the opposite, actually."
For tips, records, snapshots and stories on Los Angeles music culture, follow Randall Roberts on Twitter and Instagram: @liledit. Email: randall.roberts@latimes.com.
ALSO
'No, take me seriously': Meet the Regrettes and Cherry Glazerr, L.A.'s new faces of rock
With 'Bad and Boujee,' Migos is finally having its moment
Muna, which doesn't shy away from big topics, is a local band on a mission
Get our L.A. Goes Out newsletter, with the week's best events, to help you explore and experience our city.
You may occasionally receive promotional content from the Los Angeles Times.