Janet Jackson's comeback tour doesn't open with the typical grandiose splashes pop stars often bring to arenas. No explosions of pyrotechnic, no stunts to make her grand entrance.
Instead, a flurry of images referencing the Syrian civil war, white supremacist rallies and unarmed black men killed by police flash in front of the audience before she emerges, her visage obscured by a declaration promising, "We will not be silent."


The powerful opening underscores the direction the influential pop singer-songwriter wanted to take with her "State of the World" tour, which played to a sold-out crowd at the Hollywood Bowl on Sunday and will keep Jackson on the road through December.
In a time when stories of racial divisiveness, fascism, xenophobia, transphobia, police brutality, gun violence and violence against women are a constant fixture in the 24-hour news cycle, Jackson wanted to use her tour to make a statement – much like she did on 1989's groundbreaking effort, "Janet Jackson's Rhythm Nation 1814."
"A lot of different things had been happening in the world – a new president, so much stuff. The intent was to use her art and her catalog of music to touch upon what is going on," Gil Duldulao, Jackson's longtime creative director, said over the phone before a show in Sacramento.
Jackson's current tour largely takes its cues from "Rhythm Nation," her most political, forward-thinking album. Eschewing arena pomp, Jackson's set is simple — risers housed her eight-piece band and a trio of scrims occasionally lowered from the ceiling for visual displays — to keep the focus on Jackson and her dancers, who move through one high-octane routine after another in a feverish pace.
Work on the tour began late last year while Jackson was pregnant with her first child. Months prior she had postponed her "Unbreakable" tour due to her pregnancy (she also previously shifted dates per doctors orders) -- and although she planned to honor the nixed dates, the 51-year-old wanted to revamp the show, changing everything from its name and theme to its set list.
"When she postponed 'Unbreakable' she went to live her life. But she isn't the type of artist where it's like, 'OK, show's postponed and I'm never gonna think about it,'" Duldulao said. "During her pregnancy we talked here and there about creative. How we wanted to represent songs – what imagery we wanted, what visuals we needed."
"I literally stayed up with her one night while she was in London and I listened to every album she's ever made with her on the phone, over FaceTime," Duldulao continued. "Some songs would make her silent. She would smile at certain songs. She'd ask me to play certain ones again and would bring up family memories and [talk about] her journeys. I had chills. It was beautiful … because I know she doesn't sit at home listening to her songs at all."
You feel her more than ever onstage this time than I've ever seen her. She's so much more open, free.
Gil Duldulao, creative director, on Janet Jackson's "State of the World" tour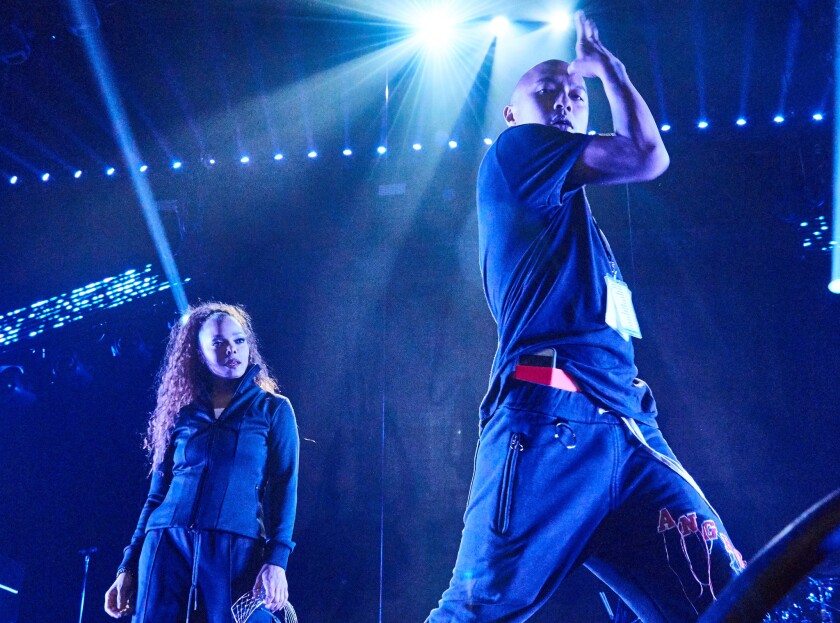 Duldulao has worked with Jackson for more than half of his life.
A Hawaii native, the 38-year-old moved to L.A. when he was 16 to train as a dancer. When he learned Jackson was seeking background dancers for "The Velvet Rope" tour, Duldulao didn't let being underage stop him from trying out.
"He told me he was 18. And I just found out this year that he was 16 and he lied to me," Jackson said with a laugh while introducing Duldulao at her Bowl show. "Sixteen!"
Duldulao nailed the audition and went on the road with the singer. He helped choreograph her 2001 "All for You" tour and by 2008 he was directing her shows, working alongside the singer to shape the creative direction of her next four tours.
When Jackson and Duldulao began building out the show, his mission was to push the notoriously private entertainer out of her comfort zone – even if it meant butting heads with his friend.
"I fought her a lot on the set list. I told her, 'Your audience knows what songs will be in every section.' She knows her music well. She knows what works, but she also knows she could get stuck in that mode," he noted. "I felt like this is the first time we got through to her and was like, 'Let's try something different with the set list as a whole.' Finally she was like, 'If there was ever a time to do this, it's now.'"
Experimenting alongside the show's musical director, Daniel Jones, resulted in Jackson adding "hidden gems" like "The Body That Loves You," "Spending Time With You," "Island Life" and "Twenty Foreplay" – songs she had never performed live – to the set list.
"What's so special about this tour is she's doing this truly for the fans," Duldulao said. "You feel her more than ever onstage this time than I've ever seen her. She's so much more open, free. She really is in a great space in her life … and I wanted to celebrate her and the journey to getting to this place and let the audience walk away feeling like they even know her better.
"So many people want to hear from her with everything that's going on in the world — so why not use her art and her show to have a voice."
For more music news follow me on Twitter:@GerrickKennedy
---