Red Hot Chili Peppers' Giza Pyramids concert sparks hopes of placing Egypt on music radar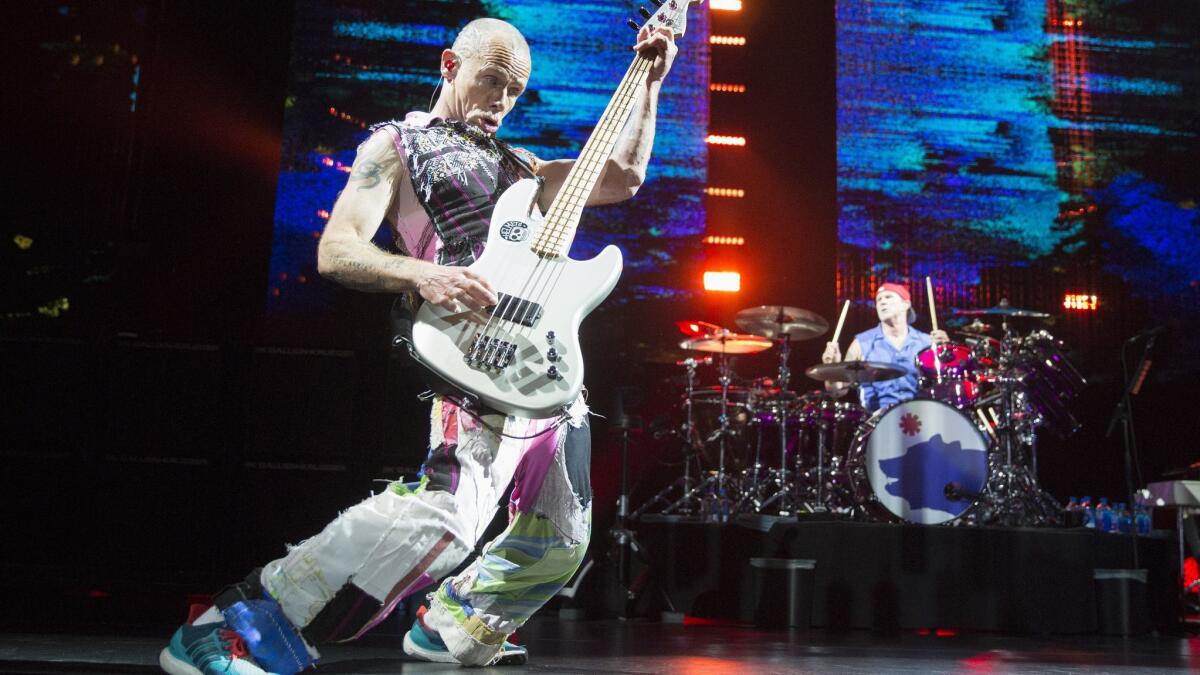 Reporting from Cairo —
It's not often that Egyptian music fans get to see big international rock stars perform on their soil.
So there are some hopes that an upcoming appearance by the Red Hot Chili Peppers could be the start of a tradition. The act is scheduled to appear at the Giza Pyramids on March 15.
"The pyramids, it's unbelievable," said bassist Flea by phone from Los Angeles. "We just jumped at this opportunity … I have always been fascinated by Egypt and that region of the world and I am so excited to go."
For Egypt's music fans, the Red Hot Chili Peppers have the potential to once again put the pyramids on the map as a prestigious international concert venue for A-list musicians, who have largely stayed away following a social uprising in 2011 that toppled longtime autocrat Hosni Mubarak.
"It is a huge deal for Egypt to get such a huge band to play here," said 24-year-old Adham El Safty, who quickly snapped up five tickets when they went on sale.
The Red Hot Chili Peppers follow a number of international artists who have appeared at Egypt's most famous landmark, including Frank Sinatra, Pink Floyd and the Grateful Dead in the 1970s, as well as Sting, the Scorpions and Shakira between 2001 and 2007. The concerts haven't always gone off without a hitch: A 2001 appearance by Sting was marred by ticketing issues and complaints of throwing a concert on a historic site.
The organizers and the Peppers will also be hoping for things to go more smoothly than it did for the Grateful Dead when the act played three shows at the pyramids back in 1978. Camels carried their equipment after the trucks' tires got jammed in the sand, and Rolling Stone reported that vocals were often distorted or missing due to electricity issues.
"It's not the easiest venue to use as everything needs to be built up, and there is a lot of coordination between various entities," said Tito Kachab, CEO and founder of Nacelle, the organizer behind the Red Hot Chili Peppers show. "The nature of the pyramids area requires strict control. I think the biggest logistical challenge is about dividing the area and controlling the space. We're also pretty much working in the desert even though the city is very close."
There are challenges, said Kachab.
"You have to make do with a limited amount of suppliers, less experience, and bring in equipment from abroad in many cases."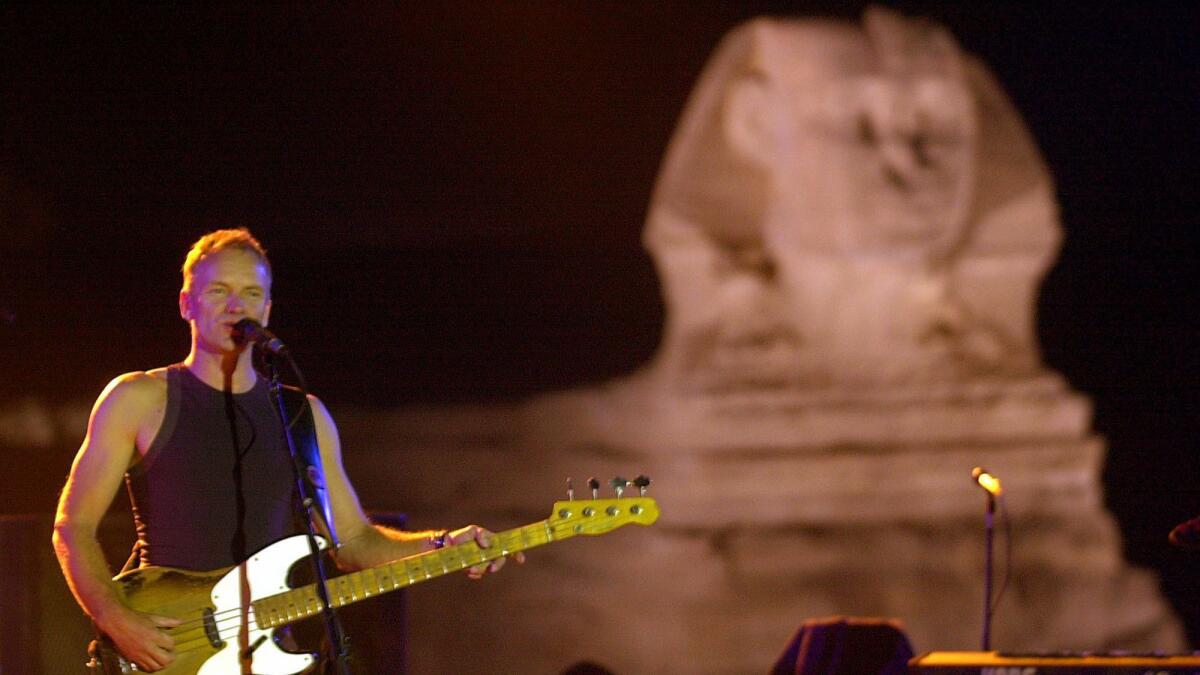 It's not something that concerns Flea.
"I've been in a rock band for 35 years and we tour all over the world, and everybody just kind of gets accustomed to going to the same places because it's all set up and everybody goes there. But I would like to go to more places where it's not the normal place to go," he said.
Egyptian fans are welcoming the Peppers.
"I hope this concert goes well so as to pave the way for other big names to visit and put Egypt on the radar," said ticket holder Omer Sherif, a 25-year-old mechatronics engineer and a musician. "The Pyramids of Giza can be a legendary concert venue if only we knew how to make good use of it."
After Mariah Carey, Andrea Bocelli and Kylie Minogue held three separate shows in 2010, the pyramids looked like they were on course to become a more frequent venue for star concerts. Then the next year, revolution erupted.
Since then fewer international acts have used the site as years of political and economic turmoil followed. While Greek composer Yanni performed there in 2016, the Red Hot Chili Peppers present a potential turning point for the more pop-focused music enthusiasts.
"My generation didn't have the chance to see a rock band who is as big as Red Hot Chili Peppers play in Egypt before," Ahmed Salah, a 25-year-old musician, said. "I think it's definitely a milestone in post-revolution Egypt and I hope it paves the way for more bands to come in the future."
The prolonged economic downturn after the uprising, as well as currency woes, have made organizing concerts like this difficult, said Nacelle's Kachab.
In 2016 Egypt devalued its currency to secure a $12-billion loan from the International Monetary Fund, and tourists have also started returning over recent years, which has helped stabilize the economy.
"With large-scale events it's important that things can be predicted and budgeted for," Kachab said. "This is easier now."
Security concerns over recent years may have also put off artists — particularly the presence of Islamist militants in Egypt, including those with connections to the Islamic State.
In December, a roadside bomb 2.5 miles from the Giza pyramids killed three Vietnamese tourists and their Egyptian guide and injured at least 10 others.
Asked about security, Kachab said, "We are taking this point of course the most seriously. The band, the government and ourselves have this as mission No. 1."
The Red Hot Chili Peppers have confidence that Egypt is a safe place to perform, said Flea, who's planning on bringing his kids with him. "Unfortunately there is violence and behavior like that all over the world, so we would never single out Egypt."
Get our L.A. Goes Out newsletter, with the week's best events, to help you explore and experience our city.
You may occasionally receive promotional content from the Los Angeles Times.