The music concocted half a century ago by the musicians who would ultimately be known as the Band was the result of some rather unusual methodology.
Robbie Robertson, Richard Manuel, Rick Danko, Levon Helm and Garth Hudson withdrew from the rigors of touring to hole up in rural upstate New York with their pal Bob Dylan, who himself was on retreat after a motorcycle accident. What's more, they literally went below ground to creatively talk among themselves in the basement of a house nicknamed Big Pink.
There, at a time when songs were getting louder, longer and trippier as the era of psychedelic music unfolded, they connected with something rather earthy and spiritually grounded.
That's the music the ad hoc Wild Honey Orchestra celebrated Saturday with a cross-generational phalanx of musicians who served up the Band's extraordinary first two albums: "Music From Big Pink" and "The Band" at a fundraiser for the New Jersey-based Autism Think Tank.
See the most-read stories in Entertainment this hour »
The evening featured a raft of spotlighted soloists who appeared to revel in the chance to take on legacy numbers by the Band such as "Up on Cripple Creek," "The Night They Drove Old Dixie Down," "The Weight" and "I Shall Be Released."
.
Jackson Browne, Carlene Carter, Peter Case, Victoria Williams, Van Dyke Parks, Syd Straw, Susan Cowsill, Louise Goffin, Peter Holsapple, Skylar Gudasz, Julianna Raye, Steve Wynn and Steve Barton were among the featured artists on a night that, in many ways, belonged to a surviving member of the group being honored: keyboard wizard Garth Hudson, who joined the proceedings late in the evening along with his wife, singer Sister Maud Hudson.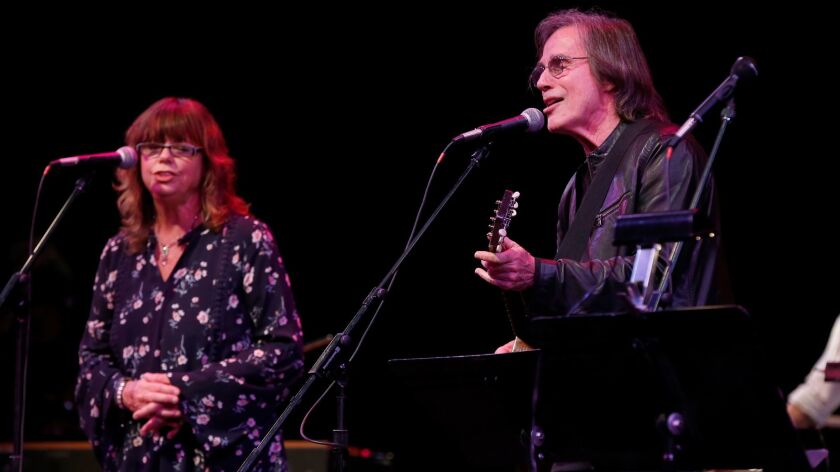 Hudson required the aid of a cane and support from some of the show's participants, but once seated, the 79-year-old Canadian proved that his musical abilities were undiminished by time or physical infirmity. He was surrounded by a bank of keyboards for "The Genetic Method/Chest Fever," an improvised medley that had always been his showcase number during the Band's heyday, and later at a grand piano for another inspired workout.
Indeed, during his seemingly impromptu instrumental showcase at the piano, all other members of the band were locked in rapt attention watching Hudson.
Participants largely stuck to the arrangements of the Band's original recordings. That meant the gut-deep loping drum beat that anchors "Across the Great Divide," soaring fiddles at the raucous opening of "Rag Mama Rag" (which faltered, briefly, and then recovered from a rare rhythmic flub by drummer Pete Thomas) and the spacey Hohner keyboard accents for "Up on Cripple Creek" were all in play.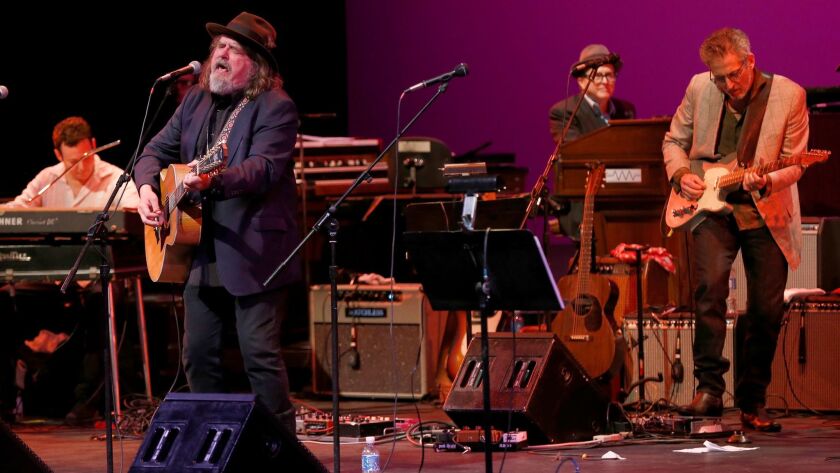 One shining exception to that rule was Case's buoyant rendition of "This Wheel's on Fire," one of the handful of songs from that period that was a collaboration with Dylan — in this case, written by the rock bard and the Band's bassist-singer Danko.
The Wild Honey Orchestra has been doing these shows on and off for a quarter century. Of late, they'd focused primarily on performances of full albums by the Beatles and the Beach Boys, so this turn to the catalog of the Band allowed the assembled multitude a night away from pure pop joys.
As noted by the emcee of the marathon three-hour-plus show — veteran L.A. music journalist Chris Morris — albums were not played scrupulously according to their original sequences, largely due to the logistical complexities of moving the requisite groups of instrumentalists and singers on- and off-stage with any degree of efficiency.
No matter. The tone and spirit of those two rock masterworks came through.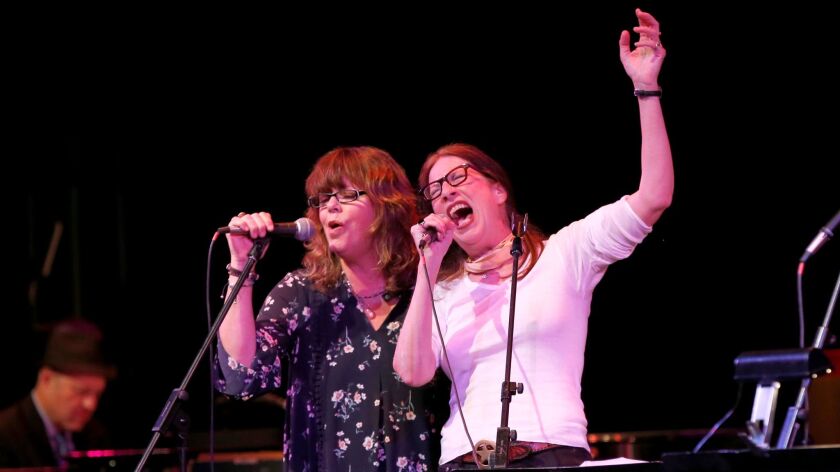 Among other highlights: Carter's plaintive performance of the spiritual allegory "The Unfaithful Servant," British session singer and guitarist Terry Reid's explosive delivery of "King Harvest (Has Surely Come)," Cowsill and Bangles member Vicki Peterson's luminous rendition of "Whispering Pines," and, despite one of the evening's few false starts, Browne's reading of the supernaturally minded "Caledonia Mission."
The players also served up nearly a dozen assorted "bonus tracks" from the Band's subsequent albums, spanning "When I Paint My Masterpiece," with singer Wynn being buoyed by otherworldly accordion support from Parks, trumpeter Sarah Kramer's jaunty lead vocal and instrumental work on "Ophelia" and Hudson's soulful vocal on "Don't Do It," which she belted into a microphone from her wheelchair.
It feels almost curmudgeonly to suggest that the evening was, if anything, too generous, running close to 3½ hours, including a 20-minute intermission to allow bidding during the event's silent auction.
Even with so much assembled talent, all under the taut leadership of musical director and guitarist Rob Laufer, the upshot served as reminder of just how uniquely distinctive the Band's own trio of lead singers — Manuel, Danko and Helm — really were, and how challenging it is for anyone else to bring a comparable level of distinction to this material.
The show's raison d'etre, however, ultimately was raising money and awareness for the Autism Think Tank. The organization's executive director, Shari Marino, noted at the top of the show that the Wild Honey Foundation had generated more than $100,000 for her organization over the last four years.
She also cited statistics showing 1 in 45 people in the U.S. are diagnosed with some degree of autism, and that costs associated with treating the condition were $268 billion in 2016 and projected to reach $1 trillion by 2025.
If evenings such as Saturday's help address that monumental challenge, may the band play on.
Follow @RandyLewis2 on Twitter.com
For Classic Rock coverage, join us on Facebook
---