Review: YG has street life on his mind with 'Stay Dangerous'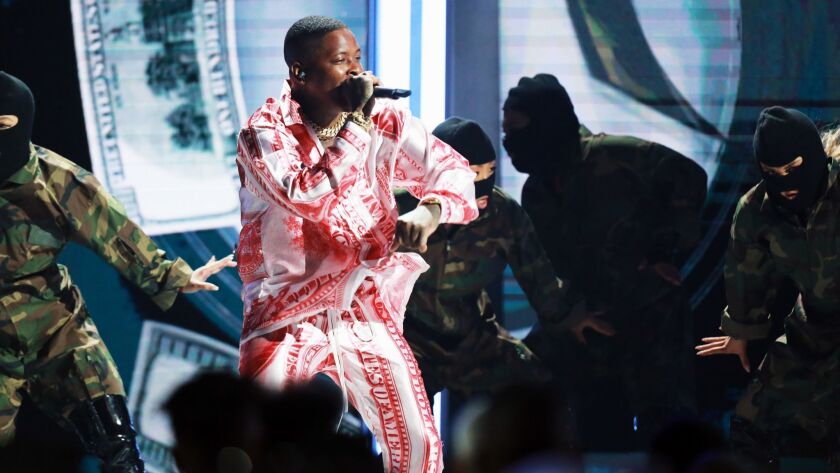 Pop Music Critic
Pop stardom hasn't softened YG.
That's the message this hard-nosed Compton rapper presents on his third studio album, "Stay Dangerous." Released Friday, it's the follow-up to 2016's acclaimed "Still Brazy," which raised YG's profile to the point that soon he was recording relatively cuddly duets with the likes of Mariah Carey and Cardi B.
One reason "Still Brazy" connected with a wide audience was because YG, who often flaunts his association with L.A.'s Bloods gang, looked beyond the urban violence with which his earlier work was strictly preoccupied. The single "FDT," for example — and surely you can figure out what those initials stand for — became a popular activists' anthem as Donald Trump made his way to the White House.
On "Stay Dangerous," though, YG returns to the fundamentals of street life, with tersely (if wittily) phrased songs about brutality, sex, money and power.
"'YG, don't you got a daughter?'" he raps in "Suu Whoop," adopting the voice of someone skeptical that he still knows the harsh terrain. His response is priceless: "Yeah — I'm a gangbanging-ass dad."
To help sell that idea, YG turned to DJ Mustard, the L.A.-based producer who helped create his first hits but with whom the rapper "fell out," as he puts it in one track here, around the time of "Still Brazy." (For that album, YG collaborated in the studio with different producers, including several associated with Kendrick Lamar.)
Whatever happened between the two men, they appear to have worked it out: DJ Mustard oversaw 10 of the 15 tracks on "Stay Dangerous" and served as one of the album's executive producers.
And they still sound great together in cuts like "Too Brazy" and "Slay," with YG flexing his SoCal drawl over DJ Mustard's crisp yet bouncy grooves; the music feels urgent but somehow unhurried, as though YG is sure the beat won't go anywhere without him.
The presence of his old friend brings out YG's sly charm too, as in "Too Cocky," in which his singsong cadence conjures a whiff of "I'm Too Sexy" by Right Said Fred, and "Big Bank," in which he likens his wealth to "white-folks money." (Other producers on the project include Lil Rich and Mike Will Made It.)
As the latter lyric demonstrates, YG's tighter focus on "Stay Dangerous" doesn't mean he's not thinking about the outside world; he knows why people end up in gangs and what they're looking for that they can't find elsewhere.
Still, it's easy to wish he'd followed through on the outrage of "FDT" and offered his thoughts on all that's happened — especially to those where the media doesn't always look — since 2016.
This week YG, who's scheduled to perform Sunday night at the Microsoft Theater, suggested to Rolling Stone that he's no longer looking to provoke Trump.
"I got an open case right now," he said, referring with a laugh to charges that he stole a diamond chain from a man in Las Vegas in May.
Soft or not, he seemed to be saying, celebrities make for easy targets.
______________
YG
"Stay Dangerous"
(Def Jam)
Twitter: @mikaelwood
---
The complete guide to home viewing
Get Screen Gab for weekly recommendations, analysis, interviews and irreverent discussion of the TV and streaming movies everyone's talking about.
You may occasionally receive promotional content from the Los Angeles Times.