Review: A year after quitting One Direction, Zayn Malik gets serious on the moody, textured 'Mind of Mine'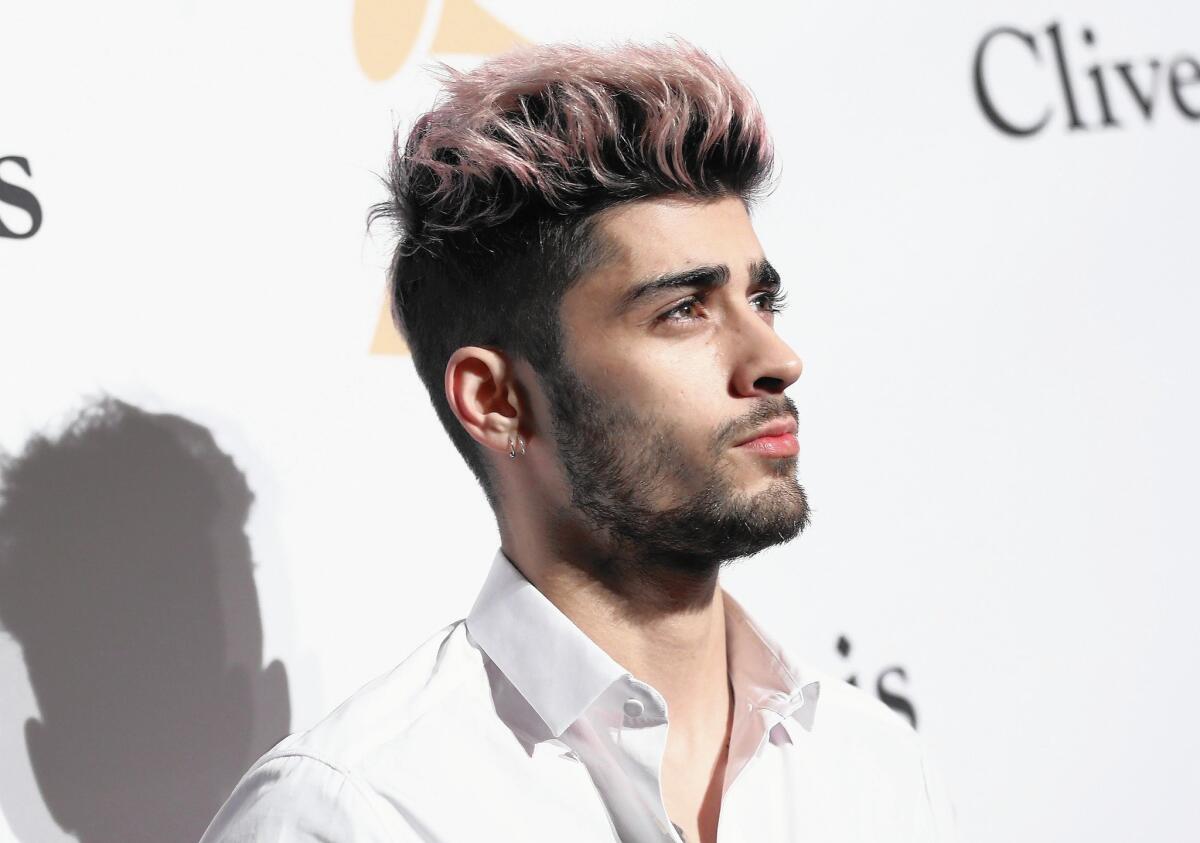 One Direction famously hated being referred to as a boy band. But if the term didn't fit the mega-popular British group that recently went on hiatus, the problem — at least from the outside — had less to do with the word "boy" than with the word "band."
Here was a musical outfit, originally assembled on the British edition of "The X Factor," that always seemed to view its music as an afterthought. Not that its records weren't great — most of them were. But you never got the sense, even (or especially) at its winningly offhand stadium gigs, that the work of writing and singing and playing was of much concern. Far more important was choosing the right pair of skinny jeans or telling the perfect joke to crack up the other guys onstage.
See more of Entertainment's top stories on Facebook >>
Far more important, that is, to everyone but Zayn Malik. A year after he quit One Direction (which likely led to the remaining four members hitting pause), this 23-year-old singer has become the first of the bunch to release a solo record. And listening to "Mind of Mine," due Friday, it seems clear that Zayn left not because he couldn't handle the pressure of global stardom, as he intimated at the time, but because he wanted to get serious — really serious — about music.
A moody, deeply textured R&B album with vibe to spare, "Mind of Mine" sounds as if it was designed to showcase the effort and inspiration that went into it. Where 1D aimed to charm, Zayn wants to impress; instead of goofy puns, he's dealing in intricately voiced piano chords. (So many fancy chords here.) About half the time, he convinces you he's made the right choice.
There's more to Zayn's new identity than legit musician. You need look only at the magazine covers he's posed for lately to know that he's getting in touch with his steamy, lover-man side, a quality he'd never have been able to explore in 1D, given the group's tween-heavy fanbase. And like all former tween idols, he's eager to be seen as a grown-up, which is one reason he drops so many F-bombs here.
There's also the intriguing matter of his Muslim faith, a true rarity in Western pop that he seems to acknowledge in one track, "Flower," with a lovely vocal melody sung in Urdu.
But mostly "Mind of Mine" emphasizes signs of complexity: the elaborate synth swirls that float through "She," for instance, or the careful layering of soft-funk guitar lines in "Bordersz," one of several cuts co-written and produced by Malay, who's best known for his work on Frank Ocean's Grammy-winning "Channel Orange" album.
Even when Zayn strips down the music for "Fool for You," a relatively spare piano ballad, he fills the space with ornate vocal runs, flexing a skill for which there was never much use in 1D. Basically, you're unlikely to hear a more detailed album this year, and certainly not from whichever of Zayn's former bandmates goes solo next.
All that fine-tuning doesn't mean that Zayn's music comes out utterly unique. As was true with 1D, the influences here are remarkably easy to spot, be it Ocean (in the dreamy "It's You"), Miguel ("Truth") or the xx ("Drunk"). Prince hangs over the whole project too, detectable in everything from Zayn's falsetto to his stylized renderings of song titles: "PiLlOwT4lK" and "BeFoUr" and so on.
In 1D, though, the band's copycat moves (aping songs by Journey, the Who and others) felt in keeping with its take-the-easy-way approach. On "Mind of Mine" you're hearing how hard Zayn is trying to get inside the music that moves him, to understand and reproduce its virtues.
With 18 tracks on the deluxe edition, the album can wear you down with all its finely wrought sophistication, even when Zayn is singing about taking your clothes off. No One Direction record could ever be described as a slog, but that's what "Mind of Mine" becomes by the trippy "Lucozade," in which he recounts sipping an energy drink while "blazing on that newfound haze."
Hearing those words, you might find yourself needing a smoke break yourself, even as you admire Zayn's commitment to his work.
------------
Zayn
"Mind of Mine"
(RCA)
ALSO:
Justin Bieber cancels fan meet and greets but Beliebers stand by him
Review: How Gwen Stefani dug deep for her brutally honest new album
That 'MMMBop' cover you love is probably being sung wrong, Hanson says
Get our L.A. Goes Out newsletter, with the week's best events, to help you explore and experience our city.
You may occasionally receive promotional content from the Los Angeles Times.