Review: Jay Z and Beyoncé 'On the Run' at the Rose Bowl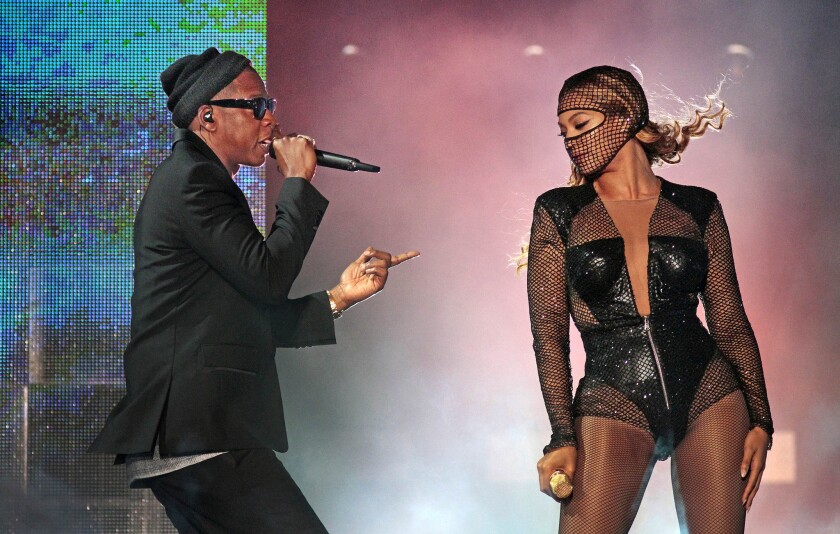 If you were looking for clues to the state of Jay Z and Beyoncé's marriage during the pair's weekend Rose Bowl stop on their On the Run tour, then you were doing exactly what was expected of you.
As rain soaked the capacity crowd in Pasadena on Saturday night, music's royal couple toyed with those endless marriage-on-the-rocks rumors -- both onstage and in the Bonnie and Clyde-themed film montage that ran behind them -- for the two-hour-plus show.
Beyoncé on the giant screen in a white wedding dress with a gun. Jay Z onstage asking whether there were any "sexy girls" in the audience. Songs about cheating. Songs about devotion. Few instances where the couple appeared together for more than a few seconds.
It's no wonder some fans have dubbed this the Save Our Marriage tour, a show that will be shot as an HBO special at the end of its run this fall in Paris -- backdrop for all grand tales of romance.
But after a few of the early back-to-back numbers, such as Beyoncé's polished "Run the World (Girls)" bouncing up against Jay Z's raw "Tom Ford," more pressing questions arose.
How will these two significantly different performers, from separate genres and eras, reach the same audience? Or is exploiting a rumored breakup one way to unify fans from both camps?
True, they are married, but Jay Z fans aren't necessarily Beyoncé fans, and vice versa. She's the very definition of post-everything pop, born out of the girl group craze. He's a rapper's rapper, despite his crossover hits and lure as a self-made music mogul from the mean streets of Brooklyn.
These far-flung styles did inspire a sort of musical whiplash Saturday.
Beyoncé performed to her usual heights of polished perfection: from "Single Ladies (Put a Ring on It)" to "Flawless," her vocals hit every mark, her choreographed moves (with a dance troupe in tow) a video come to life. Stunning beauty, barely there costumes and a billion frameable booty shots.
Jay Z did what he does best, commanding attention as he stalked the stage (often alone), bouncing clever wordplay off the crowd like skipping stones, engaging concertgoers by urging them to "put their hands in the air" as if it were 1998 and "Hard Knock Life" (yes, he played that too) ruled the charts.
This isn't the first time Jay Z has attempted to reach across the aisle to a pop audience at the Rose Bowl. He toured with Justin Timberlake last year, playing to a similarly mixed crowd. The tour was well received, but pairing up with Beyoncé on the road is clearly a sign he's kicking his Conquer It All campaign up several notches.
The shifting energy and styles Saturday -- from fantasy to realism, from new to old -- made the show a bumpy ride at times. But it also made the set of more than 40 songs -- some in full form, some medleys, some chopped into compact snippets -- exciting and unpredictable.
When Jay was losing Bey fans with the wordy "Big Pimpin'," she hit the stage with the easy sing-along "Naughty Girl." When Bey ballads such as "Love on Top" went too far over the top, Jay pulled it back down to Earth with sneakers-on-the-pavement anthems like "Izzo (H.O.V.A)."
It was a study in how a marriage should work -- balancing out each other's weaknesses with individual strengths. It's hard to imagine how Rihanna and Eminem, who will play the Rose Bowl this week, will wrestle their similar dynamic into such a cohesive and compelling show.
But Jay and Bey -- correction, "J+B," as designated by the logo that flashed at regular intervals onscreen -- are two of the most charismatic performers out there, and that they are a branded unit gives them a definite advantage.
Though they mostly passed each other onstage like a tag team when trading off numbers, when the two did perform together -- the opening "Bonnie & Clyde," "Crazy in Love" and the closing "Young Forever" -- their compatibility onstage was undeniable.
He ogled over her, laughed with her, wrapped his arms around her; she danced circles around him, teased him and mouthed lines to his songs like a rapt audience member.
Whether it was a carefully orchestrated act or not, they are a great team.
Throughout the show, the Bonnie and Clyde-themed footage (which looks like a nonstop trailer) enforced the idea that the two are partners in crime -- robbing banks, outrunning the law, frolicking in dirty hotel rooms. The words "This Is Not Real" flashed often over these scenes.
When the show closed with the power couple's take on "Young Forever," family movies that looked like they'd cost more than a James Cameron production filled the screen. Wedding footage, vacation footage, the two of them doting over daughter Blue Ivy footage. "This Is Real" flashed on the screen.
Manipulative? Yes. But as everyone knows, it's not enough now to be incredibly good at what you do (and they both are) or even to multiplatform your way into mogul-celebrity status (and they both have).
The trick is to skirt that inevitable expiration date that has taken down most of their peers. Inspiring intrigue -- through questions about their marriage or provocative performances -- is essential, and Beyoncé and Jay Z are now masters of that, as well.
Twitter: @LorraineAli
---
The complete guide to home viewing
Get Screen Gab for weekly recommendations, analysis, interviews and irreverent discussion of the TV and streaming movies everyone's talking about.
You may occasionally receive promotional content from the Los Angeles Times.