Review: Selena Gomez is more like Janet Jackson than Miley Cyrus on modest 'Revival'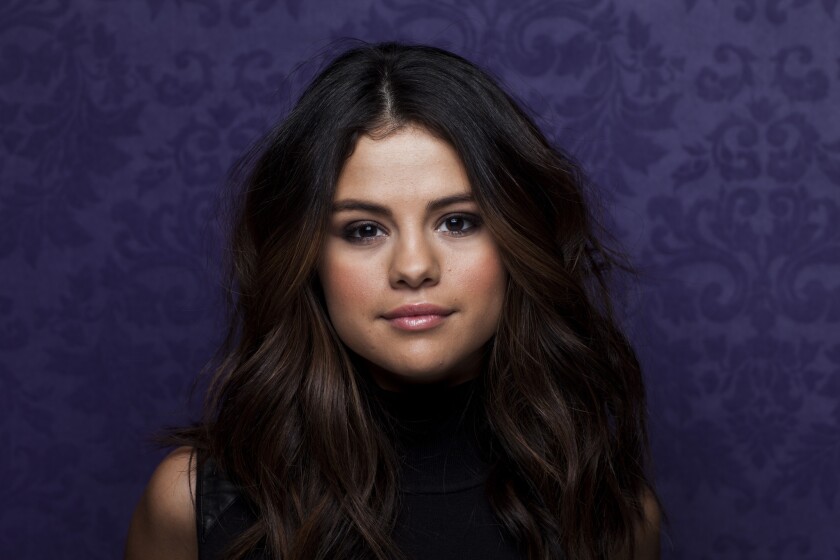 Selena Gomez hit all the usual notes in the run-up to "Revival," the first album this former Disney Channel star has made outside the House of Mouse.
There was a sexed-up lead single, "Good for You," with a roguish guest verse from rapper ASAP Rocky. There was the song's music video, in which Gomez writhes on a sofa before jumping in the shower. And there were comments in interviews about her hard-won liberation from the repressive constraints of the Disney machine.
So far, so Miley.
Yet that's where Gomez, 23, stopped following the script for a tween idol looking to grow up in public. Far from a scorched-earth rebranding a la Cyrus' 2013 raunchfest "Bangerz," "Revival" turns out to be surprisingly modest, from its midtempo pacing to its thoughtful introspection.
SIGN UP for the free Essential Arts & Culture newsletter >>
Even "Good for You," which seemed to presage an album long on breathy bedroom talk, is less about titillation than female solidarity, she told Billboard in a cover story that also revealed she'd recently entered rehab not for addiction but for treatment of lupus.
Weeks after Cyrus released an unlistenable, indulgent freak-out with the Flaming Lips, "Revival" feels almost radical in its judiciousness.
Am I making Gomez sound like Natalie Merchant? OK, hold up.
Collaborating with Top 40 regulars like Benny Blanco, Stargate and the Swedish duo Mattman & Robin (who also worked on "1989" by Gomez's pal Taylor Swift), the singer juices her once-edgeless music with some grabby textures, as in the throbbing dance cut "Body Heat" and "Me & the Rhythm," an '80s-flavored jam about how "everybody wants to be touched."
In the title track, where she says it's "my time to butterfly," Gomez cribs a distinctive rhyming pattern associated with the Atlanta rap group Migos. She borrows even more boldly in "Same Old Love," which approximates Charli XCX's shouty electro-pop with help from Charli XCX, who co-wrote the song (and was maybe the one to push Gomez to use a four-letter word).
For most of "Revival," though, the singer avoids the kind of wild-child impertinence we're accustomed to hearing from someone in her position.
"The world can be a nasty place," she declares in "Kill Em with Kindness," inspired by the ungentle tabloid chatter regarding her health and her relationship with Justin Bieber. And that's true enough, of course — truer for Gomez than for some. Yet her approach isn't to light up Just Jared but to "put out the fire before igniting."
"We don't have to fall from grace," she insists over an airy synth whoosh, and what's remarkable is how steadied she seems by such a facile conviction. "Sober" addresses an unreliable lover — a real jerk, if we're being honest — in deeply reasonable language; "Camouflage" finds Gomez "riding alone on the 405," clearly taking solace in the act.
Even "Hands to Myself," ostensibly about how she can't keep them that way, is a study in restraint, with the singer practically whispering over an uncharacteristically delicate groove by producer Max Martin. It's not the only song on "Revival" that made me think of the strong new Janet Jackson album, "Unbreakable."
Is that a strange position for a 23-year-old to be in? Perhaps. But remember that, three decades ago, Jackson was herself the apple-cheeked kid in search of liberation. If Gomez is finding freedom in control, kudos to her for getting there so quickly.
Twitter: @mikaelwood
MORE FROM ENTERTAINMENT:
First Impression: The Beatles' '1/1+' delivers something new
Selena Gomez: I was in rehab after chemo for my lupus, you jerks
Inside L.A.'s Highland Park music scene, a hub of young artists, labels and vinyl stores
Justin Bieber upset by unauthorized full-frontal nudes; his dad, not so much
---
The complete guide to home viewing
Get Screen Gab for weekly recommendations, analysis, interviews and irreverent discussion of the TV and streaming movies everyone's talking about.
You may occasionally receive promotional content from the Los Angeles Times.