Fox goes back on the clock with new star and new stories with '24: Legacy'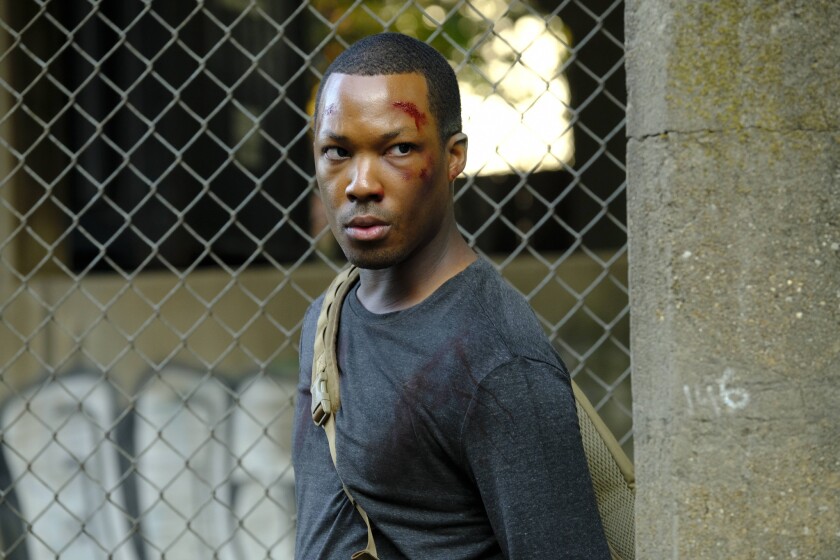 In the ticking bomb universe of the Fox thriller "24," timing has always been everything,
When the counterterrorism drama first premiered in November 2001, the country was still reeling from the impact of the Sept. 11 attacks, prompting producers to heavily edit a scene in the pilot in which a plane was blown up.
With its bone-crunching violence, unrelenting suspense and innovative "events take place in real time" format — and more than a little torture — "24" was an instant hit, lasting eight seasons and becoming one of Fox's landmark series. The show propelled its lead, Kiefer Sutherland, whose career had faded after a hot streak in the 1980s, to major stardom with his tightly wound, intense, tight-lipped portrayal of world-weary agent Jack Bauer.
Even when the drama departed prime time in 2010, it had enough fan momentum to spark a limited series, "24: Live Another Day" in 2014.
Sixteen years after its first entry into the pop culture landscape, the show is back on the clock with "24: Legacy," premiering Feb. 5 following Fox's broadcast of the Super Bowl.
However, it is missing one key attraction: Jack.
Sutherland stars in ABC's "Designated Survivor" and is only present in the new iteration thanks to his executive producer credit. No other characters from the original series are on hand for the initial episodes.
Also, this "24" isn't just about a race against time. It's also about race, as the new central character is played by African American actor Corey Hawkins ("Straight Outta Compton"). The supporting cast, which includes Jimmy Smits ("Sons of Anarchy") as a U.S. senator running for president, is also predominantly nonwhite. In fact, the only major white character in the early episodes is Rebecca Ingram (Miranda Otto), a former head of the Counter Intelligence Unit (CTU) that employed Bauer.
Producers and Fox executives said they always wanted to have a racially diverse cast for the new "24" and for viewers to get acquainted with the fresh cast without distractions from the past.
"We have brought the show back carefully, and did so only when we were pitched a great idea for the season," said Gary Newman, co-chairman of the network with Dana Walden. "The biggest challenge is that the audience will hold us to a very high standard. But we are sending the message that '24' is back in an exciting new way with exciting new characters. It's not without risk, but we embrace it."
Indeed, hiring a relatively unknown African American performer to replace the popular Sutherland is a gamble.
But the creators, as well as Fox, have expressed unqualified confidence that Hawkins has the presence and charisma to move the franchise forward.
"When we saw Corey in 'Straight Outta Compton,' we knew he was the guy," said executive producer Manny Coto, who along with fellow executive producer and "24: Legacy" co-creator Evan Katz is an alum of the original series. "Fans have things that they want, but our challenge was to find someone we loved as a character and an actor. We believe that once they see Corey in this role, they will know that this is a different story and character, and they will show up."
Meanwhile, Hawkins said he is aware of both the buzz and the skepticism regarding his new role but has been too focused on the job to pay much attention.
"My head is in the work," the actor said last week by phone from Atlanta, where the show is still shooting. "That's what keeps me centered right now, so I don't have much down time to think about anything, which is good. You can get caught up listening to the press and the feedback, all the good and bad. I'm really just fortunate to have this opportunity. I know the work we've been putting into this, trying to make it the best show that we can."
He is not bothered by the focus on his casting, particularly when it comes to the racial component.
I never saw a character like this on television when I was growing up, a patriot who looks like me. And that is not lost on me."
Corey Hawkins
"Talk about race doesn't bother me," said Hawkins. "The only thing that bothers me is being invisible. I know this has started a conversation, and that there are a lot of young people, people of color, a lot of people who have wanted to see this possibility, and now they will get the opportunity to see it. That excites me. I never saw a character like this on television when I was growing up, a patriot who looks like me. And that is not lost on me."
Like its predecessor, the new chapter arrives as the country is gripped with unease over domestic and international terrorism.
Accompanying those concerns is the controversy and uncertainty prompted by the turbulent first weeks of President Trump's administration.
Coto and Katz are aware of the parallels between the two launches.
"'24' premiered in the wake of 9/11 while, in many ways, this incarnation is showing the aftermath of the war on terror," said Coto. "We were going through this large change in the country where we were hit by this terrorist attack and launched these two gigantic wars."
The new show's "starting point is exploring the lives of a group of individuals who fought in those wars and are now facing blowback for what they did," he added. "The war on terror comes back to haunt our characters. It raises issues that came up during the campaign between Trump and [Hillary] Clinton."
Hawkins plays Sgt. Eric Carter, a former Army Ranger who led a daring raid on a Middle Eastern terrorist cell. Returning to the States, he and his wife, Noelle (Anna Diop), are dealing with their strained relationship when he discovers that he and his fellow soldiers have been targeted by the surviving members of the cell.
On the run for his life, Carter connects with Ingram, and they uncover a plot for a large-scale terrorist attack. The former soldier is forced to use his savvy and deadly combat skills to halt the assault and, of course, save the world.
"What we're proselytizing is an exaggeration of what's really going on in the world," said Katz.
How the real-life climate of anger toward travel bans from majority Muslim countries and internal government upheaval will affect the reception for "24: Legacy" is a question mark. But Fox executives expressed confidence that despite those concerns, time has not run out on the franchise.
"'24' holds a special place in the hearts and minds of all of us at Fox," said Newman. "Its unique use of real time and its storytelling were a signature for this company."
Executive producer Howard Gordon, who also helped steer the original series, said even he is surprised at the durability of the series. "It's really an exercise in confounding expectations. But the fans seem to have always known that '24' will always have that adrenaline, will leave you rattled."
"24: Legacy" recycles many of the key elements that made "24" a smash — the pounding action and breakneck pace, the digital clock, split screens and characters who double- and even triple-cross one another.
Once the season is well underway, fans of the old "24" will see at least one familiar face. Former CTU agent Tony Almeida (Carlos Bernard), who changed sides and started working with terrorists, is slated to return later in the season. If the new series succeeds, Coto and Katz said there's a possibility that Chloe O'Brian, the temperamental tech whiz played by Mary Lynn Rajskub, might make a comeback next season.
And then there's Jack Bauer, last seen in the custody of Russian agents on "24: Live Another Day."
"In our minds, Jack is still in Russia, and we sure as heck want to get him out of there," said Coto. "There's nothing we'd like more than to link these two worlds and these two shows."
Tick-tock.
'24: Legacy'
Where: Fox
When: 7:30 p.m. Sunday
Rating: TV-14-LV (may be unsuitable for children under the age of 14 with advisories for coarse language and violence)
Twitter:@GeBraxton
---
From the Emmys to the Oscars.
Get our revamped Envelope newsletter, sent twice a week, for exclusive awards season coverage, behind-the-scenes insights and columnist Glenn Whipp's commentary.
You may occasionally receive promotional content from the Los Angeles Times.