What's on TV, June 9-15: 'Jessica Jones,' 'Big Little Lies,' a Doris Day tribute and more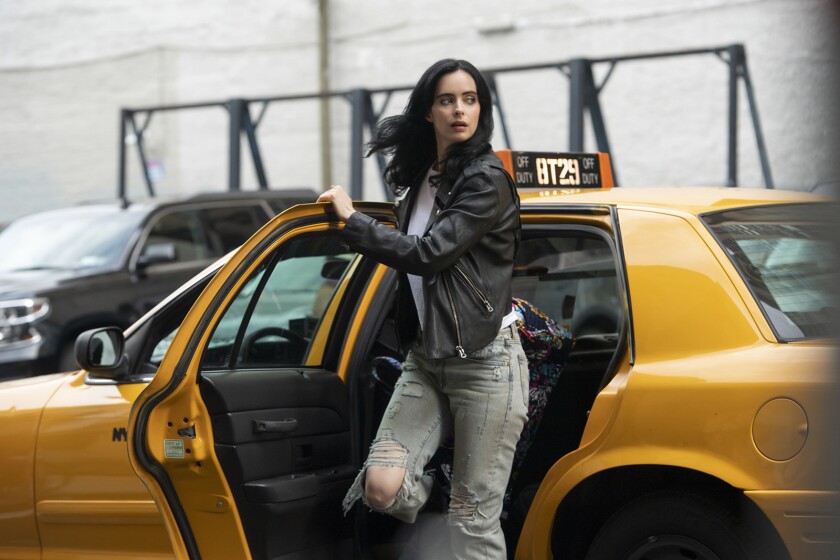 SUNDAY
A daylong salute to the dearly departed Doris Day includes the actress and singer opposite Rock Hudson in the 1959 rom-com "Pillow Talk." 5 p.m. Turner Classic Movies
Broadway's best collect kudos at "The 73rd Annual Tony Awards." James Corden hosts the annual ceremony at New York City's Radio City Music Hall. 8 p.m. CBS
Let the game shows begin! The reboots of "Celebrity Family Feud," "The $100,000 Pyramid" and "To Tell the Truth" all return with new episodes. 8, 9 and 10 p.m. ABC
The bewitching Cassie Nightingale (Catherine Bell) is back in the two-night fifth-season premiere of the fantasy drama "Good Witch." 8 p.m. Hallmark Channel; also Mon.
"The Great Food Truck Race" rolls on for another summer. Tyler Florence hosts. 9 p.m. Food Network
The ladies who lunch — and lie — return in Season 2 of the soapy drama "Big Little Lies." With Reese Witherspoon, Nicole Kidman, Shailene Woodley, Laura Dern, Zoë Kravitz and new cast member Meryl Streep. 9 p.m. HBO
The docu-special "Secrets in the Sky: The Untold Story of Skunk Works" looks at the top-secret aerospace program that created the U2 and SR-71 spy planes and the Stealth bomber. 9 p.m. History Channel
The Florida-set crime drama "Claws" sinks its, um, claws into a third season. With Niecy Nash, Judy Reyes and Karrueche Tran. 9 p.m. TNT; also TBS
"The Evil Dead's" Bruce Campbell is your guide to all manner of curiosities in a reboot of "Ripley's Believe It or Not!" 9 p.m. Travel Channel
The new unscripted series "sMothered" introduces viewers to mother-daughter duos who are especially close — perhaps, a bit too close. 10 p.m. TLC
The best in reality TV, unscripted series, etc., is celebrated at the "Critics' Choice Real TV Awards." Loni Love hosts. 11 p.m. VH1
MONDAY
"Are You Smarter Than a 5th Grader" — well, are ya, punk? Pro wrestling's John Cena hosts an all-new version of the quiz show. 7 p.m. Nickelodeon; also Tue.-Thu.
The period drama "Gentleman Jack" ends its freshman — or rather, freshwoman — season. Suranne Jones stars. 10 p.m. HBO
Reality TV veteran Kate Gosselin is single and looking to mingle in her latest series, "Kate Plus Date." 10 p.m. TLC
TUESDAY
The documentary "Ice on Fire" surveys the titanic challenge faced by climate scientists as they try to combat global warming. Leonardo DiCaprio narrates. 8 p.m. HBO
No whammy! The classic game show "Press Your Luck" gets a reboot hosted by "Pitch Perfect's" Elizabeth Banks. 10 p.m. ABC
"Pose," the drama about LGBTQ ballroom culture in 1980s NYC, sashays back in for a second season. With Billy Porter and MJ Rodriguez. 10 p.m. FX
Rah, rah, sis-boom-bah! Cheer squads vie for a spot in those all-important nationals in the new unscripted series "Cheerleader Generation." 10 p.m. Lifetime
WEDNESDAY
An outlaw and a wanderer by trade: The new documentary "Rolling Thunder Revue: A Bob Dylan Story by Martin Scorsese" revisits the Nobel Prize-winning rock icon's rambunctious 1975 tour. Any time, Netflix
The new standup special "Jo Koy: Comin' In Hot" catches the veteran comic chilling on stage at a show in Hawaii. Any time, Netflix
"Community's" Joel McHale hosts a reboot of the game show "Card Sharks." Followed by the return of the Alec Baldwin-hosted "Match Game." 9 and 10 p.m. ABC
What is your emergency? Police, firefighters and EMTs leap into action in the docu-series "First Responders Live." 9 p.m. Fox
They're still tying the knot on a whim in new episodes of the unscripted series "Married at First Sight." 9 p.m. Lifetime
It's back to the bayou as Ava DuVernay's Louisiana-set family drama "Queen Sugar" returns for a fourth season. With Rutina Wesley and Kofi Siriboe. 9 p.m. OWN
Kneel before Zod! The renegade general (Colin Salmon) has the upper hand as the pre-Superman sci-fi drama "Krypton" launches Season 2. Cameron Cuffe also stars. 10 p.m. Syfy
An intrepid trio is desperately seeking E.T. in the new unscripted series "Alien Highway." 10 p.m. Travel Channel
"Younger" isn't getting any younger. The comedy drama starring Sutton Foster, Hilary Duff and Debi Mazar is back for a sixth season. 10 p.m. TV Land
THURSDAY
Atlanta is the setting as the ground-breaking reality series "MTV's The Real World" returns as an online series for its 33rd season. Any time, Facebook Watch
Your favorite rocket scientist/occult practitioner (Jack Reynor) is up to his old tricks in a second season of the fact-based period drama "Strange Angel." Any time, CBS All Access
The winning designer is revealed on the Season 17 finale of "Project Runway." Karlie Kloss hosts. 9 p.m. Bravo
Zach Galifianakis and Zach Galifianakis are back in a fourth season of the quirky comedy "Baskets." With Louie Anderson. 10 p.m. FX
"American Ninja Warrior" cohosts Matt Iseman and Akbar Gbaja-Biamila face off in an all new "Lip Sync Battle." 10 p.m. Paramount Network
Murder will out in the conclusion of the eight-part adaptation of Italian novelist Umberto Eco's medieval mystery "The Name of the Rose." John Turturro stars. 10 p.m. Sundance Network
FRIDAY
"Castle's" Stana Katic is back in action as FBI agent Emily Byrne in Season 2 of the procedural drama "Absentia." Anytime, Amazon Prime
No sleep till someone wins "Awake: The Million Dollar Game" in this family-friendly reality competition. Anytime, Netflix
Krysten Ritter slips back into jeans and leather jacket for a third and final season of the superhero drama "Marvel's Jessica Jones." Anytime, Netflix
Unusual suspects: Adam Sandler and Jennifer Aniston become embroiled in a "Murder Mystery" while vacationing in Europe in this new comedy. Anytime, Netflix
An L.A. cop ("Whiplash's" Miles Teller) descends into the seamier side of our fair city in "Too Old to Die Young," a stylish new crime drama from "Drive" filmmaker Nicolas Winding Refn. Anytime, Amazon Prime
The new documentary "16 Shots" recalls the 2014 killing of African American teen Laquan McDonald by a Chicago police officer, as well as the coverup that ensued. 9 p.m. Showtime
The Tony-winning playwright behind such modern classics as "Master Class" and "Love! Valour! Compassion!" is saluted in "Terrence McNally: Every Act of Life" on a new "American Masters." 9:30 p.m. KOCE
Just when a reformed thief (Carla Gugino) thought she was out, they pull her back in in the new underworld drama "Jett." Giancarlo Esposito also stars. 10 p.m. Cinemax
"Masters of Disaster," purveyors of devices to help prepare you for whatever apocalypse may come, are back in business for a second season. 10 p.m. Discovery Channel
"Los Espookys" are a group of friends in Mexico City who specialize in supplying scary scenarios to paying customers in this mostly Spanish-language-but-subtitled comedy series co-created by "SNL's" Fred Armisen. 11 p.m. HBO
SATURDAY
A nerdy teen ("Andi Mack's" Sofia Wylie) bound for a semester at sea somehow winds up at a soccer camp in Australia instead in the new comedy "Back of the Net." 8 p.m. Disney Channel
An Africa American teen (Amandla Stenberg) finds herself in the hot seat after witnessing a police shooting in the 2018 drama "The Hate U Give." With Regina Hall. 8 p.m. HBO
Alyssa Milano is torn between two lovers, feelin' like a fool, in the new romantic thriller "Tempting Fate." 8 p.m. Lifetime
Too much monkey business: Hugh Jackman portrays former U.S. senator and failed presidential candidate Gary Hart in Jason Reitman's fact-based 2018 drama "The Front Runner." With Alfred Molina, J.K. Simmons and Vera Farmiga. 8 p.m. Starz
The Jonas Brothers put in an appearance as the kid-friendly sketch show "All That" gets rebooted for a new generation. 8:30 p.m. Nickelodeon
A reality-TV producer reconnects with a former flame in the TV movie "Love, Take Two." With Heather Hemmens and Cornelius Smith Jr. 9 p.m. Hallmark Channel
Customized TV listings are available here: www.latimes.com/tvtimes
Click here to download TV listings for the week of June 9 - 15, 2019, in PDF format
---
From the Emmys to the Oscars.
Get our revamped Envelope newsletter, sent twice a week, for exclusive awards season coverage, behind-the-scenes insights and columnist Glenn Whipp's commentary.
You may occasionally receive promotional content from the Los Angeles Times.