Saturday's TV highlights and weekend talk shows: 'Christmas Everlasting' on Hallmark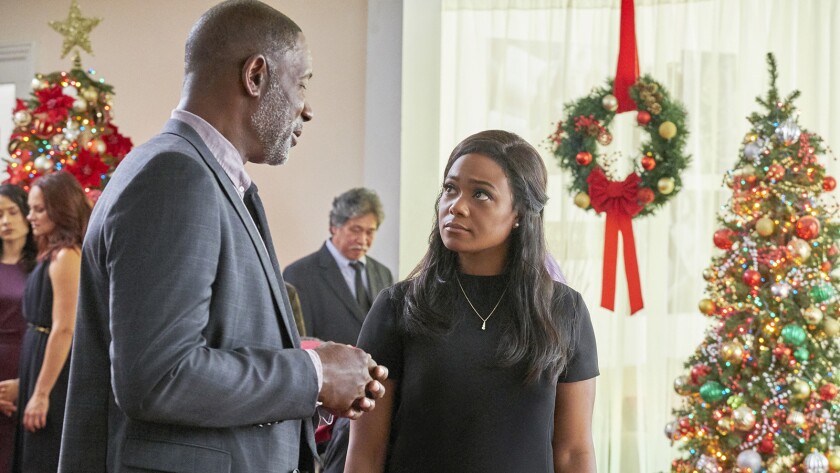 SERIES
Versailles Cardinal Leto (Ken Bones) refuses to admit defeat, despite losing his trump card, while Louis and Phillipe (George Blagden, Alexander Vlahos) try to keep the prisoner's identity a secret in this new episode. 7 p.m. Ovation
MOVIES
E.T. the Extra-Terrestrial A boy's (Henry Thomas) close encounter with an alien stranded on Earth leads to a unique friendship in director Steven Spielberg's 1982 hit. Dee Wallace and Drew Barrymore also star. 8 p.m. Cinemax
Christmas Everlasting A woman (Tatyana Ali) must return to her hometown during the Christmas season to handle her sister's estate in this new holiday drama. Dondre T. Whitfield ("Queen Sugar"), Dennis Haysbert and Patti LaBelle also star. 8 p.m. Hallmark
Tomb Raider Hoping to solve the mystery of her father's disappearance, young Lara Croft (Alicia Vikander) embarks on a perilous journey to his last-known destination, a fabled tomb on a mythical island that might be somewhere off the coast of Japan, in this 2018 franchise reboot. Dominic West also stars. 8 p.m. HBO
Every Day Is Christmas A self-proclaimed workaholic (Toni Braxton) embraces the Christmas spirit when her past, present and future collide in this new holiday melodrama. Jennifer Juniper-Angeli also stars. 8 p.m. Lifetime
A Christmas Story In the 1940s, little Ralphie (Peter Billingsley) tries to convince his parents (Melinda Dillon, Darren McGavin) to get him a Red Ryder range-model BB gun for Christmas. Jean Shepherd narrates this 1983 holiday favorite. 8 and 10 p.m. TNT
It's a Wonderful Life Ruined by a miser (Lionel Barrymore) on Christmas Eve, a suicidal family man (James Stewart) sees life anew thanks to his guardian angel (Henry Travers) in director Frank Capra's 1946 holiday classic. Donna Reed and Thomas Mitchel also star. 8 p.m. USA
TALK SHOWS
SATURDAY
Good Morning America (N) 7 a.m. KABC
SUNDAY
Good Morning America (N) 6 a.m. KABC
State of the Union With Jake Tapper Sen. Joni Ernst (R-Iowa); Rep. Adam Schiff (D-Burbank). (N) 6 and 9 a.m. CNN
CBS News Sunday Morning The popularity of conspiracy theories; former Sen. Gary Hart (D-Colo.); sculptor Edmund de Waal; singer Alessia Cara; singer-songwriter John Prine; 50th anniversary of the water bed. (N) 6:30 a.m. KCBS
Fox News Sunday With Chris Wallace Sen. Ben Sasse (R-Neb.); former Trump campaign manager Corey Lewandowski and deputy campaign manager David Bossie. (N) 7 a.m. KTTV; (N) 11 a.m. and 4 p.m. Fox News Channel
Fareed Zakaria GPS (N) 7 and 10 a.m. CNN
Face the Nation Sen. Bernie Sanders (I-Vt.); Sen. Angus King (I-Maine); Rep. Trey Gowdy (R-S.C.). (N) 8 a.m. KCBS
Meet the Press Rep. Elijah E. Cummings (D-Md.); Sen. Mike Lee (R-Utah); billionaire activist Tom Steyer. (N) 8 a.m. KNBC; 3 p.m. MSNBC
This Week With George Stephanopoulos Sen. Amy Klobuchar (D-Minn.); Gov. John Kasich (R-Ohio); Sen. Sherrod Brown (D-Ohio): legal commentator Alan Dershowitz.(N) 8 a.m. KABC
Reliable Sources Two Americas with two news worlds; Fox News' coverage of the migrant caravan; the White House's banning of Jim Acosta reversed; Trump's relationship with the military; Rep.-elect Alexandria Ocasio-Cortez's use of Instagram. (N) 8 a.m. CNN
MediaBuzz (N) 8 a.m. Fox News Channel
60 Minutes Some immigrant families seeking asylum in the U.S. still remain apart after the Trump administration separated children from their parents at the border with Mexico; state-of-the-art robots are being used to clean up after the 2011 nuclear disaster at the Daiichi Power Plant in Fukushima, Japan; star Jeff Daniels and others discuss the new Broadway adaptation of the beloved Harper Lee novel "To Kill a Mockingbird." (N) 7 p.m. KCBS
SPORTS
College football Florida at Florida State, 9 a.m. ABC; Michigan at Ohio State, 9 a.m. Fox; North Carolina State at North Carolina, 9 a.m. KDOC; Syracuse at Boston College, 9 a.m. ESPN; Purdue at Indiana, 9 a.m. ESPN2; Baylor vs. Texas Tech, 9 a.m. FS1; Wake Forest at Duke, 9:30 a.m. FS Prime; Auburn at Alabama, 12:30 p.m. CBS; Maryland at Penn State, 12:30 p.m. ABC; Pittsburgh at Miami, 12:30 p.m. ESPN; Minnesota at Wisconsin, 12:30 p.m. ESPN2; Arizona State at Arizona, 12:30 p.m. FS1; Rutgers at Michigan State, 1 p.m. Fox; Southern vs Grambling State, 2 p.m. NBCSP; South Carolina at Clemson, 4 p.m. ESPN; Kentucky at Louisville, 4 p.m. ESPN2; Kansas State at Iowa State, 4 p.m. FS1; Notre Dame at USC, 5 p.m. ABC; Oklahoma State at TCU, 5 p.m. Fox; BYU at Utah, 7 p.m. FS1; Utah State at Boise State, 7:15 p.m. ESPN.
Hockey Vancouver Canucks visit the Kings, 7 p.m. FSN
Customized TV listings are available here: www.latimes.com/tvtimes
Click here to download TV listings for the week of Nov. 24 - Dec. 1, 2018, in PDF format
---
The complete guide to home viewing
Get Screen Gab for weekly recommendations, analysis, interviews and irreverent discussion of the TV and streaming movies everyone's talking about.
You may occasionally receive promotional content from the Los Angeles Times.