Brian Williams' future uncertain as NBC News launches investigation
Brian Williams was suspended for six months without pay from his post at the top-rated "NBC Nightly News."
(Jeff Riggins / NBC NewsWire)
NBC News anchor Brian Williams hosts the Lincoln Awards: A Concert for Veterans and the Military Family at the Kennedy Center in Washington, D.C., on Jan. 7, 2015.
(Larry French / Getty Images for the Friars Club)
Brian Williams, his daughter, "Girls" actress Allison Williams, and wife, Jane Stoddard Williams, attend the "Girls" Season 4 premiere after party in New York on Jan. 5, 2015.
(Jamie McCarthy / Getty Images)
Host Jimmy Fallon and Brian Williams "Slow Jam the News" on "The Tonight Show" on Dec. 2, 2014.
(Douglas Gorenstein / NBC)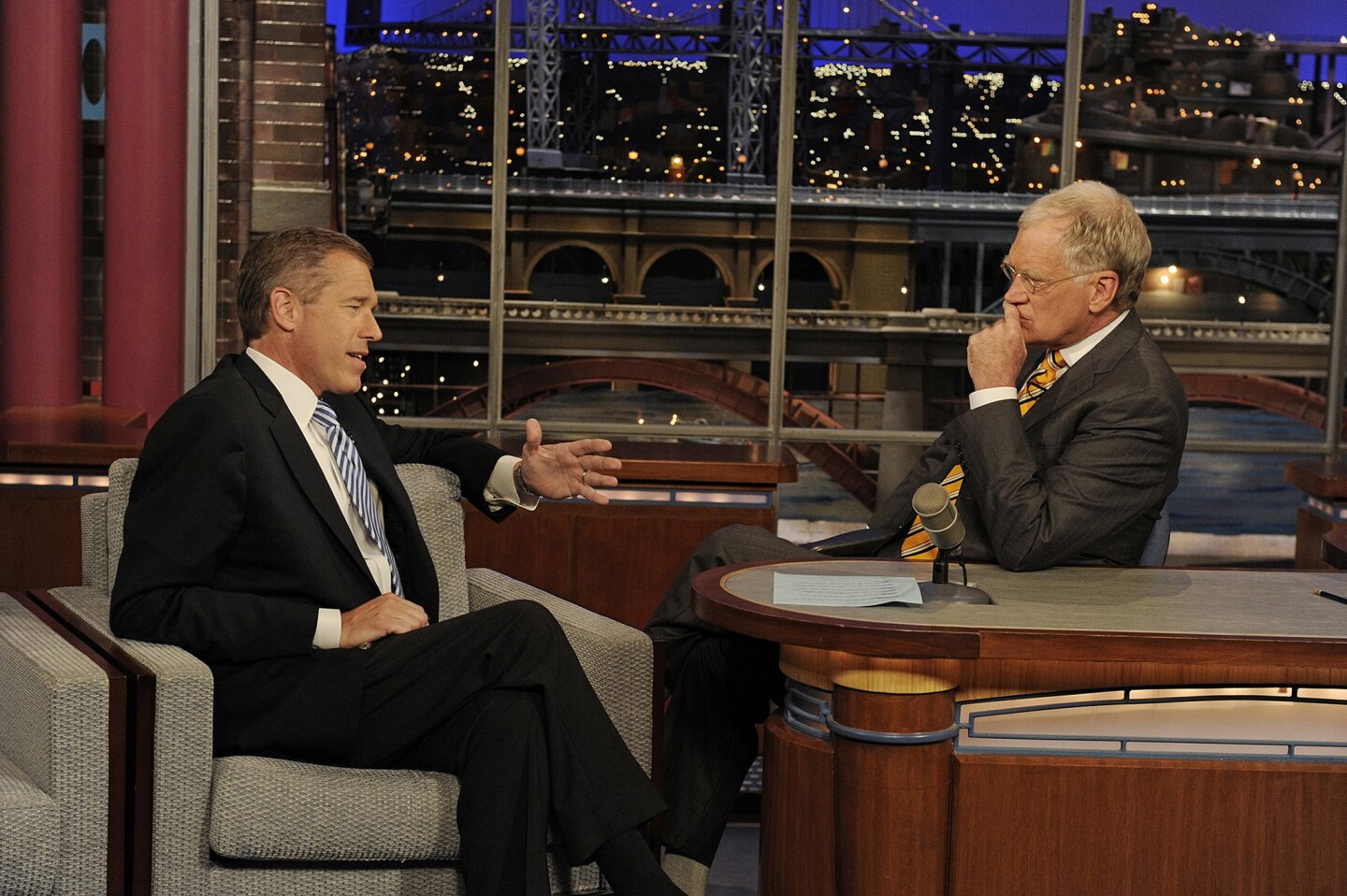 Brian Williams and David Letterman talk about the killing of Osama bin Laden on the "Late Show with David Letterman" on May 2, 2011.
(Jeffrey R. Staab / CBS)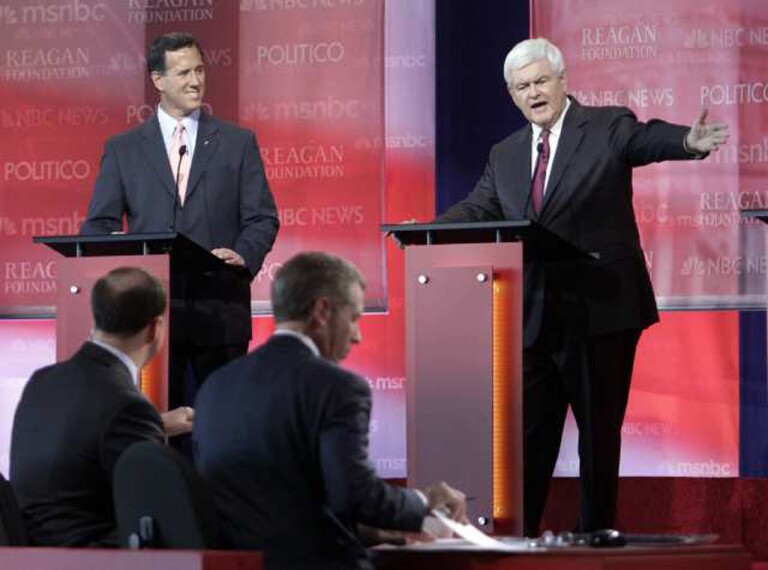 Newt Gingrich gives moderators Brian Williams, right, and John Harris a piece of his mind as Rick Santorum looks on during the GOP presidential candidates debate at the Ronald Reagan Presidential Library in Simi Valley on Sept. 7, 2011.
(Lawrence K. Ho / Los Angeles Times)
Brian Williams, right, and John Harris moderate the debate between GOP presidential candidates at the Ronald Reagan Presidential Library on Sept. 07, 2011.
(Lawrence K. Ho / Los Angeles Times)
Brian Williams attends an afternoon editorial meeting on Nov. 12, 2009.
(Carolyn Cole / Los Angeles Times)
NBC News' Brian Williams joined President Obama, First Lady Michelle Obama and family dog Bo for a behind-the-scenes look at the White House in May 2009.
(Antoine Sanfuentes / NBCUniversal)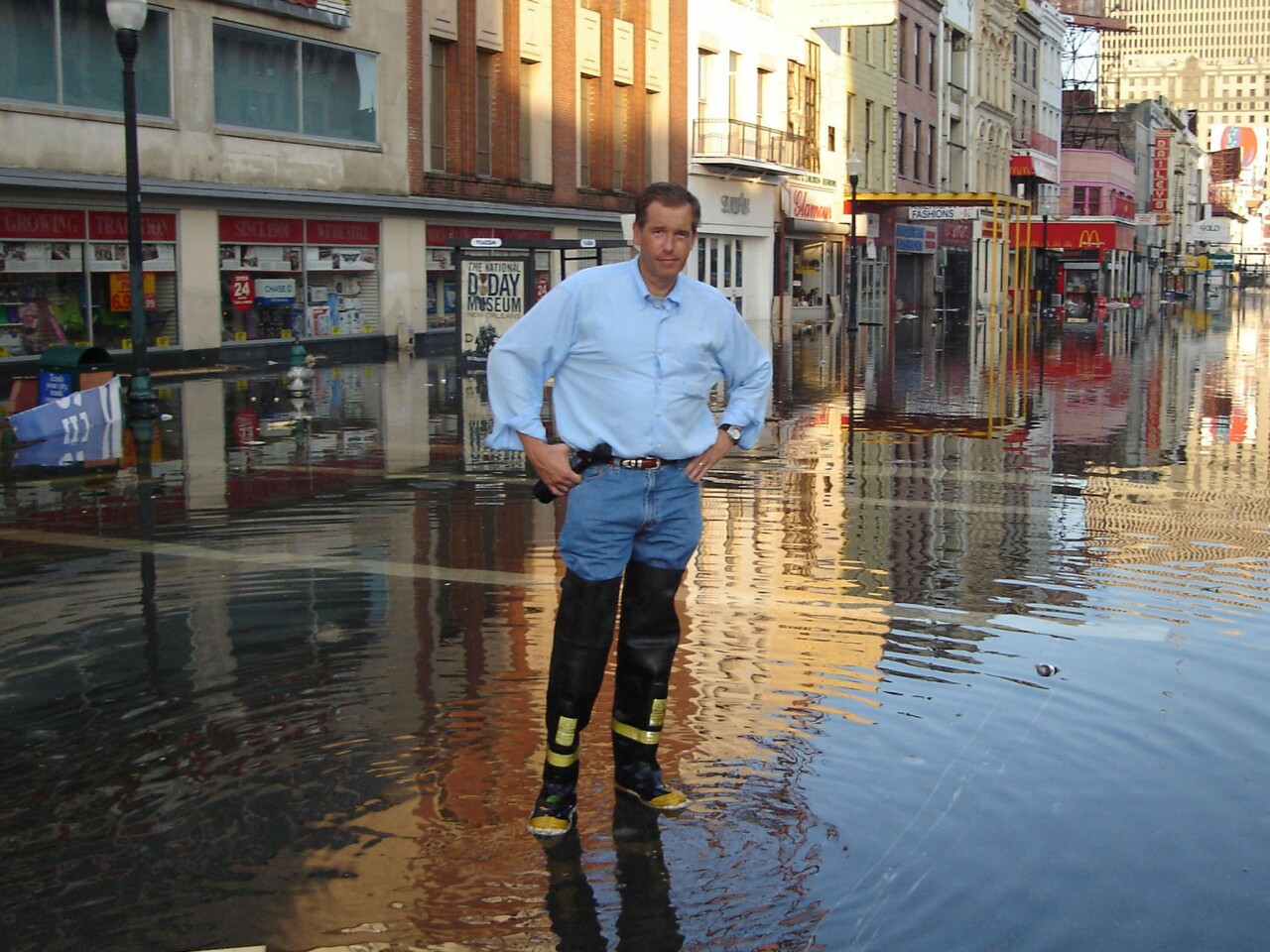 Brian Williams reporting from New Orleans in the aftermath of Hurricane Katrina in 2005.
(Dwaine Scott / Associated Press)
Brian Williams in November 2005, nearing his one-year anniversary after taking over the anchor's chair at "NBC Nightly News."
(Carolyn Cole / Los Angeles Times)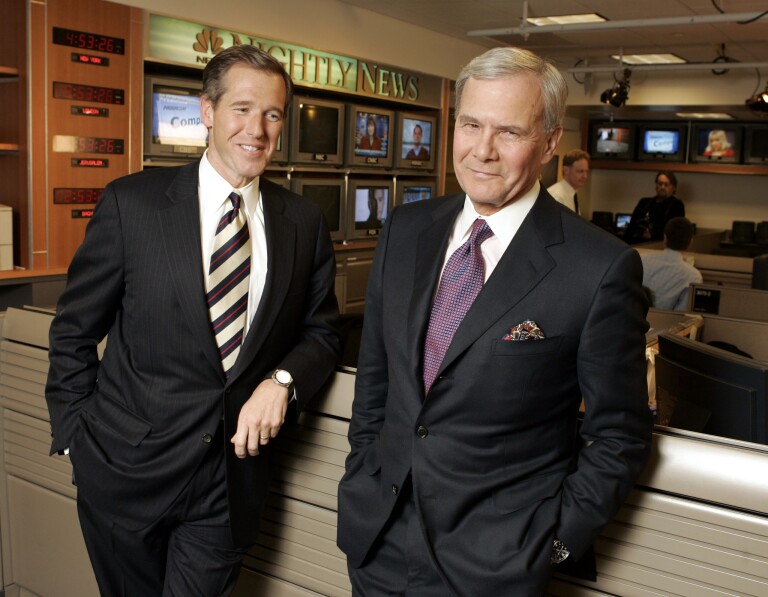 "NBC Nightly News" anchor Tom Brokaw, right, and his successor Brian Williams prior to Brokaw's last broadcast on Dec. 1, 2004.
(Richard Drew / Associated Press)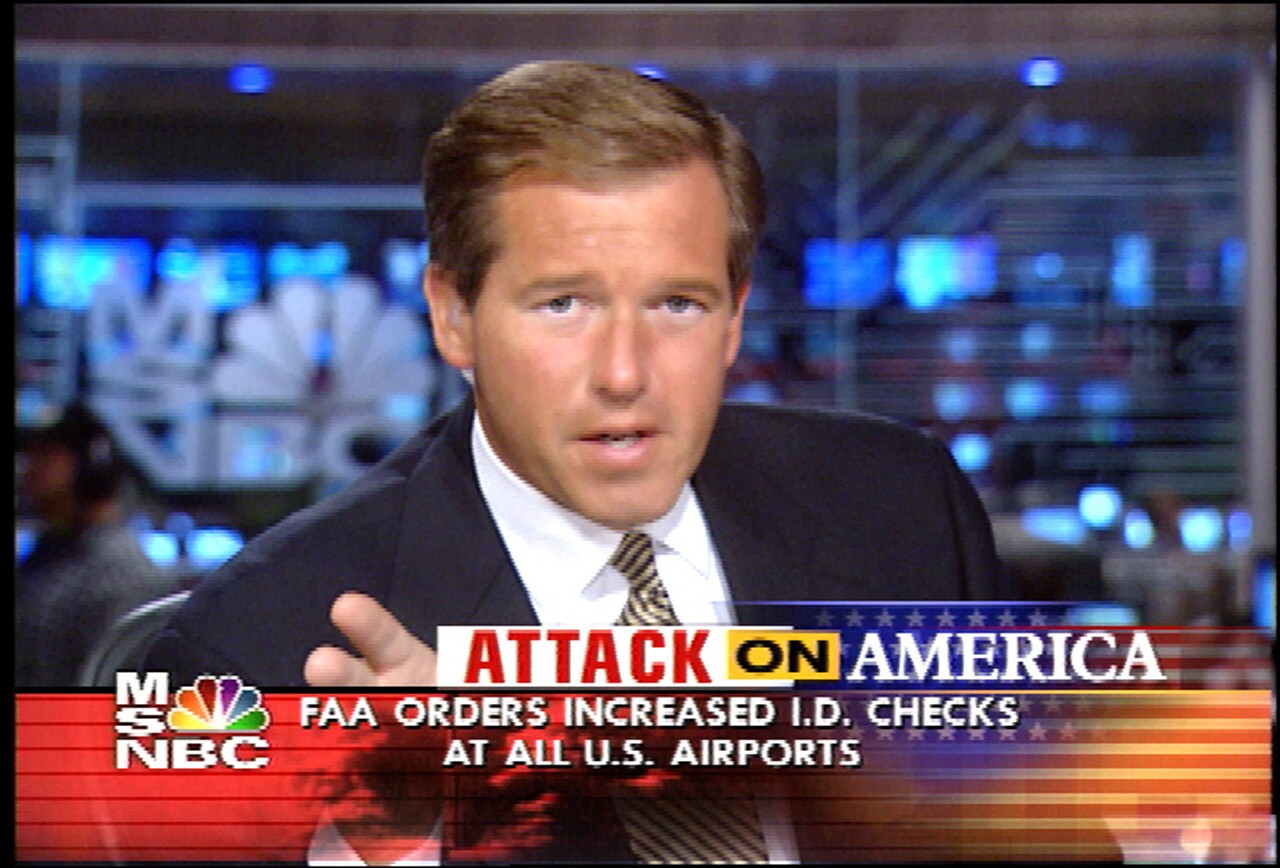 Brian Williams reporting for MSNBC on Sept. 13, 2001, two days after the terrorist attacks on the World Trade Center and the Pentagon.
(MSNBC )
NBC News recently celebrated Brian Williams' 10 years as anchor of "NBC Nightly News" with a promotional campaign that stressed trust and experience.
Now he is in a fight for his journalistic life.
Williams' false statements regarding his accounts of his trip on a military helicopter during the 2003 invasion of Iraq have triggered an internal investigation at NBC News into the anchor's versions of his story. The tale has come under attack from Iraq war veterans and spurred a growing chorus from media critics who say his job may be on the line.
"If you are a journalist, your basic job description is reporting the truth, so if you are caught telling a lie — intentional or not — your credibility is going to be seriously impaired," said Judy Muller, a journalism professor at USC's Annenberg School for Communication and Journalism and former broadcast news reporter. "At the very least, in the age of instant judgment, you will be Twittered into a punch line."
Williams has said in recent years that he was in a Chinook helicopter that was forced down by grenade and small-arms fire, even though his original 2003 reporting said it was another helicopter in the formation that was hit. Crew members in the 159th Aviation Regiment who were on the mission disputed Williams' account to Stars and Stripes. Williams apologized earlier this week, and he told Stars and Stripes he did not know what caused him to "conflate one aircraft with another."
An NBC News executive not authorized to discuss the matter publicly confirmed that Richard Esposito — the head of the news division's investigations unit — is overseeing the inquiry.
The network issued its first statement regarding the matter Friday. "We have a team dedicated to gathering the facts to help us make sense of all that has happened," said NBC News President Deborah Turness.
Williams did not mention the investigation or address the controversy on Friday's edition of "NBC Nightly News."
Williams, who perpetuated the erroneous version of the Iraq incident on "NBC Nightly News" and in a 2013 interview on "The Late Show With David Letterman," apologized for the mistake again in a meeting with news division staffers on Friday afternoon at NBC headquarters in New York.
Up to Friday, Williams' apologies have failed to alleviate the criticism and comments from crew members on the helicopter that was attacked. One pilot who told CNN that the helicopter that carried Williams did face small-arms fire recanted his account the next day, saying his memory of the events is unclear. He changed his story after other pilots on the mission told the New York Times the convoy had not come under fire.
The controversy has now extended to Williams' dramatic reporting in New Orleans in the aftermath of Hurricane Katrina in 2005. The network executive said any contradictions that possibly surface in that coverage will be examined as well.
If NBC's internal investigation demonstrates a pattern of Williams straying from the facts, people inside the network and former colleagues of Williams say the anchor's status could be in jeopardy. The NBC News executive confirmed that there have been discussions about possible scenarios if Williams has to take a leave of absence or resign from "NBC Nightly News."
TV news agents and former NBC News executives suggest the network news division may take "Today" co-anchor Matt Lauer and insert him into the evening news chair if the investigation determines that Williams has to go.
Such a change would be very costly to the network. "Today" is the major profit engine for the entire news division, and any viewer defection by Lauer fans in the morning would have a negative effect on ratings and ad dollars. The ad revenue for "NBC Nightly News" is far less significant.
The network can also turn to Lester Holt, who is the anchor on weekend editions of "Today" and "NBC Nightly News." Holt tends to retain the "NBC Nightly News" audience when he fills in for Williams during the week.
But the consensus among TV news industry observers is that NBC News will try to ride out the storm for as long as it can. It's unclear whether that strategy will protect Williams from the current storm.
"No one's memory is perfect, and people can conflate events in retrospect," said Paul Levinson, a media expert at Fordham University. "This was more of a personal recollection than a hard news story. Williams and his career may survive this, but will be tarnished."
Times staff writers Meredith Blake and Scott Collins contributed to this report.
---
Inside the business of entertainment
The Wide Shot brings you news, analysis and insights on everything from streaming wars to production — and what it all means for the future.
You may occasionally receive promotional content from the Los Angeles Times.