Review: Rolling with the cholas and 'knuckleheaded girls' east of downtown L.A. in 'Ovarian Psycos'
The Ovarian Psycos Bicycle Brigade is a collective of young women of color who bike through the streets of East L.A. (and beyond) as a way of taking them back.
"It's for the uneducated women, it's for knuckleheaded girls, for the punk rockers, for the cholas, for the sisters in the neighborhood that live that hard life," says original member Joss the Boss of the group and its mission in the new documentary "Ovarian Psycos," premiering Monday on the PBS series "Independent Lens." It's a mission that in Joanna Sokolowski and Kate Trumbull-LaValle's film feels highly particular and loosely conceived by turns.
That's a criticism neither of the Ovas, as they call themselves, nor this film about them, whose strength in fact is that it is a little of this and a little of that. Observational, inspirational, thought-provoking in a way that doesn't serve any particular agenda, it's neither a penetrating investigation into the work of the group, nor a look at the difficulties of organizing, nor the question of whether the group, which is steeped in the language of activism, feminism and indigenous spirituality, is, in any political sense, "effective," though it touches on all those things.
Rather, it's a look at individuals — angry or hopeful or or sweet or doctrinaire to different measures — who have gathered around an idea, and of the way that idea manifests itself in the streets of the city.
"When you're riding by yourself, yeah, it feels good," says founding member Xela de la X, "but when you're riding with a group of women it feels like 'Damn, I'm supported, I got backup.'"
The story's twin focuses are Xela, a group leader whose commitment to the Ovas is challenged by her home life — her daughter is growing up — and Evie, a new recruit who is finding herself on wheels. "When I first started riding a bicycle, people would stare," she says. "Is it because I'm a big girl, is it because I'm a girl, is it because they don't see any girls at all riding?"
A smattering of archival footage is used to place the cyclists within a history of local protest. There is some brief, dutiful, not particularly convincing, pushback: "The Chicano movement was a legitimate push for civil rights, but getting together and riding bikes, I don't really know if that counts." says a bike shop dude, who is also oddly put out by the fact that the group's rides — which include 13 "core members" and interested outsiders — are (for the most part) exclusive to women.
And Evie's mother regards the Ovas as a distraction from the higher education that would help her avoid a similar fate. "Had I been able to study I'd have another life," she says, "But I didn't study. What did I get? Cleaning. But Evie could be a lawyer, right?"
There is little judgment in the end, just an admiring, sometimes poignant regard for people working each in her own way toward something better, for her community or within her home or herself.
Paying visual respect to the people and places it pictures, "Ovarian Psycos" is always quite beautiful to look at — Michael Raines was the director of photography — and many of its most important points would still be made with the sound turned down.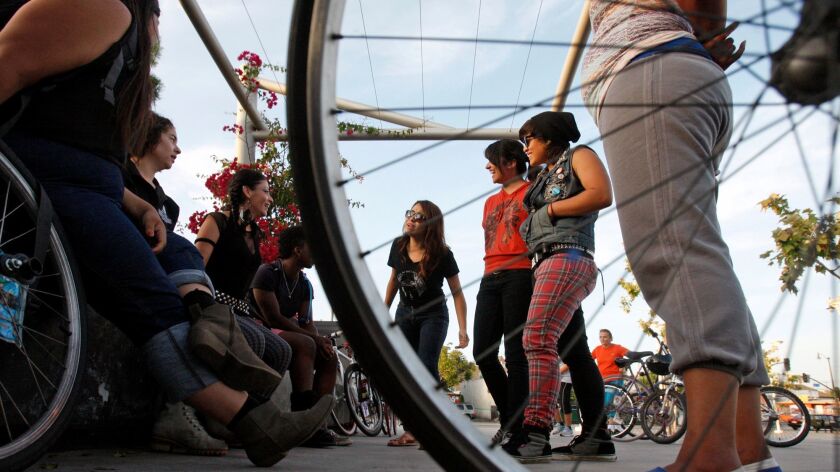 'Independent Lens: Ovarian Psycos'
Where: KOCE
When: 10 p.m. Monday
Rating: TV-PG (may be unsuitable for young children)
Follow Robert Lloyd on Twitter @LATimesTVLloyd
ALSO
'The Homestretch' on PBS: Homeless teens struggle for independence
Cycling with the Psycos: From a bicycle seat, she can really see Los Angeles
Appreciation: A man of many guises, Chuck Barris was often ahead of his time
---
The complete guide to home viewing
Get Screen Gab for weekly recommendations, analysis, interviews and irreverent discussion of the TV and streaming movies everyone's talking about.
You may occasionally receive promotional content from the Los Angeles Times.