Stormy Daniels' lawyer teases there's more to come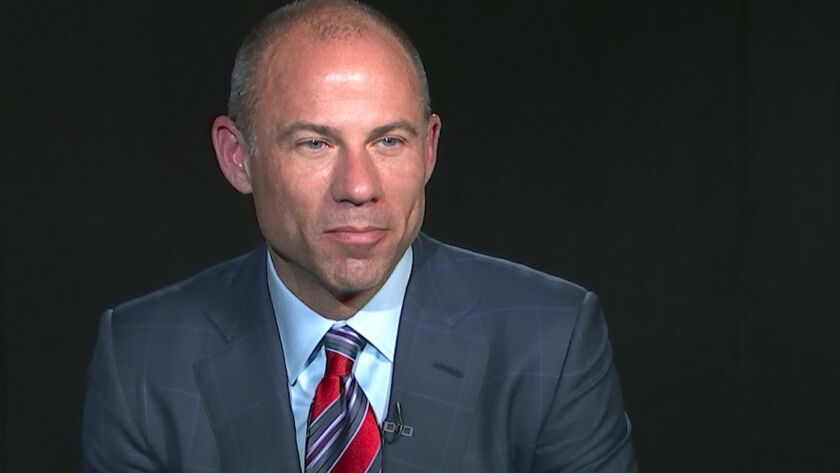 Stormy Daniels' attorney, Michael Avenatti, made the morning-show rounds on Monday to field additional questions about the porn star's latest revelations regarding her alleged 2006 affair with now-President Trump.
During an interview with Anderson Cooper on Sunday's "60 Minutes," Daniels said that she was threatened with physical harm in 2011 if she spoke out about the alleged affair a few weeks after Donald Trump's longtime personal lawyer, Michael Cohen, learned that she shared her story with InTouch magazine.
Avenatti stood by his client on Monday, asserting that the threat came from someone associated with Trump, not the magazine, and shared plans to uncover the identity of the man Daniels claims threatened her. Avenatti also promised that he would get to the bottom of the alleged threat, the nondisclosure agreement and the $130,000 payment.
"We're not going to play our hand right now, and the reason is because we have a case to win," Avenatti told Savannah Guthrie after she pressed him to clarify claims about their evidence on NBC's "Today" show. "I'm not playing games, there will be more evidence."
Avenatti, a Los Angeles attorney, noted that there were "a number of details and facts" that didn't make it into Daniels' "60 Minutes" interview and his client was "prepared to discuss intimate details" relating to Trump, including describing his genitalia and conversations that would "leave no doubt as to whether this woman is telling the truth."
"And if she's not telling the truth, let the president take to the podium and call her a liar. Let the president come forward and say it never happened," he said. "There is a reason why this $130,000 was paid, and it wasn't paid because she made this story up. It's absurd."
On "CBS This Morning." Avenatti responded to the cease-and-desist order Cohen's lawyer issued about the interview, which demanded a retraction and apology.
"We're only getting started," Avenatti told Gayle King. He also said that Cohen has "zero credibility" and plans to prove it, summing up Cohen's statements about the matter as "laughable."
"This is a man who has a history of thuggish behavior, using intimidation tactics, and trying to step on little people. And as it relates to my client, it's going to come to an end and we're going to show the American people exactly who Michael Cohen is," Avenatti said.
On ABC's "Good Morning America," Avenatti again dismissed the cease-and-desist letter with this sound bite: "Michael Cohen needs to be less concerned about role-playing 'Ray Donovan' and more concerned about coming clean with the American people," he said.
He again promised "a litany of more evidence in this case" that would prove an affair, calling his recent tweet teasing potential evidence on a CD or DVD a "warning shot to Mr. Cohen and the president that they better be very careful about denying what happened."
Meanwhile, Cohen's attorney, David Schwartz, also appearing on "GMA," claimed that Daniels was lying in her "60 Minutes" interview and accused Avenatti of publicity mongering.
"The lying is all over that piece," Schwartz said. "We don't have to go further than the piece to see the lying, the inconsistencies, the fact that she said nothing happened and now she says something happened. She's in it for the money. And Michael Avenatti is in it for all the press and money also."
The White House has denied the alleged affair and the president has not yet publicly addressed Daniels' latest interview. However, he did share a vague tweet about "fake news" on Monday morning.
"So much Fake News. Never been more voluminous or more inaccurate. But through it all, our country is doing great!" Trump wrote.
Follow me: @NardineSaad
---
The complete guide to home viewing
Get Screen Gab for weekly recommendations, analysis, interviews and irreverent discussion of the TV and streaming movies everyone's talking about.
You may occasionally receive promotional content from the Los Angeles Times.