Darren Criss, Lea Michele perform at Taste for a Cure fundraiser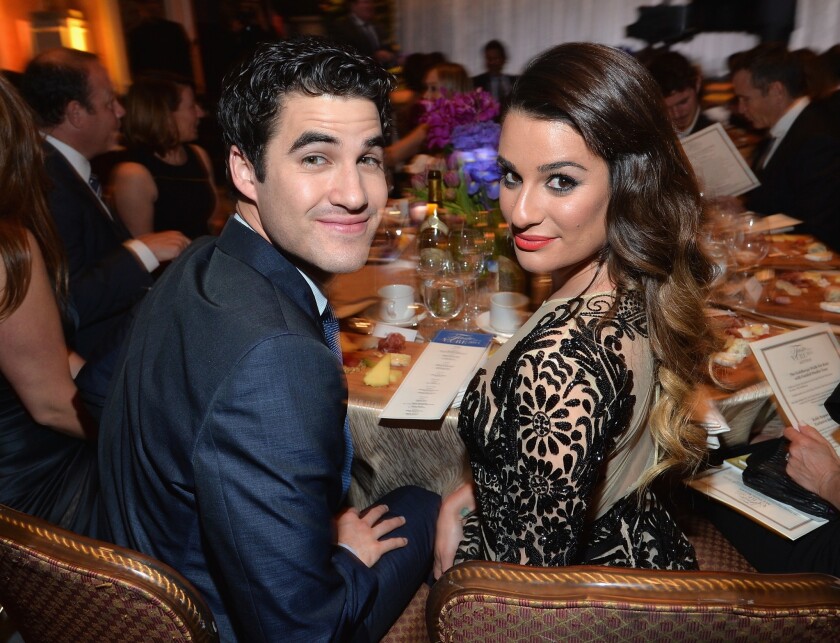 The event: Taste for a Cure, a fundraiser for UCLA's Jonsson Cancer Center Foundation honoring Steve Mosko, president of Sony Pictures Television, featured a stand-up routine by comedian Tom Papa, two songs by Darren Criss and a surprise duet by Criss and Lea Michele, which surprised Michele as much as it happily surprised the audience.
The scene: Beneath projections of the Eiffel Tower that flanked the Beverly Wilshire's ballroom on Friday, guests enjoyed a food-filled reception of French specialties and fine wines before taking their places for plates of cheeses and desserts, a live auction and official ceremonies.
The program: Michele, actors Alyson Hannigan and Joel McHale, dinner co-chair Jon Holman and United Talent Agency's managing director Jay Sures, also a co-chair, took turns at the podium, addressing an audience thick with top Hollywood execs, many of them responsible for shaping today's television landscape.
"Steve [Mosko] has been a big part of the success of 'Breaking Bad,' 'Blacklist,' and 'Shark Tank,' " said McHale, naming just a few of the shows the night's honoree has overseen. "He's also been involved in my show, 'Community,' and with his help, 'Community' has been No. 1 in the demo of people who actually watch 'Community,' " McHale quipped.
The crowd: Dinner co-chairs also included Dana Walden and Gary Newman, co-CEOs of Twentieth Century Fox Television; Joe Cohen, co-head of Television, Creative Artists Agency; and Larry Maguire, president of Far Niente Winery. Guests included Jennifer Salke, president of NBC Entertainment; David Nevins, president of Showtime Entertainment; Ted Sarandos, chief content officer at Netflix; Ryan Murphy, co-creator of "Glee;" Michael Lynton, CEO of Sony Entertainment; director Lee Daniels; Judith Gasson, the cancer center's director; and Scott Thompson, executive director of the center's foundation.
The final act: Seating himself at the piano, Criss admitted he hadn't yet determined which songs he'd sing. "The one thing about being your own accompanist is that you don't have to figure out what you're playing until you get there," he said, before launching into heartfelt renditions of "Crazy Love" and "Let It Be."
"I thought I'd pull a caper for a second," he then added, before announcing another auction prize. He suggested the audience bid to have Michele join him onstage for a song and so, for a price of $5,000, Michele ascended the stage and the two "Glee" stars sang a clearly unrehearsed, yet charming duet of "Somewhere Over the Rainbow."
The numbers: More than 450 people attended the gala, paying $500 and up for tickets. Counting the auction proceeds from a 96-bottle French wine cellar, a trip to France, a walk-on role in "The Goldbergs" and the impromptu duet, proceeds topped $700,000.
ALSO:Spring Break fundraiser for City Year L.A. breaks record
Paris Photo L.A. art fair opens with Brad Pitt, Orlando Bloom
Robin Thicke, Tom Petty, Max Martin and fun. honored by ASCAP
Ellen Olivier is founder of Society News LA.
---