San Francisco start-up Chronos aims to make any watch a smartwatch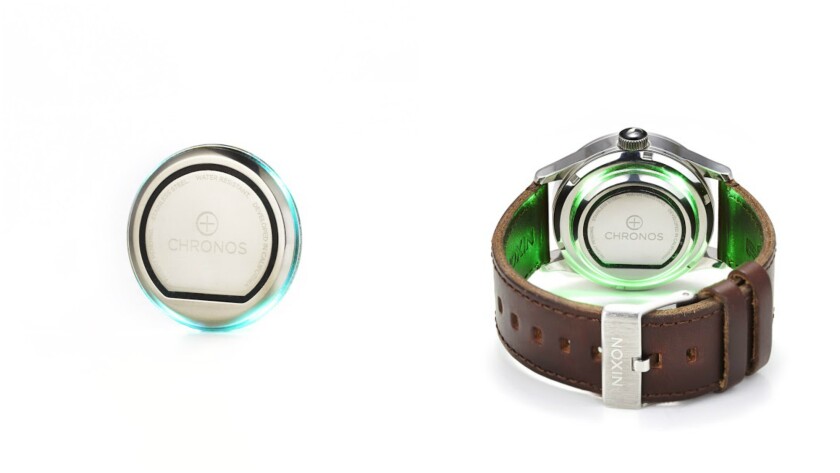 One of the big complaints about today's smartwatch technology is that every option has been a kind of all-in land grab for wrist real estate; if you're wearing the MB Chronowing, for example, or the Apple Watch, it's highly unlikely (unless your name is Inspector Gadget) that you'll be strapping any other timepiece -- smart or dumb -- to your wrist at the same time.
That's why we're intrigued by Chronos, a barely 2-year-old San Francisco-based start-up that's devised a way to add a handful of smartwatch functions like fitness tracking and message notification to almost any wristwatch via a wafer of stainless steel roughly the size and shape of a U.S. 50-cent piece.
Chronos is the brainchild of horological enthusiast, former investment banker and Chronos CEO Mark Nichol. "I fell in love with watches when my wife gave me a Swiss Reconvilier watch on our wedding day," Nichol said by phone Wednesday. "It's a classic-looking watch and I wear it on almost a daily basis. ... But I also have a small collection of about five [other] watches."
The problem was, Nichol explained, he also happened to be an early adopter of fitness trackers. "I loved tracking my steps and my activity … I had the Nike Fuel Band, I had the Jawbone, the Fitbit -- all of them -- and I had all of them and I said: 'Gosh, this doesn't look good next to my watch, and I don't want to replace my watch with this, isn't there a way I could have both?'"
Two years later, Nichol, and co-founder Luke Fromowitz (the company's chief technology officer) have their answer in the affirmative; a disc 33 millimeters in diameter, 2.5mm thick that attaches to the back of a wristwatch case via micro-suction. "It fits more than 80% of the watches sold today," Nichol says, "and every one on the top 20 bestseller list -- men's and women's."
Connecting via Bluetooth to a phone running the Chronos app (there are versions of the app for both iOS and Android platforms), the disc serves up notifications via vibrations felt on the wrist (10 different ones at launch) or LED lights (four colors) that blink from the underside of the case in a way that creates a backlit effect. The device features fall into three categories: fitness tracking (an accelerometer counts steps and activity), notification (including phone calls and calendar invites) and the ability to control certain phone functions (taking photos or silencing phone calls for example) by tapping and gesturing.
Nichol says the disc has a 36-hour battery life and charges wirelessly through its stainless steel case in about an hour and a half when set in its dish-shaped charger.
The company started taking pre-orders for the $99 device via its website www.wearchronos.com starting today, with orders expected to ship in spring 2016.
We're hoping get one of these Chronos discs sandwiched between our right wrist and our favorite Shinola Runwell sometime before the month's out and for a test drive. If and when we do, we'll review it here.
For the latest in fashion and style news, follow me @ARTschorn.
ALSO:
My summer with the Apple Watch
Apple Watch: Unwrapping the box
---