Here are four brands that will help you add bright and bold African prints to your wardrobe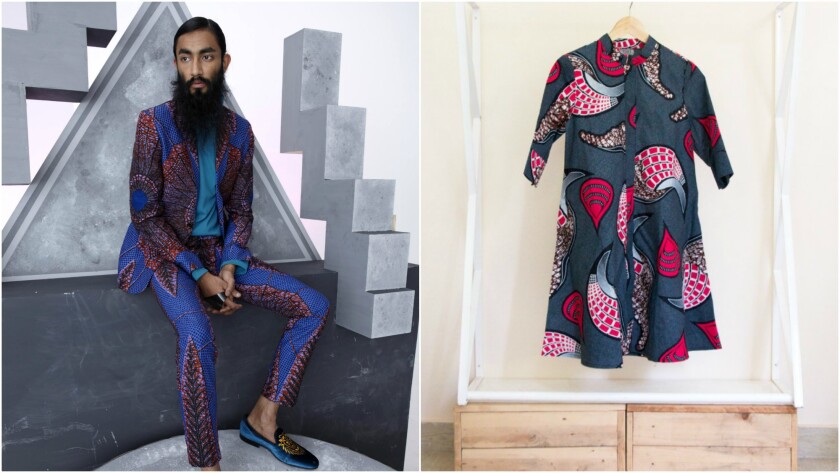 Big, expressive and colorful prints echo through the fall 2017 fashion collections in an international hybrid of themes that stretches across centuries and continents. Veteran labels such as Dolce & Gabbana, Etro and Erdem embrace the trend, which also encompasses the bright, batik-style of African prints.
Emerging designers also are expanding the reach of traditional and contemporary African prints by using them rather unconventionally. They're cut into floor-sweeping prom dresses, playful rompers, glittering evening gowns and exquisitely tailored men's suits.
In what would be called a coincidence anywhere but in fashion, African prints are having a major moment. A new exhibition at the Fowler Museum at UCLA, "African-Print Fashion Now! A Story of Taste, Globalization, and Style," puts the prints in perspective, illustrating how they've come to be an enduring, adaptable style that has enticed designers for decades.
Here are labels and a retailer bringing a modern spin to the historic cloth.
Kiki Clothing: London-born Titi Ademola established Kiki Clothing in Ghana's Accra Mall, where international customers buy her collection of premade, African-print styles (ready-to-wear is a rarity in Africa).
"I want people from around the world not to feel overwhelmed or intimidated by the prints or the colors," she said.
Dent de Man: Alexis Temomanin, designer of Dent de Man menswear, has sold his African-print collection internationally to upscale stores including Barneys New York.
Temomanin's clothing isn't just fashion. It's autobiography. The Côte d'Ivoire-born designer said the patterns, such as a spider caught in a web, reflect his search for healing from a difficult life journey.
Zuvaa: During the new exhibition's weekend opening, the Fowler had a pop-up shop of African print designs from online marketplace Zuvaa, which gives dozens of African designers on the continent and in the diaspora access to a global marketplace for their contemporary and one-of-a-kind clothes and accessories for men, women and children.
Zuri: In Malibu, a recent independent pop-up shop featured Zuri, a collection by California designers Sandra Zhao and Ashleigh Miller, who sell simple shift dresses cut from distinctive, almost Pop-art versions of African prints.
"Something previously associated with Africa we are translating for the American eye and the European eye," Zhao said. "We think of ourselves of fitting into this larger story of these textiles, given that we are not African. The story of these textiles is that of a larger, global narrative."
ALSO
Forget about the knockoff Ikea bag and those faux muddy jeans. Discover why bold African prints are fashion's real standout
Why is Mr Porter serving up palm trees and surf vibes? To celebrate California style
Why did Ty Dolla Sign and Joel McHale check into a Hollywood motel? The answer is more stylish than seedy
---