Jennifer Lawrence isn't just the face of Dior's new millennials-focused fragrance. She helped inspire it too
Christian Dior is bringing bottles of Joy to the world, and the French fashion house has enlisted Jennifer Lawrence to help. In a short film for the soon-to-be-released fragrance Joy by Dior (shot by the frequent-but-unrelated JLaw collaborator, director and producer Francis Lawrence), the Academy Award-winning actress can be seen lolling poolside at a villa in the Hollywood Hills, diving into the water and floating on her back with arms spread wide as if to embrace the sky. It's all to the sounds of the Rolling Stones' "She's a Rainbow."
It's a big deal for the house, which is positioning the new scent as its third pillar fragrance for women, following Miss Dior (launched in 1947) and J'Adore Dior (1999). A pillar fragrance is a like a master brand. It's a stand-alone scent that will eventually be followed to market by multiple variations and limited editions. Miss Dior, for example, begat Miss Dior Blooming Bouquet and Miss Dior Absolutely Blooming, and olfactory riffs on J'Adore Dior have included J'Adore L'Or and J'Adore L'Absolu.
And everything about the new eau de parfum, from the concept behind the name to the megawatt celebrity fronting it, is aimed at millennials. Joy by Dior (50 milliliters, $100) will be available in stores worldwide in September.
"The company had evolved and grown on these two pillars," said Claude Martinez, chief executive officer of Parfums Christian Dior. "And, three years ago, we felt it was about time to add another one that appealed to the next generation of consumers. … The new generation in Europe and the U.S. — people in their 20s, I'm talking about — are not that much in favor of fragrances. They are disconnected. A brand like Dior needs to be able to talk to them."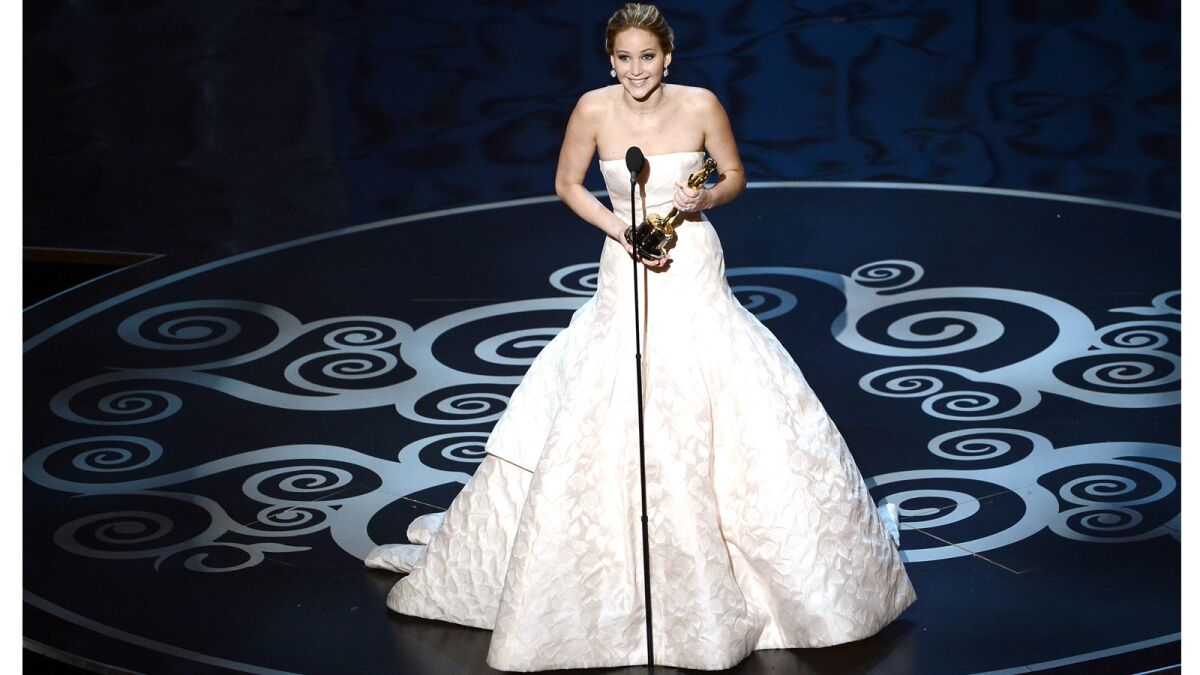 Martinez added that while the fragrance market is more mature in the U.S. and Europe, the same can't be said for Asia. "That's where people are really discovering the category," he said. "[And] we want to attract a new generation of consumers with a universal concept, which is joy." ("Joy," you might recall, is also the name of a 2015 David O. Russell film starring Lawrence, but these two things are wholly unrelated.)
Martinez said Lawrence, a longtime friend of the house, perfectly epitomizes the concept of fleeting joy. (She also wore a white, strapless haute couture Dior confection when she won her 2013 Academy Award for "Silver Linings Playbook" and has appeared in a handful of beauty and fashion campaigns since.) "She's very spontaneous. ... She can be laughing one second and crying the next," he said. "Joy doesn't last forever. It can disappear as fast as it appears, and [for us,] she is the true incarnation of this joy."
Unlike most of the famous folks who front fragrances, Lawrence had a hand in shaping the new Dior scent according to the man who created it. "It was about six months into the project when she came to visit the laboratory," said François Demachy, the Parfums Christian Dior perfumer-creator. "That was the first step [because] I wanted to get her impressions. So, I had her smell some of the very basic ingredients and then I just watched ... to try and get a sense of what she instinctively reacted to. She's a very instinctive woman — very reactive and spontaneous — and, at that time, she showed that she was very sensitive to musky tones." (Although the actress attended a Dior-hosted dinner in West Hollywood earlier this summer in celebration of the fragrance, she wasn't made available for interviews about Joy by Dior.)
Demachy said the way Lawrence reacted to the musk scent profile propelled him to explore making it one of the fragrance's base notes. "There's also some woodsy notes to go along with the musk," he added, "specifically sandalwood because sandalwood is fairly heavy in itself and accompanies musk very well." (Demachy, through a translator, took great pains to underscore that the musk ingredients used were of synthetic origin. "We no longer use animal musks," he said, "because you have to kill the animal to extract it.")
From there, Demachy layered in a floral-filled heart note of jasmine, rose and ylang-ylang (the last of which Demachy characterized as "a very exotic and sunny note") and finished the fragrance off with a citrusy top note that included mandarin and bergamot.
The result is a bottle of pink-tinted juice that's bubbly, effervescent — and almost grassy — at first spritz before drying down to a delicate, uncomplicated floral. That, in turn, eventually gives way to a lingering but not heavy or cloying whiff of something earthy, woodsy and exotic. Overall, Dior's new eau de parfum comes across as youthful, vibrant, organic and complex (but not overly complicated). It's a scent profile that's approachable in that it can be worn first and understood later.
Now, has Demachy managed to capture the essence of Jennifer Lawrence in a bottle? Maybe so. Maybe not. However, when it comes to evoking the notion of fleeting, spontaneously bursting bubbles of pure joy, Dior's newest pillar fragrance definitely passes the sniff test.
For more musings on all things fashion and style, follow me at @ARTschorn.