Reebok jumps on the romper-for-dudes trend with its activewear version, ReeRomp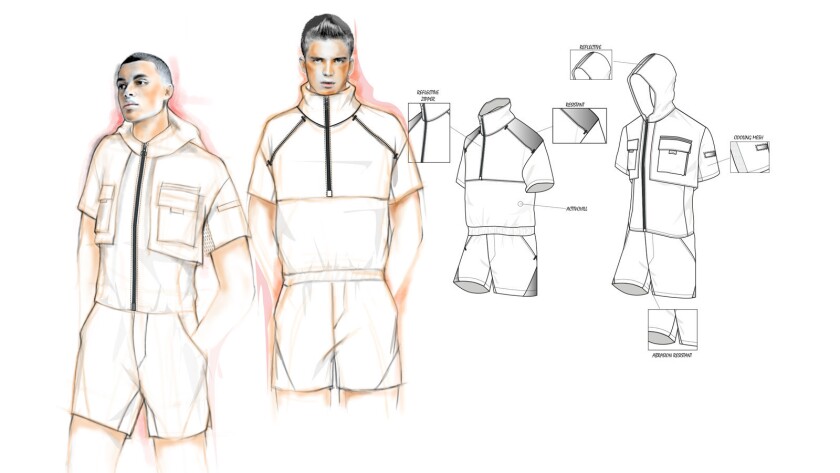 Deputy Fashion Editor
The romper-for-dudes trend apparently has legs. Just three days after Aced Design's Kickstarter campaign for a men's version of the short-pantsed one-piece (called the RompHim) went live — and became a viral sensation — the Reebok brand followed (half)suit by announcing an activewear version it's calling the ReeRomp.
The $89 ReeRomp, which will be available for purchase in late June, is a hooded, short-sleeve one-piece made from Reebok's Activechill sweat-wicking fabric. Details include stash pockets ("for your shades," notes the website), a reflective zipper and a reflective hood lining. According to the website, Reebok's one-piece will be offered in just one color — white.
Though the single colorway is a perfectly utilitarian option for the bro on the go, it's nowhere near as stylish as the button-front versions being offered through Chicago-based Aced Design's Kickstarter campaign, which include red chambray and blue chambray as well as a paint-splatter-print that's already sold-out. (Boldly patterned and seersucker versions are expected to follow after the Kickstarter-funded ones ship in August.)
Mock the dude onesie as a strange look if you will — we certainly have — but Aced Design and Reebok aren't exactly breaking new ground in the menswear world.
For proof of that, one need look no further than Sean Connery as James Bond making a memorable appearance in a blue terrycloth one-piece with a zippered front and belted waist in "Goldfinger."
That film hit theaters in 1964, which means — literally and figuratively — Agent 007 was into the onesie-and-short-pants combination long before the folks behind the current crop of bro rompers were in short pants.
Already a subscriber? Thank you for your support. If you are not, please consider subscribing today. Get full access to our signature journalism for just 99 cents for the first four weeks.
Fashion Videos
For more musings on all things fashion and style, follow me at @ARTschorn.
ALSO:
Dior gets dusty and delicate, wild and woolly in the canyons of Calabasas
William Murray Golf is full of random, unexpected delights – just like Bill Murray
Opening Ceremony, Wiz Khalifa to headline Made L.A.'s return to DTLA
---