Paris Fashion Week: Dior does 'après-danse' for spring and summer 2019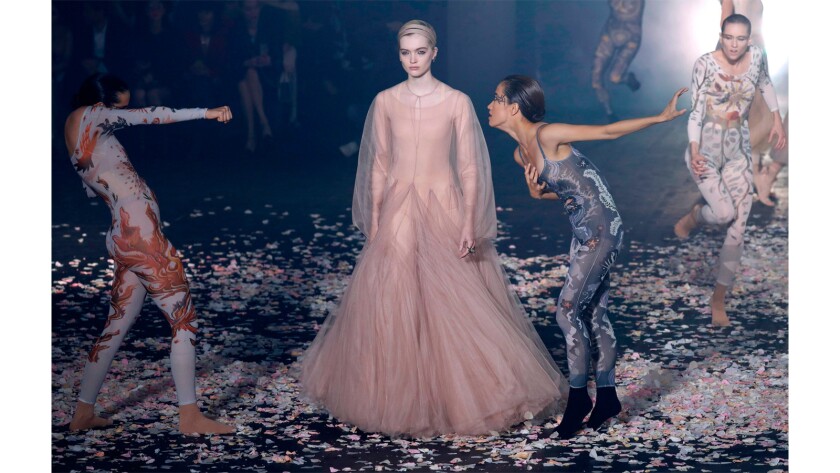 Reporting from Paris —
"Dance is at this collection's heart," Dior's creative director Maria Grazia Chiuri wrote of the French brand's spring and summer 2019 runway collection in the show notes. "Dance as a liberating act, as an action of the body, a dimension that uses rhythm, movement and music to connect us with the deepest part of our being."
And, truth be told, if one looked long enough at the lithe-limbed, leotard-clad dancers who bent, bounced and bounded about in a shower of rose petals in the background of the runway show set at the Hippodrome ParisLongchamp, it would have been hard not to feel moved, stirred or connected to something deep, something primal and something tribal.
The actual clothes on the runway, though? Not so much. A ballet of black and beige with washed-out shades of blue and gray and a couple of unicorn-rare pops of bright accent color, the collection was heavy on the après-danse look — easy, breezy comfortable pieces wrapped and draped across the body, mesh layered over bodysuits, and the kind of simple tank tops, airy skirts and heavy coats a professional dancer might throw on before dashing from a stage door to a waiting car.
The backstage bunhead vibe was heightened by the collection's standout shoe silhouette: a ballet-slipper-like shoe with a transparent Plexiglass heel and ribbon braiding that crisscrossed up the ankle.
The collection also included a range of sharp and smartly belted blazers that have been a runway staple the last several seasons — some in navy blue and others in beige — as well as an assortment of tulle dresses with faded floral embroidery and a handful of dashiki-like tops sporting the collection's few pops of bright color, including yellow and purple.
A washed-out kaleidoscopic motif meets tie-dye pattern was, almost by default, the most eye-catching pattern in the mix, turning up on baggy denim cargo pants and trousers, tulle skirts and kimono-like robes and a few pieces that melded it with out-size florals, resulting in a trippy, '70s-infused festival look that is all but guaranteed to turn up in the VIP wristband section at Coachella.
For more musings on all things fashion and style, follow me at @ARTschorn
---