Paris Fashion Week: Dries Van Noten's parade of plumage is a bright spot in the latest round of shows
Four days into the official Paris Fashion Week calendar, and the bright, cheery colors that dominated the New York Fashion Week shows earlier this month appeared to have all but flown the coop. That was until a flutter of feathers and a splash of color came home to roost in the form of Dries Van Noten's spring and summer 2019 runway collection.
Presented in a glass-ceilinged space at the Palais de Tokyo, the collection was awash with bold color: bright orange — most notably in a couple of trench coats; vibrant blue in feathered skirts, billowy nylon trenches and a blurry-edged checkerboard pattern; and canary yellow in the form of feather-trimmed handbags, candy-striped skirts and sleeveless tops with feather-like plastic panes (about the size and shape of a tongue depressor) that shimmied and bounced with each step.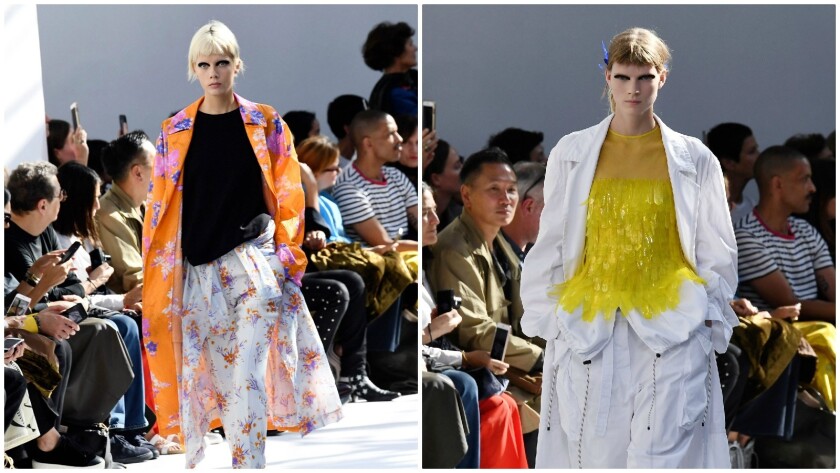 Although the collection included Van Noten's signature mix of bold patterns — a botanical print here, a checkerboard there, wide diagonal stripes here and there — it was the use of feathers that really caught the eye, sprouting from collarbones like avian epaulets, adorning shoes and formed into skull-hugging headpieces.
Balancing the lightness of the feather-festooned, floral-printed pieces was a range of more structured, utilitarian pieces: navy blue boiler suits, khaki-colored overcoats and black sleeveless suits with technical touches that included generous cargo pockets and mountaineering-cord drawstring closures.
When the models returned to the runway for their final walk, these contrasting elements combined to cast Van Noten's spring and summer 2019 runway collection as a parade of plumage heading off on a sun-drenched safari, easily making it the brightest spot of Paris Fashion Week so far.
For more musings on all things fashion and style, follow me at @ARTschorn
---