The future of printed food: 3DS Culinary Lab opens in Los Angeles
Imagine being served a small bowl cradling a vividly-colored sugar sculpture. It's at once both whimsical and stunning, and you almost refuse the spoon you're handed. Finally, you tap the delicate creation and it quietly shatters, revealing a sweet and creamy passionfruit curd.
Welcome to the future of dessert.
3D Systems, a 3D digital design and printing company, premiered its 3DS Culinary Lab in Los Angeles this week featuring top local culinary and creative talent while allowing guests a first-hand look at the possibilities for its ChefJet Pro 3D printer.
The grand opening featured dishes and signature cocktails incorporating 3D elements created in collaboration with local chefs and mixologists. Chef Josiah Citrin of Melisse Restaurant served a French onion soup featuring a 3D printed onion powder cube in a bowl that dissolved as hot oxtail broth was poured over, as well as a 3D printed pumpkin and maple waffle cradling a quail egg. "Top Chef" season 12 winner Mei Lin served a wagyu steak tartare with a 3D printed wasabi egg, along with a passionfruit curd dessert garnished with a 3D printed sugar passionfruit flower. Cocktail chef Matthew Biancaniello served two handcrafted cocktails with 3D printed components: one a candy-cap mushroom printed garnish, another a 3D printed crystal of smoked salt.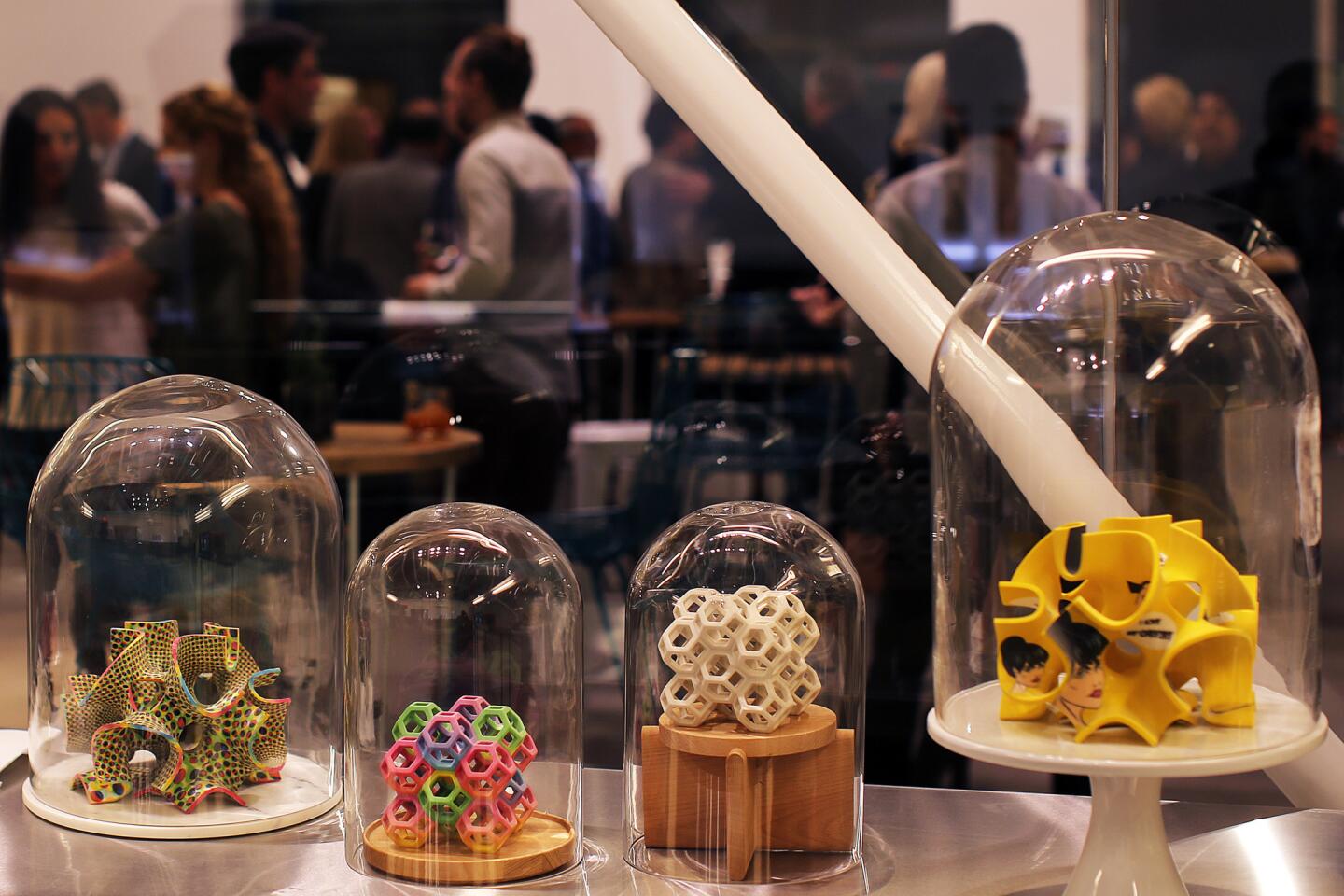 Examples of 3D printed food items on display at the 3DS Culinary Lab in Los Angeles.
(Rick Loomis / Los Angeles Times)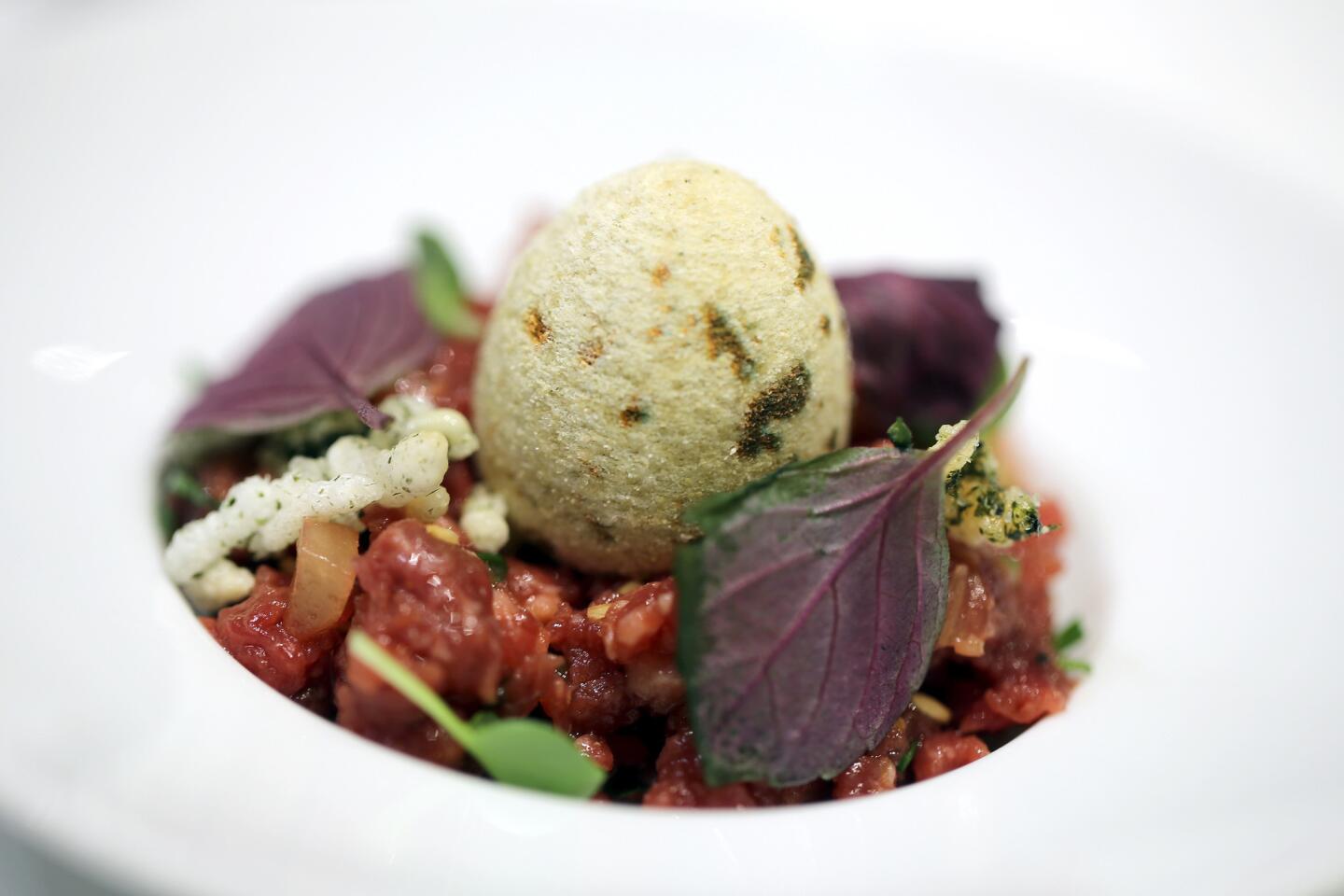 Chef Mei Lin used a 3D printed wasabi egg for this steak tartare recipe.
(Rick Loomis / Los Angeles Times)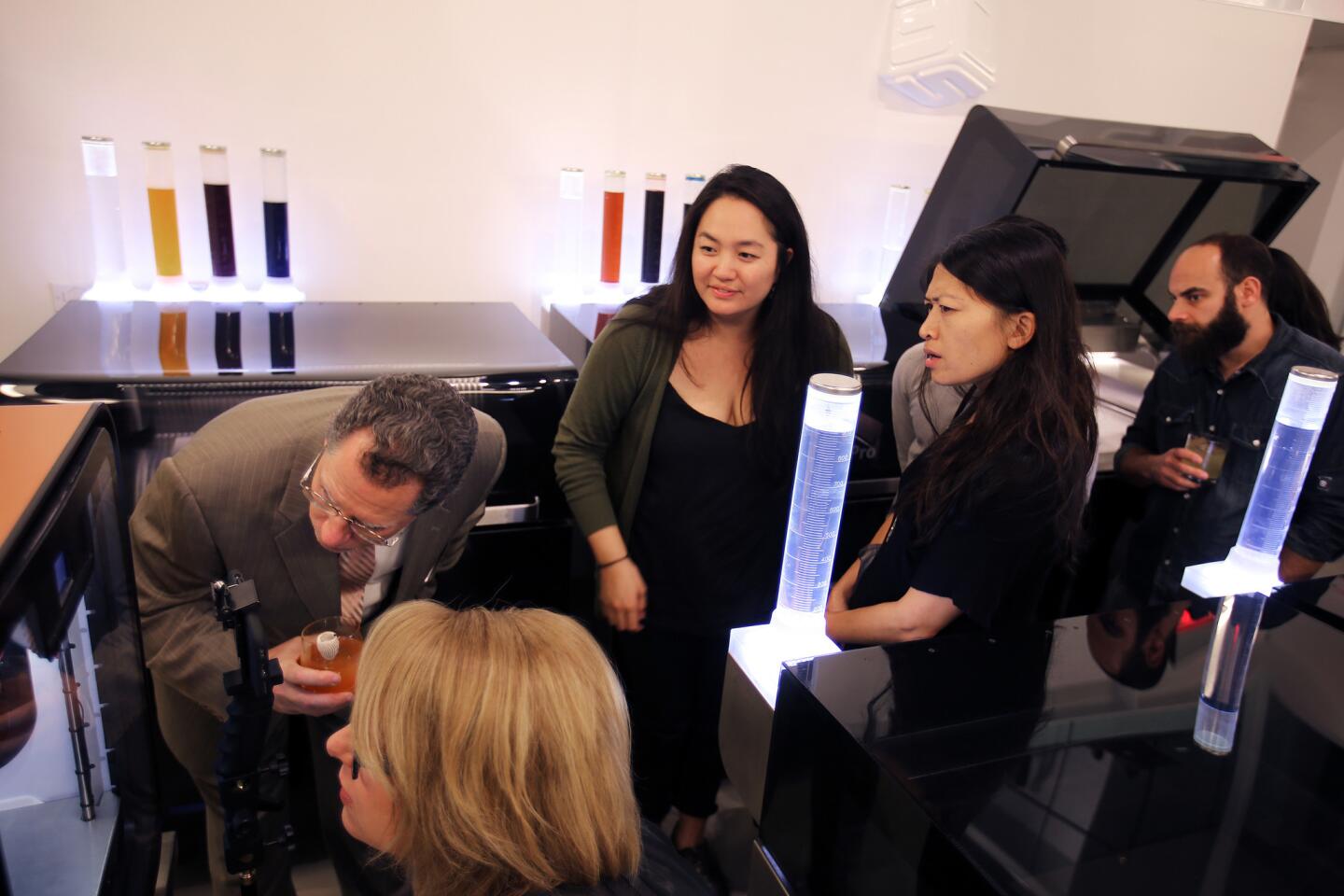 Guests watch as a piece of chocolate is precision printed using 3D printing technology.
(Rick Loomis / Los Angeles Times)
Food designer William Hu, center, explains 3D printing technology to a group of people touring the 3DS Culinary Lab.
(Rick Loomis / Los Angeles Times)
Chef Mei Lin used a 3D printed passionfruit flower to make this dessert. The 3DS Culinary Lab in Los Angeles held an opening with top chefs preparing food with the aid of a 3D printer known as a ChefJet Pro.
(Rick Loomis / Los Angeles Times)
A pumpkin waffle is prepared using a 3D printed pumplin with a quail egg on top.
(Rick Loomis / Los Angeles Times)
The 3DS Culinary Lab in Los Angeles' opening event.
(Rick Loomis / Los Angeles Times)
"We are thrilled to open this amazing collaboration space to bring a new era of digital craftsmanship and technology to the culinary community," Liz von Hasseln, creative director of Culinary for 3DS, said in a statement. "We're bringing together partners and collaborators from across the food service and hospitality industries, as well as chefs, mixologists and artisans to explore the wide-open landscape for 3D printed food."
The space will be used to explore and shape the future of 3D food, hosting events for leaders in hospitality, event and culinary communities as well as symposiums and classes. The lab features a demonstration kitchen, as well as a 3D printing kitchen.
Initial events will focus on 3D printed food fundamentals. The first event, an exploratory session on sweets, will be held Dec. 8 at the Culinary lab. Lab designers and Executive pastry chef Kriss Harvey of SLS Hotel Beverly Hills, walking guests through the creation of a pastry-centric dish incorporating 3D printed elements and featuring a discussion of the design and collaboration process, as well as a tour of the commercial kitchen and demonstrations of the ChefJet Pro culinary 3D printer.
Other upcoming events will focus on mixology (Jan. 26 with Joshua Goldman, co-founder of Soigné Group) and savory (Feb. 16). The Culinary Lab will also host an informal quarterly Chef Night for culinarians from a variety of disciplines, as well as a symposium-style "Design Studio" featuring culinary 3D printing possibilities as they relate to food as well as other materials, such as ceramic and metal.
3DS Culinary Lab, 6624 Melrose Ave, Los Angeles, www.3dsystems.com/culinary.
Love cooking as much as I do? Follow me @noellecarter.
Hoy: Léa esta historia en español
ALSO:
How to restore old cast iron pans
Hunting for mushrooms? Here are 12 recipes
6 Chiantis to drink now. Think wine for pizza, even Middle Eastern food
Get our L.A. Goes Out newsletter, with the week's best events, to help you explore and experience our city.
You may occasionally receive promotional content from the Los Angeles Times.