Roy Choi: He's the face of L.A. at the moment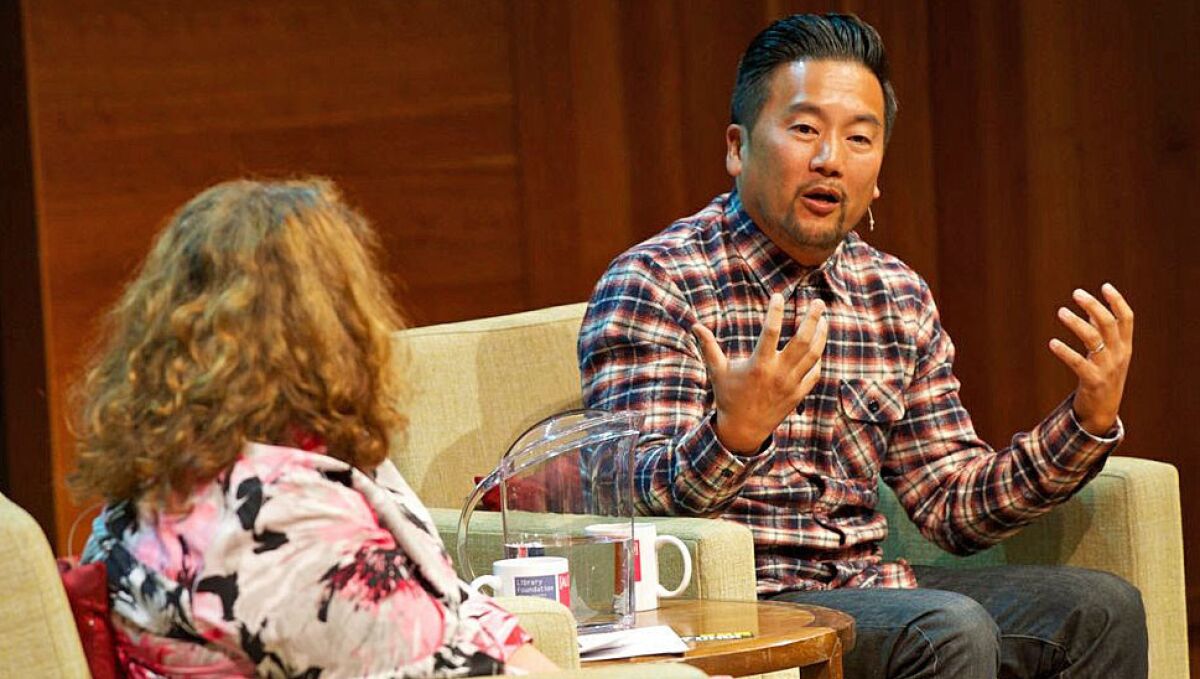 At the moment, Roy Choi is one of the most prominent lenses the nation has into L.A. The book tour for his memoir, "L.A. Son," has placed him on what seems like every news venue, from local blogs to CNN, where he's been alternately earnest, respectful, reflective, mystical and raunchy. (The book is now No. 12 on the L.A. Times bestseller list.)
His return to L.A. last week was brief – he's already resumed the book tour in San Francisco. While here, the engagements didn't stop – an appearance at the L.A. Public Library to chat with chef and KCRW Good Food host Evan Kleiman before a sold-out room and a reading at Skylight Books in Los Feliz Tuesday night.
"This is like my bar mitzvah, my coming out party," said an ebullient Choi at the downtown library.
All this, plus his restaurants (Chego, Sunny Spot, A-Frame, to name three) and a new restaurant-in-the-works, Pot, has kept him incredibly busy.
"I have to put weed on my calendar now," Choi told the library crowd. "I couldn't come up here stoned. It would have been disrespectful."
His marijuana adoration is not a secret, leading Kleiman to ask him if Pot was named after the cooking vessel or the drug. He says it's a reimagining of the family's hot pot restaurant.
Choi is, of course, the name most closely associated with the Kogi truck, a venture that itself turned a spotlight on L.A. in 2009 when an inspired few rolled around the city selling their mash-up of Mexican and Korean food from a truck trailed by Twitter updates. So, from the unconventionality of Kogi's success to the tradition of memoir writing.
Choi started life in South Korea. By 6 he was a savvy latch-key boy in L.A., by his teens the son of rich parents in a wealthy, all-white Orange County community. Soon, he became addicted to alcohol and gambling and as a last-ditch attempt to save her son, his mom offered to pay his way through cooking school – but it had to be on the isolated campus of New York's Culinary Institute of America. She did not believe her son could get clean in California.
The Choi family's years in L.A. came before the influx of Korean immigrants created Koreatown. It was an L.A. where his family "had to create our own cuisine at the time." That meant "makeshift kimchi," a combination of sauerkraut, vinegar, chile powder and hot sauce.
There were trips to Tommy's on Beverly Boulevard and Rampart Avenue for Orange Crush and chili tamales. After Dodgers games, the Chois went to Bob's Big Boy for spaghetti. They lived in South Central, the Crenshaw District and West Hollywood.
Choi's parents worked many jobs. They owned a liquor store and sold jewelry door to door. During this time, a 5-year-old Choi would hop on and off public buses, exploring the city, getting home before his parents' workday ended but not before exploring Olympic Boulevard, "sniffing around" Koreatown, making his way down to Little Tokyo.
Eventually, the family, becoming wealthy from the jewelry trade, landed in Villa Park, a tiny community in north Orange County. Choi has offered details of Orange County, usually dismissed as a wealthy bastion of Republicans. "Orange County is actually a really deep county," he said.
In the 1990s, with Aquanet and pompadours, he and his friends would come up to L.A., cruising the streets of burgeoning Koreatown. The grown children of immigrants were fueling the economy of the community by frequenting its bars, restaurants and nightclubs.
"Koreatown was completely ours."
And when the book tour ends, Choi returns to Koreatown to open Pot.
"It's Korean food in Koreatown run by a Korean American kid who was never trained in Korean food," he said. "We'll see what happens."
ALSO:
Great ramen in central Hollywood? Chibiscus cafe
How to cook your Thanksgiving turkey in the dishwasher
Susan Feniger closes Street; to reopen with gourmet pub grub
Get our L.A. Goes Out newsletter, with the week's best events, to help you explore and experience our city.
You may occasionally receive promotional content from the Los Angeles Times.