Recipe: Cauliflower with <i>bagna cauda</i>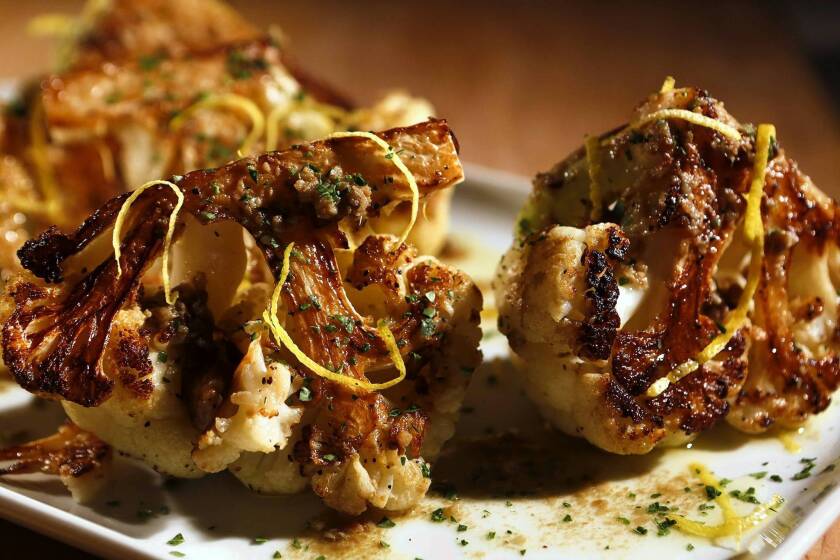 Cauliflower with bagna cauda
30 minutes. Serves 4 to 6
Kosher salt (for salting the water and seasoning the cauliflower)
1 head cauliflower
Freshly cracked black pepper
2 tablespoons extra-virgin olive oil, or enough to coat the pan
Warm bagna cauda
Chopped Italian parsley, for garnish
1 lemon for zesting
1. Bring to a boil a pot of salted water large enough to fit the cauliflower. While the water is heating, trim about an inch of the core from the cauliflower and remove any large leaves, leaving the smaller ones intact. Through the core, cut the cauliflower into 6 wedges.
2. Add the cauliflower to the pot and cook just until slightly tender, 2 to 4 minutes. Remove the cauliflower and place it in a bowl of ice water to stop the cooking. Remove and pat dry. Season each piece with a pinch of salt and pepper, or to taste.
3. Heat a heavy-bottomed sauté pan (preferably cast iron) over medium-high heat. Add the oil to coat the bottom of the pan. Add the cauliflower pieces and sear them on each of the two cut sides until nicely browned, 6 to 8 minutes. Transfer the cauliflower to a serving platter.
4. Spoon some of the warm bagna cauda over the cauliflower, placing the rest in a bowl to serve on the side. Garnish the cauliflower with chopped parsley. Using a lemon zester, zest strands of lemon over the cauliflower.
EACH OF 6 SERVINGS
Calories 229
Protein 4 grams
Carbohydrates 6 grams
Fiber 2 grams
Fat 22 grams
Saturated fat 7 grams
Cholesterol 26 mg
Sugar 2 grams
Sodium 276 mg
---
Get our weekly Tasting Notes newsletter for reviews, news and more.
You may occasionally receive promotional content from the Los Angeles Times.