Calendar Letters: Jane Pauley, John McCain, Roseanne Barr and more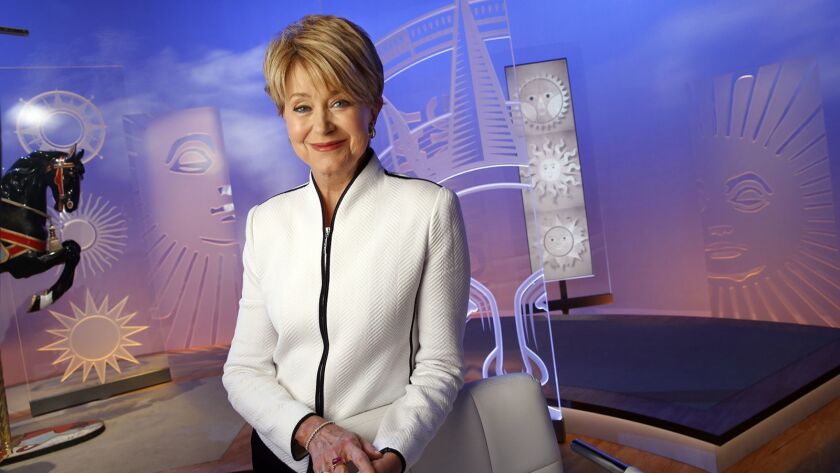 Jane Pauley's brave battle unsung
Many paragraphs about Jane Pauley's hairstyles, etc. ["Pauley Still a Morning Glory," May 27], yet no mention of her brave disclosure about battling bipolar disorder, for which she was hospitalized. She was the first national newscaster to address this form of mental illness, and the ensuing struggles she faced against the resulting stigma. Her resilience and strength should not go unsaid.
Her confidence to ride out the titanic changes in broadcasting throughout her long career all occurred while she was coping with serious mental illness. Cheers to her for not hiding her bipolar condition.
Kyle Kimbrell, Playa del Rey
Not exactly a statesman
Sen. John McCain (R-Ariz.) waffles on key issues for his own political expediency, which is why he's praised by media leftists and others who hate conservatives ["A Maverick Spirit," May 28]. For television critic Lorraine Ali to allege that he's "guided by principle" is intellectually dishonest. After years of calling for its end, McCain voted against repealing Obamacare. Despite being an Arizona senator for the past 32 years, he's done nothing to address the open-border lunacy and invasion that's increased crime and strained the resources of his own state. His support of DACA out of a concern for immigrant children comes at the expense of American children, along with a lack of compassion for the millions of adults who've lost their jobs while being taxed to maintain a racket that continually imports low-wage workers. Ali lauds putting principle above party, so long as those principles align with her views. McCain regularly abandons his own values because he is part of the same entrenched swamp which includes Ali and her sidekicks in the press.
Pat Murphy
Pacific Palisades
Is there a right to be offensive
Regarding "A Necessary Irritant for a Red-Blue America" [May 30]: May I rewrite ABC's Channing Dungey's statement
"We are canceling 'Roseanne' because the advertisers will be fleeing in droves. We can't make money running Joe's Auto Body Shop commercials."
"The show itself has always been abhorrent, repugnant, and inconsistent with our values. That's never bothered us before."
Bob Munson
Newbury Park
::
I don't disagree that Roseanne's tweet was horrid. But you missed what was lovable about Roseanne. Underneath the rough exterior, she was loving toward her children. Her relationship with Jackie was real. But most of all, the show was about the relationship between Roseanne and Dan. His love for her is beautiful to watch. I am an ultra-liberal, Hillary Clinton voter, and I loved the old series and the new one as well. This is a tragedy for viewers. I am still missing Charlie Rose. His interviews informed me about so many things. I wish we could separate the personal behavior of our entertainers from their work. If they do something illegal, arrest them. Otherwise, is it possible to let their work speak for itself
Some very talented people have had reprehensible behavior, Picasso, for example. His paintings haven't lost value.
Bonnie Walker
Rehoboth Beach, Del.
::
We back Roseanne Barr's right to free speech and sarcastic expression as a comedian. It's sad that ABC has become the morality police on what people can tweet from their private accounts in America. We are fighting injustice around the world, in Iran and North Korea, where women are silenced for expression, and ABC attempts to silence the most outspoken woman in show business today.
Michael Sapir
Los Angeles
The art of redecorating
Regarding "A Shark Goes Into a Bar..." [May 27]: A better centerpiece would be "artist" Damien Hirst in three glass cases.
Gary W. Dolgin
Santa Monica
Musicians walk their own way
May be wrong, but the depth of Steven Tyler continues to impress ["Country Road," May 24]. I suppose that a decades-long career gives one the freedom to continue to grow, and the results can be impressive. Ditto with Paul Simon. Age does not mean you can't be relevant.
Terry Williams
Valencia
Musician needs recognition
While classical music critic Mark Swed may be demonstrating knowledge of a 1960s-era performer when he references the use of soprano sax in the piece as "...an ecstatic Coltrane turn..." ["Eastman's 'Femenine' Resurfaces," May 23], it would have been nice if he had actually credited the saxophonist playing the piece that evening.
Phil Ayling
Hacienda Heights
Behind North Korea's curtain
Regarding "A Peek Inside the North Korea Show" [May 27]: Author Travis Jeppesen's decision (described in Steph Cha's review of "See You Again in Pyongyang") to give the North Korean handler the slip "for a brief walk when she isn't paying attention" is, like much of the book, terribly misinformed, deeply insensitive and, as Cha writes, "offensive" in its "disregard for her safety." Since 2009, during each of my several visits to North Korea as a guest of the government, I have carefully monitored my actions and words, knowing that although a slip may not cause my discomfort it could cause great harm to my host or handler or translator — all of whom are risking a lot by welcoming me and ushering me about.
I have seen firsthand the value of courteous collaboration. I go there to make a connection on a human level. I seek growth and mutual understanding. I am continuing to work to arrange people-to-people exchanges similar to that which the U.S. had with the Soviet Union for 30 years. Not enough has been written from this perspective.
Dr. Dale Salwak
Glendora
---