Some of China's richest and most powerful men have mysteriously vanished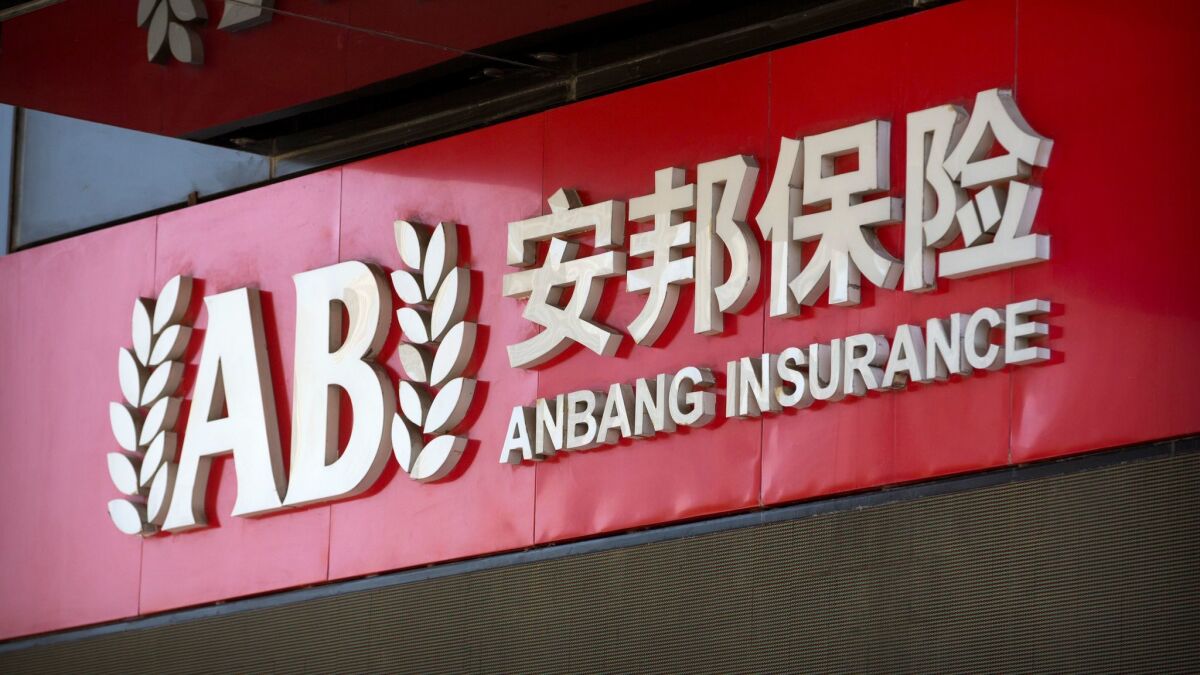 The financial giant Anbang Insurance Group Co. announced Wednesday that its chairman, Wu Xiaohui, was stepping aside temporarily for "personal reasons" and that he had authorized "relevant senior executives to continue running the business."
The announcement, which spurred a decline in stocks in which Anbang has significant investment, came just hours after the independent Chinese financial magazine Caijing reported that authorities had detained Wu.
The story was later deleted from the magazine's website, but the BBC reported that police had taken Wu away from the Anbang offices in Beijing on Thursday.
The global insurance company, which acquired the Waldorf Astoria New York hotel in 2014, is one of the largest insurance groups in China, according to its website. A short statement from the company did not address the magazine story or indicate how long Wu might be gone.
But his abrupt departure doesn't come as a total surprise. In recent years, dozens of senior executives have mysteriously vanished. Most are believed to have been caught up in an aggressive anti-corruption campaign that has targeted financial industry executives, government officials and the heads of state-owned companies.
In many cases, the disappeared have returned. In others, they have turned up in custody or were found dead.
Here are some cases:
Xiao Jianhua
A Chinese-born Canadian citizen, Xiao Jianhua vanished from his residence at the Four Seasons Hotel in Hong Kong in the early hours of Jan. 27. The Times reported that his disappearance fueled speculation that Chinese security agents illegally nabbed him from the former British colony and whisked him to the mainland, possibly as part of a crackdown on the financial industry and an investigation into whether he was involved in financial crimes. Xiao's reported $6-billion fortune made him China's 32nd richest person in 2016. His conglomerate, the Tomorrow Group, includes investments in real estate, insurance, banking, coal, cement and rare earth minerals.
Zhou Chengjian
The billionaire chairman of Metersbonwe, one of China's leading clothing companies, Zhou Chengjian was reported missing on Jan. 7. According to CNBC, Zhou's company issued a statement saying it was looking into reports that police had detained the business executive. The Financial Times reported that Zhou, whose fortune was estimated at $4 billion in 2015, returned to work a week later together with Tu Ke, the company's board secretary, who had also temporarily vanished.
Guo Guangchang
Guo Guangchang, the chairman of the private-sector conglomerate Fosun, which owns the resort company Club Med and Cirque du Soleil, disappeared in December 2015. Company officials said in a statement that Guo had been "assisting in certain investigations carried out by judicial authorities," according to CNBC. The executive, who reportedly has a personal fortune of close to $10 billion, subsequently reappeared at a company meeting in Shanghai. No further explanation was given for his temporary absence.
Lei Jie
Lei Jie, the former chairman of Founder Securities Company Ltd., a joint venture partner of Swiss bank Credit Suisse, went missing in 2015. The Wall Street Journal reported that company officials initially said Lei had requested a week's leave through relatives on Jan. 12, 2015, but then fell out of contact a week later. On Jan. 22, the company announced that it had appointed an interim chairman, Reuters reported. Lei was released from police custody a few months later after assisting authorities with an inquiry, according to media reports.
Mao Xiaofeng
Mao Xiaofeng, the president of China Minsheng Banking Corp. — who at 43 was reportedly the youngest president of a listed Chinese bank (one whose shares are traded on an official stock exchange) — also disappeared in January 2015. Quartz reported that Mao was taken away by the Communist Party's anti-graft agency to help with an investigation into Ling Jihua, a onetime senior aide to former President Hu Jintao, and that officials at Minsheng, the world's 49th largest bank, said Mao had resigned for "personal reasons."
Mike Poon Ho Man
Mike Poon Ho Man, the former chief executive of China Aircraft Leasing Group, mysteriously resurfaced in Hong Kong in November 2015, six months after he submitted a letter of resignation and his company said he could no longer be contacted. According to the South China Morning Post, Poon had been in detention as part of an inquiry into graft in China's booming aviation sector.
Yang Zezhu
In January 2016, Yang Zezhu, a prominent banker and former chairman of the Chinese brokerage Changjiang Securities, fell to his death from the 12th floor of a building in China's Wuhan city. According to Human Rights Watch, it is unclear whether Yang, who had been under investigation for corruption, was free at the time of his death, or had been detained by the authorities. Reuters reported that Yang had left a suicide note.
Special correspondent Jessica Meyers in Beijing contributed to this report.